Jim Boeheim's ejection at Cameron overshadows Duke's win over Orange
Jim Boeheim has been coaching 38 seasons at Syracuse. On Saturday night, he was officially ejected for the first time in his career, and the press conference that followed was a classic.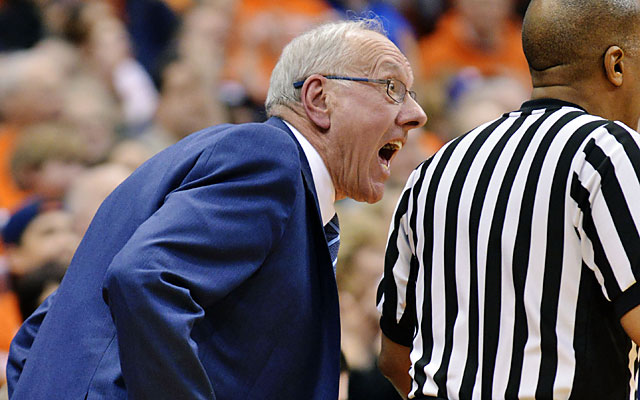 DURHAM, N.C. -- It was 9:14 p.m. when Jim Boeheim entered the Bill Brill Media Room, which is exactly 47 steps from the spot on Coach K Court where the Hall of Famer had flipped out 16 minutes earlier on national television, yelling and pointing and telling referee Tony Greene that he believed the charge called on C.J. Fair with 10.4 seconds remaining equated to something that might come out of the back end of a bull.
Boeheim, in that moment, could not stay seated.
That's among the reasons why he was abruptly ejected.
But now here he was, in this small and packed media room inside Cameron Indoor Stadium, seated comfortably, free of his navy blue coat, at a table draped in a black cloth featuring a Duke logo. For the next nine minutes and 58 seconds, the Syracuse icon spoke calmly -- mostly with his arms crossed, sometimes with his head resting on his right hand -- about the call that triggered his meltdown and the state of his team that four days ago was 25-0 and ranked first in both polls but is now 25-2 and slotted second in the ACC.
"I thought the game was extremely well-officiated," Boeheim said 30 seconds into his press conference, which drew laughs from those of us in front of him who had just watched the Orange lose 66-60 thanks, in part, to that charge called on Fair that prompted Boeheim to run 10 feet onto the court and receive the first official ejection of his 38-year career.
Boeheim swore he was being serious.
But everybody knew better.
Then, about 90 seconds later, he was asked to explain his tantrum.
"I just thought that was the worst call of the year, that's all," Boeheim answered without hesitation. "I hate to see the game decided on that call."
The interesting thing about that comment is that the game wasn't actually decided on that call because, even after that call, Duke was only up 60-58. The Blue Devils would've then inbounded with 10.4 seconds remaining, quickly been fouled, and somebody would've shot a one-and-one at the other end, meaning Syracuse, theoretically, could've had another possession to tie or perhaps even take the lead. But all of that became a moot point when Boeheim charged the court, ran for Greene and gloriously cussed his way to two technicals.
Why?
Because those two technicals led to four free throws for Quinn Cook.
He made the first, missed the second, then made the next two. So instead of being up 60-58 when they inbounded the ball, the Blue Devils were up 63-58 when they inbounded the ball, and that, as they say, was that. This game that had been in the balance for the previous 39 minutes and 49 seconds was suddenly decided. Duke was going to win, Syracuse was going to lose, and Boeheim was in the locker room, leaving assistant Mike Hopkins in charge of shaking Krzyzewki's hand when the final buzzer sounded.
"I'm not surprised to see Jim's fire; that's why he's one of the greatest coaches of any sport," Krzyzewski said. "He reacted to it. But you obviously don't want the game to end that way."
Fair later said he thought it should've been a block or a no-call. "And I don't think there was that much contact, either," he added. But that's ultimately beside the point because controversial calls and no-calls happen all of the time in this sport -- including three Saturdays ago, when a dunk attempt by Duke's Rodney Hood didn't garner a whistle despite contact in the Blue Devils' 91-89 overtime loss to Syracuse at the Carrier Dome -- and, though there's nothing unique about coaches complaining or even cussing, it's very rare to see them run onto the court, full speed, and confront an official, finger to face. So folks can applaud Boeheim for "sticking up for his guys" or whatever. But he was undeniably out of line, and it, in theory, cost his players an opportunity to maybe steal a late victory like they stole a late victory at Pittsburgh 10 nights earlier on a Tyler Ennis 3-pointer at the buzzer.
"I thought I got out there pretty good," Boeheim said of his personal court-storm that'll be replayed over and over again, for years. "I was quick. I stayed down. I didn't get injured."
As you can tell, Boeheim chose to make light of the moment.
He didn't apologize.
He said he had no regrets.
Whether that's true or not, I'll let you decide. But, either way, the bottom line is the same. Duke won, Syracuse lost and a tantrum from one of the all-time greats overshadowed what, independently of that moment, was an exciting game from start to finish.
"I was happy to be a part of it," Boeheim said.
And he was a part of it.
Just not all of it.
Because of a magnificent meltdown that was classic ... and costly.
Kenny White used to set lines for Vegas' biggest books. Now, he's telling you who to back on...

Duke, which held the previous record of 32 set in 1950, took to Twitter to congratulate the...

Without Trier, Arizona's Final Four chances are clearly in jeopardy
Porter Jr. is a projected top 10 pick but has played just two minutes all season

Our advanced computer model simulated Friday's IUPUI vs. Wright State game 10,000 times

Dawn Staley was accused of promoting an atmosphere that induced racial slurs toward Mizzou...