John Calipari to Kentucky players: Change or keep losing
Kentucky has lost three of its first 11 games, which has left John Calipari frustrated by a young roster that seems to care more about individual performances than team accomplishments.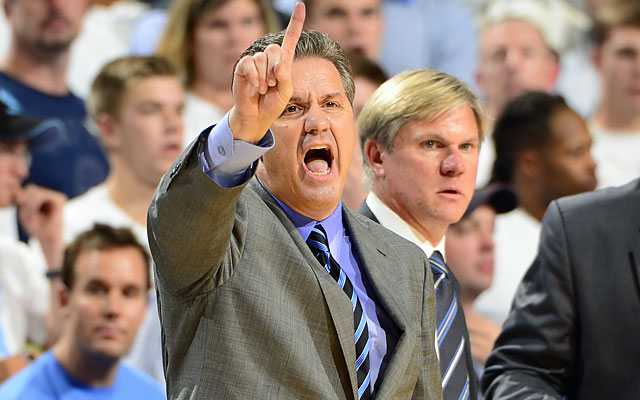 CHAPEL HILL, N.C. -- I always figured the 2012 national title that John Calipari won at Kentucky would be a gift that kept giving because of how it was attained, specifically with his best two players -- Anthony Davis and Michael Kidd-Gilchrist -- ranking fourth and fifth on the team in shot attempts before becoming the first two picks of the subsequent NBA Draft.
What a teaching tool, huh?
Suddenly, Calipari had tangible evidence that individual stats don't matter when you're chasing the NBA. If you're special and your team flourishes, everybody's professional dreams come true. That's what the 2011-12 Wildcats taught us. And I just assumed this was a way of life that all future UK players would embrace because their coach had proof that it works.
But I was wrong.
Clearly, I was wrong.
"We're not a good team because our emotion is all based on our individual play instead of our team play," Calipari said after Saturday's 82-77 loss to UNC here at the Dean Smith Center dropped his Wildcats to 8-3. "We are what we are right now. Got a long way to go."
The easy thing to do after another Kentucky loss is flip out.
So lots of folks are flipping out.
Within minutes of the final horn, college basketball fans were tweeting about how UK's preseason No. 1 ranking was stupid, how UK is still overrated sitting at 11th in the AP poll, and how the Wildcats might be on their way to another NIT. To those people on those things, I'd say you're wrong, you're probably right, and you're almost certainly wrong.
I mean, I can't defend a team with no notable wins and three losses being ranked 11th in the Associated Press poll, so I'll give you that. But the preseason No. 1 ranking remains reasonable given the talent Calipari enrolled -- even if that talent hasn't yet meshed -- because preseason rankings are, by definition, guesses. Educated guesses, sure. But they're still just guesses, and a wrong guess isn't a stupid guess if it's rooted in something sensible.
Kentucky's preseason No. 1 ranking was rooted in something sensible.
This 8-3 start doesn't change that.
As for the NIT, man, that just doesn't seem like a likely destination for this team even if it's true that last season's Wildcats who started 8-3 ended up in the NIT. The thing some have forgotten about that 8-3 start is that it featured a blowout loss at Notre Dame and a home loss to a Baylor team that eventually finished sixth in the Big 12. That was a bad 8-3. But this 8-3 is different because this 8-3 is comprised of three single-digit losses to the teams currently ranked fifth (Michigan State), 14th (Baylor) and 18th (North Carolina), and none of these losses have come at Rupp Arena. To be clear, I'm not trying to pretend everything's OK with Kentucky because everything isn't OK with Kentucky. All I'm saying is that it's not like the Wildcats are sitting here with losses to Robert Morris and Cleveland State.
The losses to date are all reasonable losses.
That said, they're still losses ... and nobody had Kentucky starting 8-3.
"My hope was that we'd be like the best team in the last 12 years," Calipari said while smiling the type of smile you flash when you're frustrated with how things are progressing.
"We were playing well," said UK freshman James Young. "Then we stopped playing."
Stopped playing hard.
Stopped playing together.
Stopped playing like their talent suggests they should play.
It was interesting to watch in person because the TV cameras couldn't have possibly captured the extent to which Calipari was bothered by his players breaking down individually and collectively against UNC. I watched guys check-in and out without touching hands, which isn't a big deal except for that it rarely happens with close teams. I saw Julius Randle roll his eyes at his guards -- specifically Andrew and Aaron Harrison -- whenever they failed to even think about getting him the ball on the block. I witnessed Calipari reduced to yelling at players to huddle after a foul when most players these days simply huddle on their own.
"If you wanna keep losing, keep acting this way," Calipari said.
And I guess that's the new lesson, right?
Change or else.
Matching the 2011-12 Wildcats is no longer a goal because these Wildcats already have more losses than those Wildcats had all season. So now the question is whether these Wildcats will be like the 2012-13 Wildcats who stumbled eternally or the 2010-11 Wildcats who started 7-6 in the SEC before a 10-game winning streak took them to the Final Four.
That team, like this team, had the talent to be good.
It just took a while.
But, more than anything, it took everybody buying in.
So it'll be fascinating to see if this roster can replicate that roster.
"We have so much talent," said Andrew Harrison. "That's never [the issue] when we lose."
No, it's not.
Sure, it would be ideal if UK had a natural point guard, and some backcourt depth in general. But the roster isn't the problem. The problem is the players on the roster focusing too much on the wrong things and not enough on the right ones, and, until that gets fixed, the "overrated" chants will continue to haunt them pretty much everywhere they go.
Gary Parrish and Matt Norlander discuss the latest in college basketball -- including Kansas'...

Porter Jr. has reportedly been cleared for basketball activities but isn't set to return any...

Van Gundy spoke out against the governing body and called the one-and-done rule 'racist'
The Spartans finished the regular season with 12 consecutive wins

The Wildcats could look like a completely different team come Selection Sunday

Southern California also helped its NCAA Tournament selection hopes