John Calipari's 20 questions every recruit should know
The Kentucky coach is selling the system in advance of the big recruiting period in July.
• 2 min read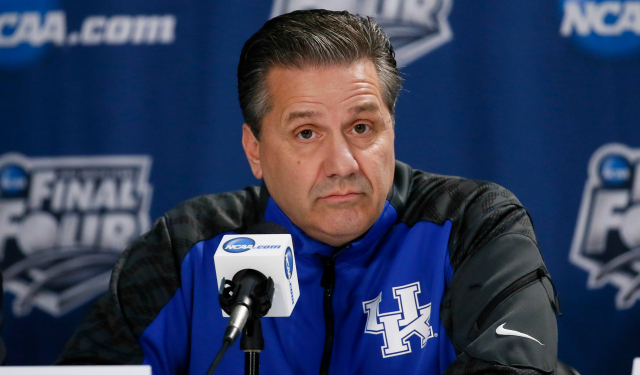 John Calipari loves himself too much to ever really keep quiet for too long.
And I love that about him.
Really, Calipari is focused -- perhaps borderline obsessed -- on controlling the message and image of him and his team. Makes sense. Kentucky is Kentucky: the most polarizing and popular team in college hoops. Calipari, though plenty respected and admired within his profession, still has a handful of surface enemies. He's got to stay ahead of it.
And despite this, Calipari could so easily not have his own website and not give frequent updates to it.
Instead, he actually offers up content on the regular. Original content. Things distilled but still earnest and/or informative. Of course, much of it's done in the name of recruiting, but that goes without saying.
His most recent blog post entry I thought was interesting. Tactical? Subversive to opposing coaches? Helpful to everyone? Perhaps all of the above. Calipari unveiled a list of 20 questions he thinks all recruits should have on hand when being courted by any and all coaches. All of the questions are listed below, and Calipari said the inquiries are subject to answers only within the past five years.
It's a pretty well-rounded list. Modern, brief and not too vague. Here's the quiz 17-year-olds should be asking of the men who are asking them to come to their school.
Does your program offer multi-year (four-year) scholarships?
How many players have graduated from your program over the last four to five years?
How many players have graduated from your school and gone on to the NBA?
How many players have come back to finish school after they have left to pursue other dreams? Who pays for it?
How many of your players were insured through the disability program last season? If none were, why not?
What is your team grade-point average?
Where does your Academic Progress Rate retention rank among other schools?
What type of media training do you offer?
What kind of social media training program do you have in place? What are your social media policies?
How many double-figure scorers have you averaged in the last four to five years? If you only have one or two a year, what does that mean for me?
Have you ever coached anyone like me? If so, who?
How many McDonald's All-Americans have you coached? How many of them went on to the NBA?
How have your teams fared with three or four McDonald's All-Americans on the same team?
How many freshmen have you started within the last four to five years?
How many draft picks have you had over the last five years? How many drafted were not McDonald's All-Americans? How many of the total were first-rounders and were any of them No. 1 draft picks during that time?
How many of those players have gone on to make the NBA All-Rookie team?
How many games will my family be able to watch on national television?
How many of your home games are sold out? How many of your road games are sold out?
How have you done in postseason play? Any Final Fours?
What is your core philosophy?
To be expected, Kentucky compares favorably to most other schools with a majority of the Qs. But that's no surprise, given Calipari's produced nearly two NBA rosters' worth of pros in five years at the school and made three Final Fours/won a title in that time.
No one in college basketball had a better Saturday than the Kansas Jayhawks

Matt Norlander hosts the 'CBS Sports College Basketball Podcast' and just released a play for...

Kenny White used to set lines for Vegas' largest casinos and just entered a pick for Sunda...
Nebraska, Penn State, Houston and Temple are all looking to stay in NCAA tournament conten...

After becoming a No. 1 seed in the bracket on Friday, Auburn lost at South Carolina to drop...

Stephen Oh is 12-1 picking games involving Michigan and Ohio State and just released a play...