Jordan's son won't play hoops at UCF; leading scorer Clanton returns
Central Florida star Keith Clanton returned to the program while Michael Jordan's son, Marcus, has opted to take classes at the school, but won't play for the Knights.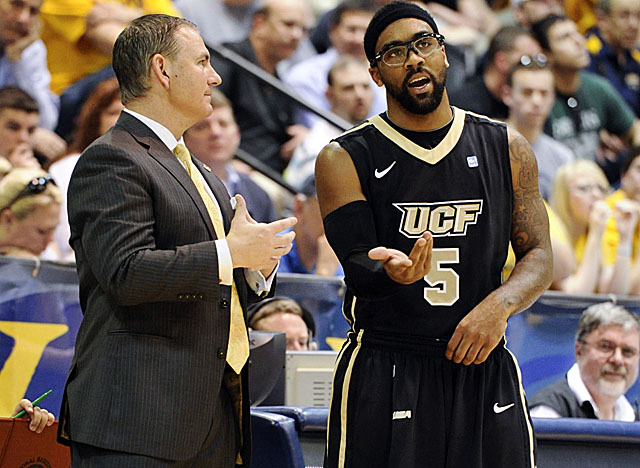 Jordan averaged 13.7 ppg last season, but isn't expected to return for the Knights. (U.S. Presswire)
Central Florida's best player is sticking around while Michael Jordan's son's college career appears to be over. 
Keith Clanton, who led the team in scoring (14.5) and rebounding (8.1) a year ago, visited Florida State earlier in the week. Clanton and his senior teammates were allowed to go anywhere and play immediately after the program was hit with a one-year postseason ban. However, he opted to remain loyal to the Knights and coach Donnie Jones with his decision to finish his career in Orlando. 
"I think to people's surprise I will be returning to UCF for my Sr. season I love this team and my dreams and goals can be fulfilled here," Clanton tweeted on Saturday night. 
Sources also told CBSSports.com that Marcus Jordan has decided he won't play at Central Florida this season, but is expected to take classes. Jordan was leaning heavily in that direction before the program was hit with a one-year postseason ban earlier in the month. 
Jordan averaged 13.7 points per game last season, but shot just 37 percent. His departure could well be addition by subtraction for Jones and UCF. Jordan could change his mind and decide to play elsewhere at the last minute, but it's highly unlikely he'll play another minute in a Central Florida uniform. 
Jones also lost transfer guard C.J. Reed, who'd transferred in from Bethune-Cookman and decided to rejoin his dad, who was hired as an assistant at Georgia Southern a few weeks ago. Reserve big man Josh Crittle is also leaving -- and could go back home and play at DePaul. 
With the return of Clanton, Central Florida should have enough to be competitive in its final campaign in Conference USA. The Knights won't have much depth, but they do return Isaiah Sykes, Tristan Spurlock and Oklahoma transfer Calvin Newell. 
The Wildcats are 3-2 with two losses to two unranked teams

Trump again says he should have left LiAngelo Ball in China

Cincinnati and Iowa highlight an impressive inaugural field for the Cayman lslands Classic
The president didn't take kindly to not getting a thank-you from LaVar

Southern California, ranked No. 8 in Sunday's Top 25 (and one), travels to face Vanderbilt...

Simons, 18, is a former Louisville pledge who is suddenly eligible for the upcoming draft