Josh Pastner, Memphis record narrative-changing win at Old Spice
Josh Pastner had been haunted by the fact that he entered the weekend with zero career wins against opponents ranked in the Top 25 of the AP poll. That's among the reasons why Sunday night's victory over No. 5 Oklahoma State was massive for the coach and program.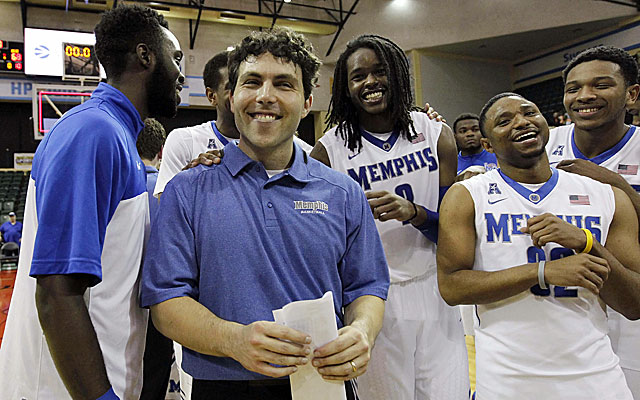 LAKE BUENA VISTA, Fla. -- You do not have to be from Memphis to understand Memphis. But it helps. And, because I'm from Memphis and still live in the area, I think I'm qualified to tell you that there aren't many places in this country, only a handful, where the fans care about the local college basketball program as intensely as Memphis fans care about the Tigers.
Kentucky is obviously one such place.
North Carolina is almost certainly another.
I suppose Indiana might be another on the list.
But my point here isn't to debate who is and who is not on the list. My point is that the list is short, and Memphis is definitely on it, and that fact is both the best and worst thing about being Josh Pastner. Lately, it's been the worst -- thanks to a 101-80 loss at Oklahoma State 12 days ago that dropped Pastner's career record to 0-13 against schools ranked in the Top 25 of the Associated Press poll. 0-13. 0-13. 0-13. Put a hashtag beside it, and that would've trended on Twitter in Memphis at any point over the past week-and-a-half.
"You know [because] you're in Memphis," Pastner told me late Sunday here at the Disney Wide World of Sports Complex before turning to some other reporters and continuing. "But to the people who aren't in Memphis, if you don't understand Memphis, you can ask [deputy athletic director] Wren Baker. He said after the Oklahoma State game that he's never seen anything like it in the history of sports. ... It's just a different deal."
Later, Pastner expanded on that thought.
"The city was upside down," he said. "But these guys stuck together."
****
Memphis beat Oklahoma State on Sunday 73-68 to win the Old Spice Classic.
But this was so much more significant than that.
Yes, it was an early season tournament-championship for a group of seniors who had never won one before, and that's nice. Yes, it was a quality win that'll enhance the Tigers' résumé on Selection Sunday, and that's terrific. But Memphis winning the Old Spice Classic is much bigger for Memphis than Syracuse winning the Maui Invitational was for Syracuse or Arizona winning the NIT Season Tip-Off was for Arizona because nobody has spent much time questioning Jim Boeheim and his Orange or Sean Miller and his Wildcats. Those coaches are established winners at programs that have enjoyed significant amounts of success. They are, for the most part, above reproach.
Pastner is not.
Or, at least, he hasn't been.
The 36-year-old former assistant to Lute Olson and John Calipari has spent much of his five years in charge at Memphis getting pummeled inside of his city and generally mocked outside of it because of his inability to beat teams with comparable talent. Never mind that he has made three NCAA tournaments in his first four years, that he has recruited well locally and nationally, that season-ticket sales rank in the top 15 in the sport, that the program just posted a perfect APR score and has had zero off-the-court issues, the last of which is a fact that's close to a miracle given the history of Memphis basketball. All anybody typically talks about is Pastner's winless streak against AP Top 25 teams that had stretched to 13, and it barely matters that Calipari started his nine years at Memphis by going 2-11 against AP Top 25 teams because, honestly, I don't think any Memphis fans even remember that.
All Memphis fans remember is the last four years of Calipari.
Those years were full of big and notable wins.
That's the bar that was set.
Undeniably, Pastner hasn't touched that bar, and it's been rough bordering on vicious, though, in fairness, the criticism is also understandable because 0-13 is 0-13, and because he's paid $2.65 million annually -- a gigantic number that ranks in the top 15 nationally among college basketball coaches. Pastner is a wealthy man and paid beyond what his accomplishments might suggest he ought to be earning; let's not lie to each other. But, make no mistake, it's still a hard and stressful way to make $2.65 million per year, though I realize that sentence might make no sense to most people.
Which brings me back to Sunday night.
Life got easier for Josh Pastner on Sunday night.
That's why this win -- this win against a previously unbeaten Oklahoma State team that was ranked fifth in the AP poll and had earlier embarrassed Memphis on national TV -- is so much bigger than just another win, and so much bigger than most big wins are for most big programs. This win ensured nobody will ever again be able to say Pastner hasn't beaten an AP Top 25 team or a roster with comparable talent. Again, OSU was ranked fifth, and its roster, headlined by All-American Marcus Smart, is comparable to the Tigers' in terms of talent. So what happened here Sunday was quite literally narrative-changing.
"Anybody who's played or coached knows you take satisfaction any time you can get a monkey off your back," said Baker, the previously mentioned Memphis deputy AD who has become close with Pastner. "When you have your players, and everywhere they go, they hear that [0-13 statistic], it works on their minds. ... So I know that it has to be rewarding for Josh that his players don't have to hear that anymore. It has to be. It has to be."
Yes, it has to be.
"I'm gonna be honest with you: we wanted this a lot for Coach Pastner," Memphis senior guard Chris Crawford said. "He's under so much pressure, and he takes a lot of heat. So we really wanted to play our hearts out for him and get him this win."
That, they did.
Despite a double-digit halftime deficit.
Despite a 12-for-24 effort from the free-throw line.
Despite most folks assuming they would get run off the court again.
Chris Crawford and his teammates got Josh Pastner this win, and it's a win that's important for lots of reasons even if Pastner tried to downplay the significance. With typical coach-speak, he insisted all wins are big and that he values each similarly, then he talked about Northwestern State visiting FedExForum on Saturday and how Northwestern State is good.
Everybody listened.
Everybody nodded their heads.
But nobody was completely buying it.
"He didn't want to show it, but you could see it in him," Shaq Goodwin, the MVP of the Old Spice Classic, said with a smile. "He was a little emotional. His face was turning a little red ... and, man, I'm just so happy to get this Top 25 win for my coach."
Austin Hatch has been part of the Wolverines program since 2014

No one in college basketball had a better Saturday than the Kansas Jayhawks

Matt Norlander hosts the 'CBS Sports College Basketball Podcast' and just released a play for...
Kenny White used to set lines for Vegas' largest casinos and just entered a pick for Sunda...

Nebraska, Penn State, Houston and Temple are all looking to stay in NCAA tournament conten...

After becoming a No. 1 seed in the bracket on Friday, Auburn lost at South Carolina to drop...