July recruiting period primer: Who to watch, what to watch
The next three weeks could determine the short-term future of several college basketball programs. Here's a preview of what should be a wild month.
• 7 min read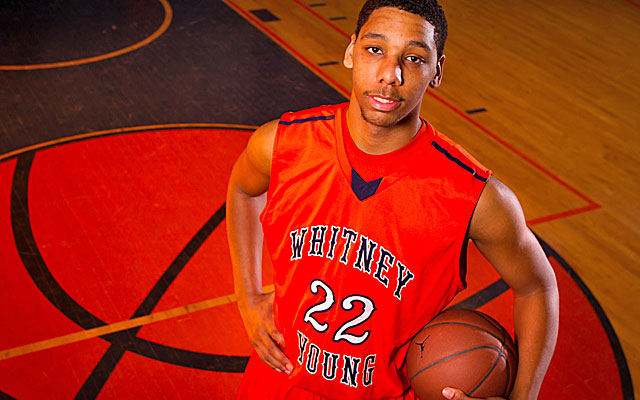 As most of the sports world enters the dog days of summer, college basketball is getting ready to enter one of its most important three-week stretches of the year. In fact, outside of the actual season, July is the most important month for college coaches. The sort of impression coaches make on potential recruits over the next few weeks could have a major impact on the short-term future of their programs -- and of their own career.
The July live period is three separate four-day periods over a three-week span. It stretches from 5 p.m. Wednesday to 5 p.m. Sunday. It used to be two separate 10-day periods, but the rules changed last year. During those days, coaches will travel the country watching prospects in all different high school classes. Some coaches will be tracking players to see who they should recruit and some will babysit players who already have committed. But many coaches just need to be in attendance and be seen by their targets.
Coaches aren't the only ones who will be traveling the country during this period.
The CBSSports.com college basketball crew also will be on the circuit for most of the next three weeks, keeping everyone informed on which players to watch in the near future.
To get you prepared, here's a primer on the biggest events, players and story lines of the month:
Where to be
First session (July 10-14)
Nike EYBL Finals -- Peach Jam (North Augusta, S.C.): The most prestigious event of the month, 24 teams qualified via a four-weekend regular season.
Adidas Invitational (Indianapolis): Nike has most of the big guns this year, but Adidas consistently has plenty of top-level talent at its event.
Second session (July 17-21)
Under Armour/NY2LA Summer Jam (Mequon, Wisc.): Under Armour continues to make a dent on the AAU scene; this event keeps getting better.
Nike Global Challenge (Washington, DC): Eight-team tournament featuring 30 American players and five international teams. 
Third session (July 24-28)
Las Vegas: One of the few reasons to go off the strip, Vegas has the Adidas Super 64 and Fab 48, along with BigFoot Hoops Las Vegas Classic.
Orlando: It's tough to compete with Vegas, but the Wide World of Sports has terrific facilities to host its AAU Super Showcase and AAU Nationals.
Who to watch
2014
Jahlil Okafor: Absolutely dominant inside force is coming off a terrific performance at the U19 World Championships. 

 
Tyus Jones: The best point guard in the country, Jones is looking to play in college with Okafor.

 
Emmanuel Mudiay: Given his size and strength, Mudiay has the ability to be one of the tougher guard matchups in the class.

 
Cliff Alexander: Just a beast of a post player, Alexander will team with Okafor to form a ridiculous inside duo for Mac Irvin Fire.

 
Trey Lyles: A former Indiana commit, Lyles will attract the constant attention of Rick Pitino and John Calipari.
2015
Malik Newman: He's essentially impossible to stop from scoring, as he can get into the lane at will and also run the show.

 
Ivan Rabb: The next stud from the Oakland Soldiers' AAU program, Rabb is one of many dominant bigs in 2015.

 
Stephen Zimmerman: Zimmerman staked his claim during the month of June, and the lefty big looks to continue his momentum.

 
Ben Simmons: A native of Australia, Simmons plays his high school ball at Montverde in Florida and is surrounded by plenty of hype.

 
Cheick Diallo: He's a force on the defensive end, with opponents intimidated to even attempt shots at the rim. Improving and active offensively.
What to watch for
1. Myles Turner: The 6-foot-10 center from Trinity (Texas) is now ranked No. 6 in the 247Sports Composite for the class of 2014. But it wasn't always like that. In fact, that wasn't even close to the case heading into late April. After a couple of very impressive performances at Under Armour events in the spring, Turner's stock rose exponentially. We haven't seen a faster rise to the top since Anthony Davis -- but can Turner continue his stellar play during July? How high can he go?
 
2. Who's Kentucky watching? Right now, Calipari and the Wildcats have one commitment from the class of 2014, forward Karl Towns. But rest assured, Kentucky is just getting started. They are squarely in the mix for a host of five-star prospects, and perhaps are in the pole position for No. 3-ranked prospect Emmanuel Mudiay. Either way, Calipari simply being at a prospect's game is newsworthy -- we'll keep an eye out. 
 
3. Package deals: We seem to hear talk every class from a variety of prospects about how they want to play with a classmate at the next level. Most of the time, it doesn't work out. The class of 2014 feels different. Jahlil Okafor and Tyus Jones, the nation's top two players, have maintained that there's a great chance they'll play together in college. Fellow five-star prospect Justise Winslow has been rumored to want to join them at their destination. Is Duke going to be the big winner? Don't forget the recent declaration of 2014 guards Isaiah Whitehead and Ja'Quan Newton that they too want to be backcourt partners in college. Can Minnesota or Syracuse close the deal in that one?
 
4. Which guards are stepping up? In each of the next two classes, most of the top 10 is made of frontcourt players. Next year has Tyus Jones, Emmanuel Mudiay and maybe Rashad Vaughn; 2015 sees Malik Newman at the top, and then all big men until possibly Tyler Dorsey or Charles Matthews. The next three weeks could see multiple backcourt players emerge and make their cases for five-star status. Moreover, the pecking order of the big men at the top of the rankings will also change in the next few events. 
 
5. College commitments: While the pressure will be on coaches to secure high-level pledges in the weeks following July, there are still a ton of fish in the sea. Only nine of the top 25 players in the 247Sports Composite are committed, with three of them heading to North Carolina. Florida, Maryland, Louisville and Ohio State are the only other schools with multiple top-50 commits in the bag -- so plenty of coaching staffs have their work cut out for them. It will be interesting to see which coaches turn up the heat on players, and which new teams enter the equation for certain five-star prospects. 
Pressure's on: These coaches have to make moves in July
1. Brandon Miller, Butler: Brad Stevens leaving Butler only one week before the live period was difficult for the Bulldogs, but they ensured some recruiting continuity by hiring Miller, who was an assistant on Stevens' staff. Can he lock down commitments without the Stevens brand there to attract attention? This is definitely going to be something to watch.
 
2. Steve Alford, UCLA: One of the biggest knocks on predecessor Ben Howland was his inability to attract top-level California kids to Westwood. As a result, Alford needs to make a splash with his first recruiting class -- and they currently don't have any commits. The Bruins have to get some big fish, and there are certainly plenty on the West coast. 
 
3. Leonard Hamilton, Florida State: Striking out with Andrew Wiggins was a brutal miss for the Seminoles, but they need to bounce back in the class of 2014. Hamilton has done well as a recruiter, but there are no commits so far in the class, and he does lose three seniors after the upcoming season. The upgraded ACC will only make things more difficult.
4. Tom Izzo, Michigan State: This is a key recruiting class for the Spartans. They are in strong for the package duo of Jahlil Okafor and Tyus Jones, as well as five-star prospects Cliff Alexander and Kevon Looney. Tyler Ulis and Devin Booker are also targets. But who will Izzo land? The Spartans lose some big-time talent after 2013-14, and he needs reinforcements.
 
5. Richard Pitino, Minnesota: Another new head coach who has to do some damage in July. Tubby Smith was constantly hit over his mediocre recruiting efforts, and Pitino has to turn that around. Moreover, three of the top 50 recruits in the country -- Tyus Jones, Rashad Vaughn, Reid Travis -- are from Minnesota. Throw in some East Coast targets due to assistant coaches Kimani Young and Dan McHale, and Pitino has cast a wide net.
CBS Sports HQ Daily Newsletter
Get the best highlights and stories - yeah, just the good stuff handpicked by our team to start your day.
Please check the opt-in box to acknowledge that you would like to subscribe.
Thanks for signing up!
Keep an eye on your inbox for the latest sports news.
Sorry!
There was an error processing your subscription.
The Tar Heels get a big man for the future, likely a piece in the post who will stay in Chapel...

R.J. Barrett and Zion Williamson combined for 64 points in Duke's first exhibition

O'Connell was one of five Duke starters that helped build an early lead before suffering an...
The potential one-and-done stars combined for 63 points in an easy win in Duke's Canadian tour...

Pitino had claimed that Adidas deliberately defamed his name after he lost his job at Loui...

Williamson would be the second-heaviest player in the NBA, but is still doing freakish things...