July Recruiting Preview: Ranking the top 10 in 2015, top five in 2016
How do the top prospects in the country stack up entering the July live period?
• 3 min read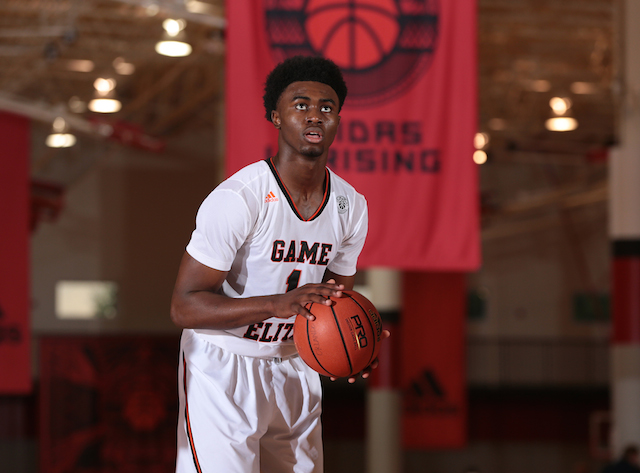 Latest in hoops: Latest News | Coaching Changes | Recruiting
Wednesday marks the beginning of the July live recruiting period, a three-week stretch where coaches from colleges across the country will follow and evaluate potential prospects from coast-to-coast. From Las Vegas and Augusta to Chicago and Louisville, thousands of high school basketball players will take part in a long list of events – and coaches will watch every second of it.
It can get a little confusing, so we're here to prepare you.
With coaches, teams and locales out of the way, it's time to look at some of the best players to watch this summer. Rankings have changed drastically since the spring, with several prospects boosting their stock with strong showings on the AAU and camp circuit. How do they stack up entering July?
2015
1. Ben Simmons: I think Simmons cemented his spot as the best player in the country during the spring, when he demonstrated an expanded and more well-rounded skillset. He's become a complete matchup nightmare for opponents.
2. Ivan Rabb: The 6-foot-10 power forward's ceiling is extremely high, especially as he continues to advance his offensive game. Very good rebounder, has developed a face-up aspect to his arsenal – in addition to finishes around the rim.
3. Malik Newman: The best guard in the country, Newman is an unguardable scorer at times. He is difficult to keep out of the lane, and also has deep range from the perimeter. He needs the ball in his hands, so can he get his teammates more involved?
4. Diamond Stone: The 6-foot-10 post player is very good with his back to the basket, using both hands to finish and carving out position. Can also face-up and knock down shots from about 15 feet.
5. Jaylen Brown: I haven't seen Brown since last summer, but reports from the spring indicate he's this year's version of Stanley Johnson. In other words, he's strong, athletic, defends and can get to the rim against anyone.
6. Cheick Diallo: A couple of years ago, Diallo was mostly a shot-blocker and rebounder who made his biggest offensive impact in transition and on putbacks. He's now expanded his game to include turnarounds and post-ups.
7. Chase Jeter: The only thing missing is strength. The 6-foot-10 center runs the floor very well, blocks shots, and also can pass when double-teamed on the block. Began showing some effective turnaround and jump hook moves.
8. Carlton Bragg: When he's consistent and engaged, Bragg can be unstoppable in the post. A perfect example was at NBPA Top 100 camp, when he struggled for two days – and then decided to put up 36 points and 14 rebounds in one game.
9. Stephen Zimmerman: There are few players that are nearing 7-foot and can play facing up like Zimmerman. He's excellent in the high post or shooting mid-range jumpers, but is also a very good passer and can run the floor.
10. Henry Ellenson: One of the fastest-rising players in the spring, Ellenson put up monster numbers on the EYBL circuit: 18.0 points and 9.3 rebounds. The 6-foot-10 big man is only getting better, and can score in multiple ways.
Others: Elijah Thomas, Ray Smith, Skal Labissiere, Deyonta Davis, Isaiah Briscoe, Caleb Swanigan
2016
1. Josh Jackson: The Detroit native has proven to be impossible to defend on the perimeter. He gets by defenders with ease and his athleticism enables him to finish above the rim. If he improves his perimeter shot, look out.
2. Harry Giles: When healthy, Giles was the clear-cut No. 1 player in the class – but his knee injury last June kept him out of action for nearly a year. The 6-foot-9 forward has a terrific offensive game that extends to the perimeter.
3. Jayson Tatum: Tatum stated his case for No. 1 during the spring, when he dominated the EYBL circuit for the St. Louis Eagles. The 6-foot-8 wing averaged 18.9 points, while also demonstrating very good passing ability.
4. Thon Maker: Maybe the highest ceiling of anyone in the class, Maker's upside is what makes him intriguing. The 7-footer has tremendous length and blocks shots, while also running the floor and showing a decent shooting stroke.
5. Malik Monk: Monk is arguably the best guard in 2016, and his athleticism is second to none. He dropped 59 points in one game earlier this spring, and can get hot from behind the arc. Monk is also very dangerous in transition.
Others: Dennis Smith, Dedric Lawson, Derryck Thornton, Udoka Azubuike, Edrice Adebayo
Once again, AP voters are punishing teams for losing games to higher-ranked teams

Villanova is No. 1 followed by Michigan State and Duke, while Wichita State falls to No. 1...

Auriemma looks to capture his 1,000th win at the helm of UConn's program
Oklahoma joins the Top 25 and is No. 17 after taking down Wichita State on the road

The Tar Heels, No. 4 in the CBS Sports Top 25 (and one), are 10-1 after beating Tennessee.

Oklahoma and Arkansas are new additions to Sunday's Top 25 (and one)