July Recruiting Preview: Schools that got work done early for 2015
As the July live period nears, here is a look at some schools that got work done early for the class of 2015.
• 4 min read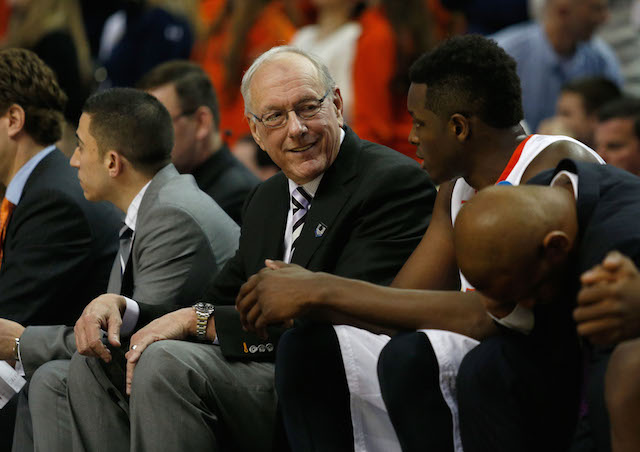 Latest in hoops: Latest News | Coaching Changes | Recruiting
Wednesday marks the beginning of the July live recruiting period, a three-week stretch where coaches from colleges across the country will follow and evaluate potential prospects from coast-to-coast. From Las Vegas and Augusta to Chicago and Louisville, thousands of high school basketball players will take part in a long list of events – and coaches will watch every second of it.
It can get a little confusing, so we're here to prepare you.
First, let's take a look at a handful of schools that are well positioned heading into the live period. Some of these schools have received commitments from several players, while others have landed their main target and can relax just a bit for the class of 2015.
Syracuse: Jim Boeheim loves getting things done early in the process, and the Orange already have four commits from the class of 2015. The biggest prize is swingman Malachi Richardson, an excellent scorer from Trenton Catholic (N.J.). Another top-100 wing is Franklin Howard, and while he has been recovering from a knee injury, he's a good athlete who can score. Syracuse also landed commitments from two top-75 frontcourt prospects in Moustapha Diagne and Tyler Lydon. Diagne is a physical force in the post, while Lydon is a versatile forward who can make shots from the perimeter. The Orange don't have any scholarships remaining, but they still have some targets.
Ohio State: The Buckeyes already cemented a successful July over the weekend, when top-50 center Daniel Giddens pledged to Ohio State. He has a ways to go on the offensive end, but he is ready to carve out a role as a rebounder and shot-blocker at the next level. The biggest prize on the perimeter is scorer Austin Grandstaff, who has the ability to be one of the best shooters in the class. When he's on, there aren't many players more dangerous from the arc than Grandstaff. Mickey Mitchell is an excellent passer for his size, and A.J. Harris is a capable point guard. Ohio State loses five seniors after the upcoming season, so Thad Matta has plenty of holes to fill. There are still at least two scholarships remaining.
Washington: The Huskies don't have any five-star prospects in the fold, but they already landed three four-star players and are essentially done in this cycle. The headliner of the class is shooting guard Dejuonte Murray, who can score in a variety of ways and is also one of the best rebounding guards in the class. Four-star power forward Marquese Chriss is a superb athlete with a very high ceiling who is only getting better. And David Crisp is a solid point guard that doesn't need to make an impact immediately for Lorenzo Romar. Washington will only lose two players after next season, and a strong post player is the only thing remaining on the wish list for the Huskies.
LSU: Johnny Jones only has one commitment so far for 2015, but it's a pledge the Tigers absolutely needed to land. Ben Simmons, in my opinion the best player in the country, announced he was heading to LSU last fall – with the Tigers beating out the likes of Duke, Kansas, Kentucky and every other big-time program in the country for his services. Simmons has always had the potential to be a highly-rated player, but he's improved and expanded his game over the last few months and can make a very strong case for being No. 1 in the country. Jones won't simply rest on his laurels, though. Brandon Sampson has emerged as one of the best scorers in the country, and he's a top target. Chad Lott and Alex Owens are other options.
Georgetown: The Hoyas are an interesting case. Up until a week ago, they had an absolutely loaded frontcourt group for 2015: Marcus Derrickson, Noah Dickerson and Jessie Govan. Last week, though, Dickerson announced he was decommitting from Georgetown and opening things back up. Without Dickerson, the class isn't nearly as imposing as it was – but Derrickson and Govan are still a very solid frontcourt tandem. Govan is one of the best back-to-the-basket scorers in the class, and Derrickson has some inside-outside ability. With Dickerson no longer in the fold, the Hoyas have at least three scholarships to give out. Terance Mann has been a longtime target, while Allonzo Trier seemed like a strong option until Arizona turned up the heat. Haanif Cheatham is also on the board.
Others:
Florida: The Gators opted to take an early commitment from guard KeVaughn Allen, and he joins big man Kevarrius Hayes in the group. Billy Donovan isn't done yet, though, and an impact post player is on the wish list.
Michigan State: The Spartans' class looked much more promising once Deyonta Davis blew up this spring. With Davis moving into the top-30 nationally, he and Kyle Ahrens now form a solid class. Other targets include Eric Davis, Jalen Brunson, A.J. Turner, Trevor Manuel and Caleb Swanigan.
Illinois: D.J. Williams and Aaron Jordan are both composite top-100 players, and John Groce already has them in the fold. He's aiming high to finish the class strong, too, with Juwan Evans, Jalen Brunson, Elijah Thomas and others among the targets.
SMU: Larry Brown has done a tremendous job landing talent since going to SMU, and it hasn't stopped with this class. Matthew McQuaid is a knockdown perimeter shooter, and Sedrick Barefield is a solid point guard. Some big targets remain.
Neither the Bearcats nor the Bruins have a top-60 KenPom win, but that will change Saturda...

Northern Colorado will be on probation through 2020 due to academic and recruiting violati...

You might not see a projected NCAA Tournament bracket quite like this one anytime soon
The Wildcats, once written off after a three game skid, appear poised to enter Pac-12 play...

The Ducks are riding a three game winning streak yet are slight underdogs against the Bulldogs...

The Hurricanes are one of only a handful of unbeaten teams left in college hoops