Kaminsky, Wisconsin get Austin, Baylor backing down, then out
Frank Kaminsky and Wisconsin's huge front line get the best of Isaiah Austin and Baylor, putting Bo Ryan one win away from his first Final Four.
More NCAA hoops: Tournament bracket | Complete coverage of NCAAs | Latest news
ANAHEIM, Calif. -- Isaiah Austin backed off.
Swear to Bucky, he backed off.
At the beginning of the end of Baylor's NCAA Tournament run, the Bears' inspiring 7-foot-1 post player had enough of Wisconsin's 7-foot Frank Kaminsky. This was before Kaminsky had completely twisted, turned, finessed and dunked his way to 19 points in the West Regional semifinal.
At that point, Austin didn't go for the fake or the power move from Wisconsin's leading scorer. Another player might have stepped into the lane, sacrificed his body. Heck, thrown an elbow.
Austin backed off. The simple play came with 4½ minutes left in the first half of Thursday's Sweet 16 West Regional matchup. That's all I needed to see. The Bears already looked like they'd seen enough in a 69-52 loss.
Kaminsky was on his way to almost getting his average in that first half (13.6). The Badgers already were beginning to pull away from a Baylor that had been to this point in the tournament wholly enjoyable. For Wisconsin it was another Big Ten-ish clubbing fought with machetes for elbows and daggers for knees.
The Badgers brought billy clubs.
The Bears brought not much of anything. The 52 points tied the season low. The 17-point margin of defeat tied a season high.
Did I mention Austin backed off?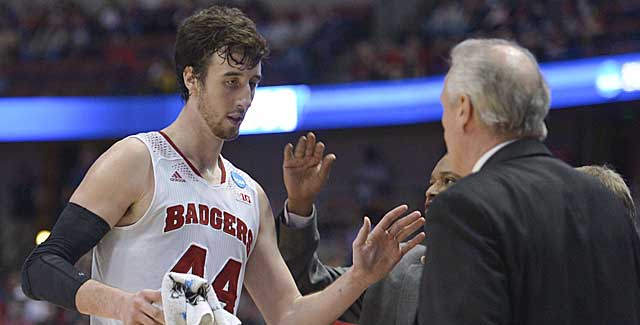 The result means Wisconsin is into the Elite Eight for the first time since 2005. Coach Bo Ryan is one win away from the first Final Four in his 13 seasons in Madison (and the school's first since 2000). A win in Sunday's West Regional final already brings a warning label. Come armed with chain mail because the Badgers toughness isn't a cliché.
When Ryan wants to go big, even pepper spray doesn't work. Kaminsky was the statistical, physical and overall star. The junior had one less block (four) than Baylor had baskets in the first half (five). He finished with four rebounds and six blocks.
Bo knows height. When they were out there together the front line of Kaminsky, Sam Dekker and Duje Dukan measured a combined 20-feet, 4 inches and 670 pounds.
No wonder Austin backed off.
Not picking on the kid, but he could use some poundage on that 225-pound frame. Kaminsky is more fully formed (234 pounds), at least in the Big Ten sense.
The basket in question put Wisconsin up only 23-11. Wisconsin was just warming up. Who knew these kids from Sheboygan, Toledo and La Crosse could hoop so creatively. Super-sub Nigel Hayes threw up a layup from behind his head. Kaminsky used a spin move, a dunk and a fake at the top of the key to complete plays.
Wisconsin's variety of shots reminded me of an ornery drunk telling stories past closing time.
I got one more for ya!
The stat line of the five starters reminds me of a socialist country -- keep your head down, go to work, no one stands out too much, certainly no superstars. All five starters average between 9 and 13 points.
The Badgers have everything but bread lines.
Hail to the czar!
Speaking of which, if you have to ask about Ryan's pace of play, you haven't been paying attention to the biology of snails. But that's OK. It works for him and increasingly in college basketball.
Wisconsin, though, looks like it can't be stopped.
Neither the Bearcats nor the Bruins have a top-60 KenPom win, but that will change Saturda...

Northern Colorado will be on probation through 2020 due to academic and recruiting violati...

You might not see a projected NCAA Tournament bracket quite like this one anytime soon
The Wildcats, once written off after a three game skid, appear poised to enter Pac-12 play...

The Ducks are riding a three game winning streak yet are slight underdogs against the Bulldogs...

The Hurricanes are one of only a handful of unbeaten teams left in college hoops