Kane, Cyclones reward Iowa State fans' patience with Big 12 title
It's been 14 years since they're last title, but Iowa State is once again the Big 12 champion. And these fans (and players) want to celebrate.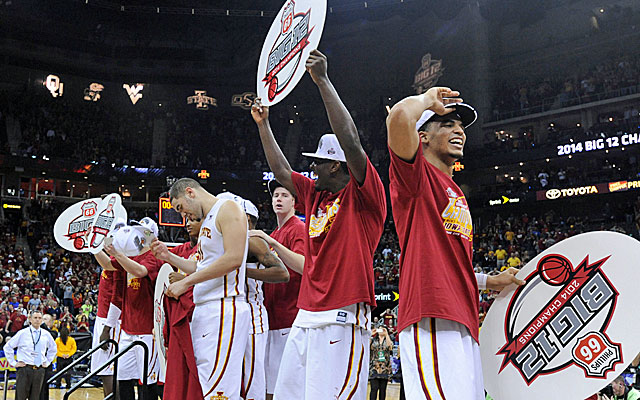 Latest in college hoops: Top 25 (and one) | Bracketology | Bubble Watch
KANSAS CITY, Mo. – The pressure release on many years and many beers came at 10:10 p.m. CT.
Hilton South, Sprint Magic, Attack of the Clones. Whatever you want to call it, the clock struck 14 Saturday night as Iowa State won the Big 12 Tournament -- finally -- 74-65 over Baylor.
It had been 14 years since the Cyclones even got this far, last winning the tournament with Marcus Fizer, Jamaal Tinsley and coach Larry Eustachy in 2000.
That's 14 years of driving down from Des Moines or Ames on Ankney or whatever outposts the fiercely loyal Cyclones came from. That's 14 years of taking over the Big 12 tournament host city -- usually this one.
That's 14 years of filling the local watering holes, win or lose. Sorry for the generalization but Clones gonna Clone.
That also was 14 years of disappointment -- until Saturday night.
The fans who bum-rushed Kansas City this week, once again invaded Sprint Center. At least 16,000 of the sellout crowd of 19,108 were fueled by that 14 years of frustration.
Michelle Rodemyer was the big winner in the immediate aftermath. A 2005 Iowa State grad, she just happened to be there in the first row when tournament most outstanding player DeAndre Kane rushed the stands, handing her a tournament championship placard.
"What he showed," she said, "was in all of us."
Emotion, for one. Kane transferred from Marshall for his final year of eligibility. What looked like a dicey get for coach Fred Hoiberg, turned into the difference in the season. Kane once led the nation in technical fouls while in Huntington, W.V. Marshall coach Tom Herrion dismissed him from the team for unspecified reasons.
But Kane also had his degree, the reason he was able to transfer to Iowa State for one season. The last two nights after beating Kansas and Baylor, the Big 12 newcomer of the year made it a point to raise his arms, scream and salute the Cyclone fans.
"I wouldn't call it redemption," Kane said after dropping 17 points, 7 rebounds and 7 assists on the Bears. In three tournament games, he averaged 16 points and five assists.
"I would call it a blessing. For the coach and AD to give me a second chance and mature a little bit, overcome some things and being a better person. It grew me up a lot."
"I'm glad," Baylor coach Scott Drew chimed in, "he only has one year in the league, by the way."
Fittingly, the game turned roughly the time the taps were turned off -- 12 minutes left. (The Big 12 made the decision to serve alcohol at the tournament for the first time in nine years.)
Frustrated by Baylor's zone, the Cyclones missed their first 13 shots and 17 of their first 18. The epically bad start turned for the second consecutive game in the second half. The Clones shot 70 percent in the final 20 minutes after shooting 68 percent in the second half Friday against Kansas.
That zone loosened up when reserve Naz Long (4 of 6 on 3s) and Big 12 player of the year Melvin Ejim (2 of 3 on 3s) began hitting from outside.
"It means the world," Long said, recounting the waves of love showered on him from the stands. "That's family out there. They believe in us. We believe in them."
The seventh-seeded Bears were attempting to become the first team in conference history to win four games in four days. Baylor gonna Baylor? Not quite. Drew coached masterfully this week. His Bears had trailed for a total of only 97 seconds in four games until Melvin Ejim hit a 3 with 5:47 left Saturday to put Iowa State ahead.
The teams traded the lead three times until the Clones took over for good at 59-58 with 3:42 left. The final minutes were a revival and basketball Woodstock  rolled into one.
"Coach told us in the locker room, 'We're going to try to punch them in the face first,'" forward Georges Niang said. "We got off to slow start. We got good looks, but they just weren't falling. He told us to keep going at them, keep going at them. They eventually cracked."
That tends to happen when a team (Iowa State) hits its last seven shots.
Both teams are safely in the NCAA Tournament, which tends to douse the fire in the endless parade of conference championships this week.
But this one was special.
Seven Big 12 teams are headed for the tournament. Baylor and Iowa State look as dangerous as any of them. Fourth-seeded Iowa State became the first Big 12 tournament winner seeded below No. 3. The Cyclones got to this point scoring at least 44 points in five of their six halves in the tournament.
The 91 points put up on Kansas State and 94 on Kansas were the most allowed by those teams this season. Niang gave blood in the form of five stitches taken above his right eye Friday night against Kansas.
"No, no, I shot five for 15," Niang said after Saturday's game. "It's obvious not good luck."
Both teams are hot. Baylor came into Saturday with the best postseason record in the country the last five years, 15-3.
Iowa State has won seven of its last nine. Baylor started 2-8 in league games then finished by winning 10 of its last 12. The Bears have a dangerous rotation starting with that zone the features a wingspan in the back made up of 7-foot-1 Isaiah Austin, 6-9 Cory Jefferson and 6-6 Royce O'Neale.
Drew probably gets as much grief has any coach who has taken his team to two Elite Eights (2010, 2012) and NIT championship games (winning one in 2013) in the last four seasons.
Who wouldn't kill for that kind of success in the next month? The last Iowa State team to win the conference tournament advanced to the Elite Eight.
"We didn't get to cut the nets down," Bears guard Brady Heslip said, "but we're going to cut some down in Dallas."
That would be right up the road from Waco at AT&T Stadium, site of the Final Four, 23 days from now. But first, a brief respite to -- giddy Iowa State fans or not -- drink it all in.
"I need a day off," Drew said.
Arizona, for no good reason, doesn't have to play at USC or UCLA this season

We look at the 'Major 7' leagues and give you the best of what's to come in conference play...

Louisville's coach predicts a change is coming to the NBA's one-and-done rule by 2019
Multiple former players of Lonergan's alleged verbal abuse and inappropriate remarks

When Miller left for Indiana, there was cause for concern in Flyerland; a top-100 signee says...

The Hoyas will spend their non-league schedule playing mostly nobodies -- as will most big...