Kansas' offensive struggles starting to show up at the wrong time
There is still a month until the postseason, but Kansas is running out of time to figure out its offense.
• 2 min read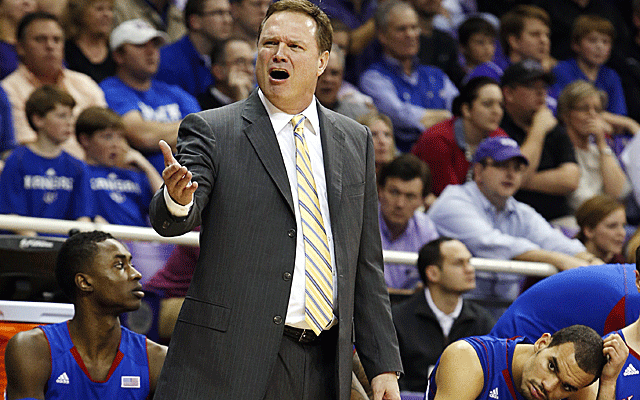 The Jayhawks suffer arguably the worst loss of any team this season.
(AP)
When Kansas lost to Oklahoma State last Saturday, it was looked at as mostly a bump in the road for the Jayhawks. Sure, losing at home to the Cowboys wasn't impressive, but Marcus Smart had a tremendous game and Oklahoma State is certainly a talented group.
TCU is not very talented. The Horned Frogs are terrible. Heading into Wednesday, they were 0-8 in the Big 12, with seven of those losses coming by double figures. The lone single-digit loss was to Texas Tech, by nine. They had lost three times in non-conference play to Conference USA opponents.
After Wednesday, though, TCU also owns a win over Kansas.
The Horned Frogs welcomed Kansas into town and greeted the No. 5 Jayhawks with a 62-55 win in a game that wasn't even that close. Kansas was scoreless for more than seven minutes and never led. The Jayhawks scored just 13 points in the first half. It was arguably the worst loss by anyone this season.
More on college basketball
Related links
More college hoops coverage
Simply put, it was a disaster of a performance for a team that many people considered a title contender. Can the Jayhawks still be a Final Four team and a threat to cut down the nets in Atlanta? Of course, but there are some severe issues coming to a head at the wrong time.
After the weekend loss, coach Bill Self said, "We don't have a point guard." Elijah Johnson is clearly talented, but point guard is not his natural position -- and his confidence is absolutely shot right now. He shot 3-for-12 against TCU, turning it over three times and dishing out one assist. This is on the heels of a 3-for-14 performance against Oklahoma State. In fact, he hasn't made more than three field goals in a game since mid-January.
It wouldn't be as big of an issue if Self had consistent alternatives. Yet backup Naadir Tharpe went 2-for-15 from the field, including several ill-advised shots. Neither Johnson nor Tharpe is what Self needs running his team this season. One of them needs to take care of the ball and get Kansas' scorers open shots.
But that's another issue: who are Kansas' scorers? There is freshman star Ben McLemore, but he never had the ego of a true go-to-guy at the high school level. He has shown flashes of being that player this season, but as one coach told CBSSports.com Wednesday morning, it's the veterans that have to get McLemore going. Can he develop that killer instinct on a consistent basis?
Jeff Withey is great down low, but he's not going to be a guy that goes and gets 20 points every night. And there's no Thomas Robinson to take the pressure off Withey once he gets the ball in the post.
Kansas is obviously talented and experienced, and plays defense well enough to win games come March. But they have had long stretches of offensive ineptness -- and it's starting to catch up to them.
There is still a month until the postseason, but Kansas is running out of time to figure out its offense.
For more college basketball news, rumors and analysis, follow @EyeOnCBB on Twitter, subscribe to our RSS Feed and subscribe to our College Basketball Newsletter. You can follow Jeff Borzello on Twitter here: @jeffborzello
An incredibly fun idea has been put on the table for next year

College coaches give the edge to Michael Porter -- just barely over Miles Bridges

CBS Sports' college basketball experts polled more than 100 coaches to get their pick to win...
Marvin Bagley, if eligible at Duke this season, projects as the country's top power forwar...

The Big Ten Tournament is a week earlier than usual, so the regular-season schedule may look...

Arizona, Grand Canyon and Tulane are also in Barcelona and have reported to be accounted for...