Karviar Shepherd one of spring's biggest stock boosters
Heading into the spring, Karviar Shepherd was ranked in the top 75. After solid performances during April and a standout showing over the weekend, Shepherd's stock is certainly on the rise.
• 1 min read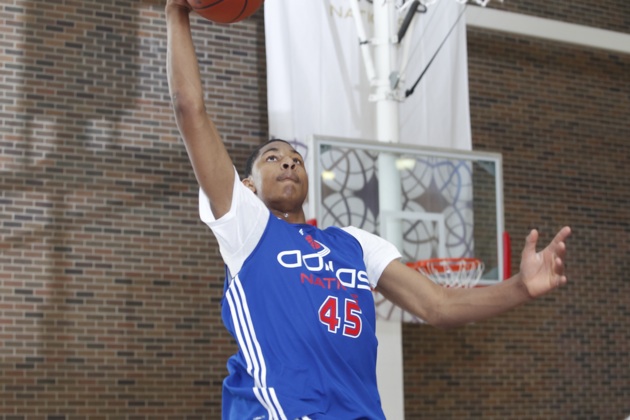 Big man Karviar Shepherd has raised his stock with stellar performances all spring. (Adidas)
LONG BEACH, Calif. – Unlike 2012, the class of 2013 isn't loaded at the center position, nor does it have much depth.
However, there is one player emerging this spring as a potential stud in the low post. Karviar Shepherd, a 6-foot-10 center from Grace Prep (Texas), was ranked No. 74 heading into the April live period, but that has quickly changed.
"There's a lot of talent, but I've gotten a lot better," he said. "A lot of big men don't have my athleticism."
Shepherd was one of the most impressive players at the Pangos All-American Camp, demonstrating a deft touch not shown by most players in his age group. He can knock down face-up jumpers from the foul line, and is also very good with his jump hook and other finishing moves around the rim. His length makes him a factor defensively and on the glass.
He is sure to move up in the rankings when they are updated in a few weeks, but Shepherd wasn't worried about his status in the class.
"I try not to compare myself to players in high school," he said. "I compare myself to guys in the NBA."
Due to his skillset and ability to hit face-up jumpers or create matchup problems for opposing big men, Shepherd likens himself to San Antonio Spurs star Tim Duncan. While Duncan's longevity and career set the bar pretty high, plenty of colleges are looking to gain Shepherd's services.
UCLA, Texas, Texas Tech, Texas A&M, Kansas, Georgetown, Tennessee, Louisville and a few others are among the schools pursuing Shepherd. He plans to visit Louisville in the near-future, but he also took a trip to UCLA while out in California for Pangos.
"They have nice facilities," Shepherd said. "I like the way the coaches and players interact and get along, and the coaches get the players better."
At this point, Shepherd has no timetable for a college decision. With the way he has played lately, I'm sure coaches will wait.  
Louisville's coach predicts a change is coming to the NBA's one-and-done rule by 2019

Multiple former players of Lonergan's alleged verbal abuse and inappropriate remarks

When Miller left for Indiana, there was cause for concern in Flyerland; a top-100 signee says...
The Hoyas will spend their non-league schedule playing mostly nobodies -- as will most big...

An overview of what the most interesting conference will offer up this season -- beyond Duke...

The sneakers were made to commemorate the Tar Heels' six national championships