Kendall Marshall's injury could end Tar Heels' title hopes
Kendall Marshall is the one indispensable player on North Carolina's roster. On Sunday, Marshall fractured his wrist and his status going forward is unclear.
• 2 min read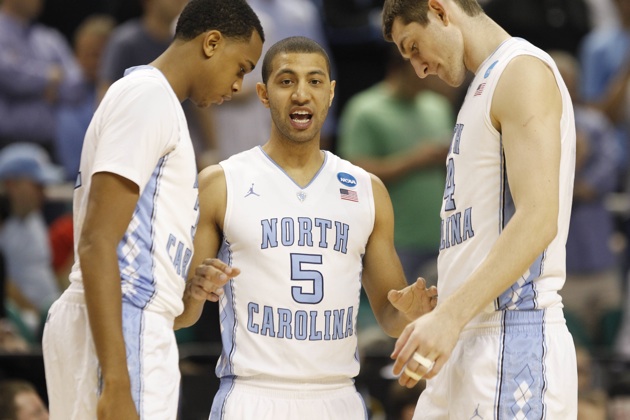 Kendall Marshall's fractured right wrist could be the last straw for a snakebitten Tar Heels team. (US Presswire)
Once John Henson returned from his wrist injury on Sunday, all was supposed to be well with North Carolina and its quest for a national championship. The Tar Heels had already survived injuries to guards Leslie McDonald and Dexter Strickland.
On Sunday, the most damaging injury of the season occurred, as point guard Kendall Marshall fractured his right wrist. His status for the rest of the tournament is unclear, but a fractured wrist is not easy to play through. Marshall is a lefty so it's conceivable he could try to play through the injury, but that's unclear at this point.
NCAA tournament coverage
Related links
More college hoops coverage
Regional coverage
"There will be no update tonight," head coach Roy Williams told CBS' Tracy Wolfson after the game.
Marshall is the one indispensable player for North Carolina. The Tar Heels had the depth to overcome injuries to McDonald and Strickland, and they were able to temporarily deal with the absence of Henson.
Marshall, however, is a different entity entirely. He's the only college-ready point guard on the roster, with Stillman White the only other healthy consistent ball-handler. Unfortunately, White played more than nine minutes only once this season, a 50-point win over Nicholls State back in December.
Arguably the best point guard in the country, Marshall moves the ball down the floor with the pass better than anyone. He has tremendous vision and can find players in transition or in a half-court setting. Moreover, the lefty sophomore had found his scoring mojo lately, averaging 14.8 points and 10.3 assists over the last six games. Marshall's shooting had improved, and he had been getting into the lane for scoring opportunities more consistently.
North Carolina still has plenty of scorers, with Harrison Barnes, P.J. Hairston and Reggie Bullock on the perimeter, and John Henson, Tyler Zeller and James McAdoo on the interior. But there's no one to get them the ball anymore, if Marshall can't play with his injury – or isn't as effective.
With the level of talent at the other positions, North Carolina can still be competitive. However, without Marshall at 100 percent, it's doubtful the Tar Heels still have the potential to win a national championship.
Arizona, for no good reason, doesn't have to play at USC or UCLA this season

We look at the 'Major 7' leagues and give you the best of what's to come in conference play...

Louisville's coach predicts a change is coming to the NBA's one-and-done rule by 2019
Multiple former players of Lonergan's alleged verbal abuse and inappropriate remarks

When Miller left for Indiana, there was cause for concern in Flyerland; a top-100 signee says...

The Hoyas will spend their non-league schedule playing mostly nobodies -- as will most big...