Kentucky finishes atop recruiting class rankings -- again
With Kentucky, UCLA and Arizona all reeling in three top-25 prospects, there was a tremendous race for the top spot in 2012 recruiting class rankings. In the end, though, John Calipari and the Wildcats finished at No. 1.
• 6 min read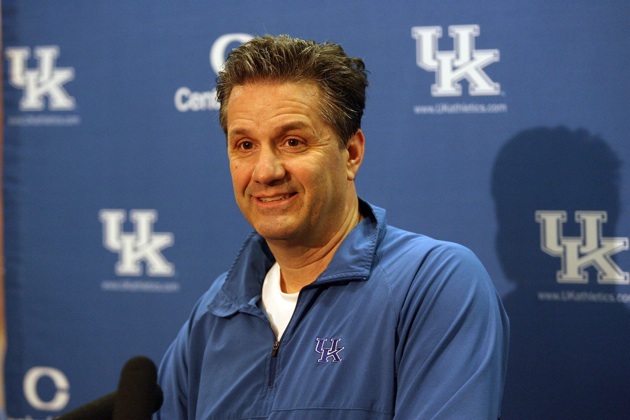 John Calipari has reason to smile: Kentucky has finished with the No. 1 recruiting class for 2012. (US Presswire)
Heading into the early signing period, it looked like Arizona might have had the No. 1 ranking wrapped up when it came to the class of 2012. After all, the Wildcats had picked up three of the best big men in the country: Kaleb Tarczewski, Brandon Ashley and Grant Jerrett. Moreover, Sean Miller was also bringing in explosive guard Gabe York. With four top-35 prospects, it was tough to imagine another team topping Arizona.
At the time, Kentucky was lurking at No. 8, with two top-40 prospects (Archie Goodwin and Willie Cauley) in the fold. UCLA was at No. 10, as Kyle Anderson and Jordan Adams were the only ones committed to the Bruins. 
Barring another program picking up two five-star players, Arizona looked destined for the No. 1 spot.
Unfortunately for Miller and the Wildcats, that's exactly what happened – with both Kentucky and UCLA.
No. 15-ranked prospect Alex Poythress chose Kentucky over Florida and Vanderbilt back in November, while newly-reclassified Nerlens Noel – the No. 1 player in 2012 – went with the Wildcats during the late signing period. With those two additions, it was tough to turn down Kentucky as the top class in the country.
Over in Westwood, No. 2-ranked Shabazz Muhammad ended a long recruiting process by announcing for UCLA over Kentucky and Duke during the late signing period. His decision moved the Bruins into position for a top-five class – but five-star big man Tony Parker's decision pushed them into contention for No. 1.
When it came to deciding between the three, Kentucky and UCLA had the true star power that Arizona lacked. UCLA made its case with two of the top three players, while Kentucky countered with the No. 1 prospect, three top-15 players and four top-45 prospects.
In the end, despite valiant efforts from several other teams, we ended the class of 2012 with a familiar face on top of the rankings: Kentucky.
(CBSSports.com player rankings in parenthesis.)


1. Kentucky
Commitments: Nerlens Noel (1), Archie Goodwin (7), Alex Poythress (15), Willie Cauley (45)

The Wildcats started slow in 2012, but ended with yet another top-ranked class. Expect at least three of them to make immediate impacts in the starting lineup.
2. UCLA
Commitments: Shabazz Muhammad (2), Kyle Anderson (3), Tony Parker (21), Jordan Adams (71)

With two of the top three prospects in the class, and another five-star prospect, Ben Howland should have the Bruins back in Pac-12 contention.
3. Arizona
Commitments: Kaleb Tarczewski (5), Brandon Ashley (8), Grant Jerrett (12), Gabe York (32), Matt Korcheck

With three of the best big men in the class, Sean Miller has his frontcourt of the future. Throw in the explosiveness of York, and this class is perfect.
4. North Carolina State
Commitments: Rodney Purvis (20), T.J. Warren (31), Tyler Lewis (51)

Mark Gottfried did a great job of keeping players home in his first offseason. All three guys are in-state kids and will keep the momentum rolling.
5. Baylor
Commitments: Isaiah Austin (4), Ricardo Gathers (48), L.J. Rose (62), Chad Rykhoek, Taurean Waller-Prince

Another year, another dynamite recruiting class for Scott Drew. In Austin and Gathers, Drew restocked the frontcourt with plenty of production.
6. Indiana
Commitments: Yogi Ferrell (26), Jeremy Hollowell (33), Hanner Perea (46), Peter Jurkin, Ron Patterson

This was expected to be the group that would bring the Hoosiers back to glory. With a terrific season last year, they are now hoping to bring a national title to Bloomington.
7. North Carolina
Commitments: Marcus Paige (30), Brice Johnson (38), Joel James (60), J.P. Tokoto (70)

A very solid four-prospect class without a true star. Johnson has a big-time ceiling inside, and Paige has a chance to run the show early in his career.
8. Texas
Commitments: Cameron Ridley (11), Prince Ibeh (56), Javan Felix (82), Ioannis Papetrou, Connor Lammert, DeMarcus Holland

Ridley and Ibeh will make an impact at both ends of the floor, and Felix showed well at point guard. Rick Barnes once again has loads of talent on his hands.
9. Duke
Commitments: Rasheed Sulaimon (13), Amile Jefferson (17)

The best two-man class in the country, the Blue Devils bring in two five-star prospects that will be counted upon early. Sulaimon is a stud.
10. UNLV
Commitments: Anthony Bennett (6), Katin Reinhardt (39), Savon Goodman (80), Demetris Morant, Daquan Cook

Beating out Florida, Kentucky and Oregon for Bennett put this class over the top. Don't forget Reinhardt, whose shooting and confidence will help. Goodman brings athleticism.
11. Michigan State
Commitments: Gary Harris (14), Matt Costello (83), Kenny Kaminski (92), Denzel Valentine

Tom Izzo will love the versatility of this class. Costello and Kaminski are bigs that can shoot, and Valentine does everything. Harris is the gem of the group, though.
12. Michigan
Commitments: Mitch McGary (19), Glenn Robinson Jr. (34), Nik Stauskas (90), Caris LeVert, Spike Albrecht

The additions of McGary and Robinson make it difficult to question John Beilein's ability to get top-notch talent. Stauskas is a sleeper offensively.
13. Providence
Commitments: Ricardo Ledo (18), Kris Dunn (23), Ian Baker, Josh Fortune

Ed Cooley will welcome arguably the most potential freshmen backcourt in the country. Both Ledo and Dunn have the ability to make an impact immediately.
14. Syracuse
Commitments: DaJuan Coleman (16), Jerami Grant (37)

Getting Coleman to stay home in Upstate New York was huge for Jim Boeheim, but the versatile and athletic Grant will be an asset at both ends of the floor.
15. Maryland
Commitments: Shaq Cleare (35), Jake Layman (57), Charles Mitchell, Sam Cassell Jr., Seth Allen, Damonte Dodd

In his first full recruiting season with the Terrapins, Mark Turgeon pulled in a tremendous class. Nearly every hole is filled with this six-man group.
16. Kansas
Commitments: Perry Ellis (36), Andrew White (53), Landen Lucas, Zach Peters, Anrio Adams

The Jayhawks missed out on a few big-time prospects in this class, but Bill Self still rebounded to finish with a good group. Ellis is an absolute winner.
17. Pittsburgh
Commitments: Steven Adams (10), James Robinson (69), Chris Jones

Jamie Dixon getting Adams to commit early will go down as one of the best recruiting moves of this class. Robinson is the typical Pitt guard.
18. Virginia
Commitments: Justin Anderson (47), Evan Nolte (78), Mike Tobey (84), Teven Jones, Taylor Barnette

A solid class of guys who fit well in Tony Bennett's system. Anderson is an athlete and born leader, while Nolte and Tobey will bring much-needed offense.
19. Georgia Tech
Commitments: Robert Carter (24), Marcus Hunt (65), Chris Bolden, Corey Heyward

It was imperative that Brian Gregory kept Carter home with the Yellow Jackets. Hunt had a great senior season, and Bolden is an impact 3-point shooter.
20. St. John's
Commitments: Jakarr Sampson (43), Chris Obekpa (63), Darrick Wood, Felix Balamou, Orlando Sanchez, Marco Bourgault, Christian Jones 

After a rocky start to the class, Steve Lavin finished with a bang, getting Obekpa in June. Sampson is terrific, and Wood and Sanchez will also get chances.
21. Xavier
Commitments: Semaj Christon (28), Jalen Reynolds, Myles Davis, James Farr

Christon had one of the better senior seasons of any point guard, and Chris Mack will also count on Reynolds and Davis to provide some punch.
22. Houston
Commitments: Danuel House (27), Danrad Knowles (72), Valentine Izundu, Brandon Morris, Tione Womack

James Dickey is getting it done at Houston. House and Knowles shot up the rankings last spring and summer, and both should be able to start early.
23. Villanova
Commitments: Ryan Arcidiacono (54), Daniel Ochefu (59)

A good two-man class that Jay Wright needed to shore up some holes on the roster. Both Arch and Ochefu are talented players who work hard.
24. Colorado
Commitments: Xavier Johnson (67), Josh Scott (68), Wesley Gordon, Chris Jenkins, Xavier Talton, Eli Stalzer

After a surprising first season in the Pac-12, the Buffaloes are bringing in some pieces to keep them in contention. Johnson, Scott and Gordon are solid.
25. Purdue
Commitments: Ronnie Johnson (85), A.J. Hammons (87), Raphael Davis, Jay Simpson

If this group plays to its potential, this ranking will look very low in three or four years. All four players are talented and can be productive when focused.
Davis is averaging 8.8 points and 2.4 rebounds per game this season

CBS Sports reached out to coaches across the country to get their reaction to Friday's huge...

Our advanced model simulated Saturday's Creighton vs. Villanova game 10,000 times
The ex-UCLA star says college players are getting paid under the table, so it's time to legalize...

Stephen Oh has nailed four in a row involving Virginia Tech and he's locked in a pick for...

Oklahoma tries to get back on course and Syracuse and Creighton look for huge wins Saturda...