Kentucky's Nerlens Noel announces he's heading to NBA
Nerlens Noel suffered a torn ACL back in mid-February, but the 6-foot-10 freshman will still head to the NBA -- and could be taken first overall on June 27.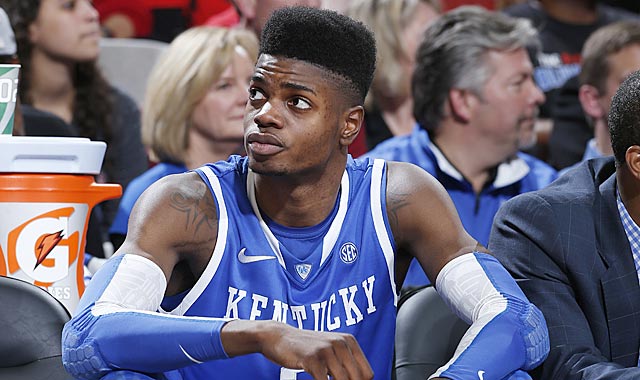 Despite the knee injury he suffered back in February, Nerlens Noel is leaving Kentucky after only one season for the NBA.
The school made the announcement Monday morning.
"I have loved my time at Kentucky, but I feel that I'm ready to take the next step to the NBA," Noel said. "I've learned so much here at UK and am thankful for Coach [John] Calipari, the staff and my teammates for all of their support. I especially appreciate the Big Blue Nation and all of the support, prayers and well-wishes I've received from them during my rehab and decision-making process. I'll always be a Wildcat." 
The long and athletic 6-foot-10 (maybe 6-11 with the flattop) Noel is a game-changer on the defensive end who showed NBA folks he plays hard on just about every possession. He's still raw on the offensive end, but this draft is lackluster at the top -- and Noel could still wind up being taken first overall.
Noel averaged 10.5 points, 9.5 rebounds, 4.4 blocks and 2.1 steals per game before the injury. He finished the season ranked second in school history with 106 blocks, behind only Anthony Davis from a year ago.
"I support Nerlens' decision to enter his name in the draft and am excited for him and his future," Calipari said. "The hard work and will to win he showed on the floor this year and the dedication and attitude he has shown in his rehab will only be a reward for him and whatever team drafts him in June."
Kansas won the rivalry renewed and helped raise money for hurricane relief

Larranaga still claims he is innocent in the FBI's investigation into corruption within college...

The Tar Heels join Arizona, Kentucky and Wichita State with key players on the sideline
It's difficult to figure out how these teams will perform this season

The reigning Final Four Most Outstanding Player will miss the start of the season

These teams went to The Big Dance in March, but could take a step back this season