Kentucky's Randle noticeably out of character in title-game loss
John Calipari can make all the excuses in the world, but Julius Randle looked out of character in the loss to UConn. Perhaps one day we'll find out what happened to UK's best player.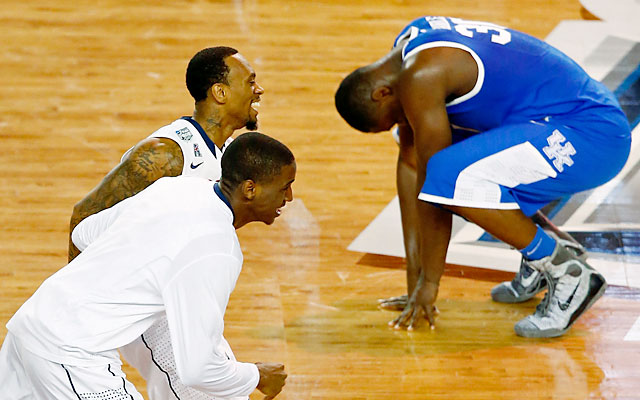 Watch: 'One Shining Moment' | Borzello: Kentucky can't lose Cal | Final bracket
ARLINGTON, Texas -- That wasn't Julius Randle.
Kentucky coach John Calipari can say otherwise. So can Julius Randle's Kentucky teammates. So can Julius Randle himself. And all of them did, in fact. After Connecticut beat Kentucky 60-54 in the NCAA championship game on Monday night, Kentucky rallied around Randle, saying he was fine and he played fine and there's nothing to see here. So move along.
For a variety of reasons, often nice reasons, people say things that aren't true -- and to say this Julius Randle was the same Julius Randle we've seen this season for Kentucky?
It just isn't true. Because that wasn't Julius Randle.
Maybe someday the truth will come out. Maybe it's like CBS was reporting during the game, that Randle was suffering from cramps, though he was asked several times about his health and he dismissed every inquiry with an immediate, "I was fine."
Maybe it was simply an adrenaline dump, which I've seen happen to UFC fighters when they walk into the Octagon for the first time, too fired up for their own good, and their body betrays them. Shuts down. A world-class athlete becomes helpless. It happens.
Is that what happened to Julius Randle? Is that why he scored just 10 points and had just six rebounds, well below his season averages of 15.1 ppg and 10.5 rpg? Is that why he attempted just seven shots? Is that why he had to come out of the game after just two minutes?
As a matter of fact, Calipari said, yes. Calipari was asked the following question, and the answer he gave made it sound very much like Randle had experienced the dreaded adrenaline dump:
Calipari was asked: "Why was Julius tired two minutes into the game?"
And Calipari said:
"Because he's a freshman and he was anxious," Calipari said. "That was the national championship in front of 17 zillion people and he ran up and down the court three times and he got winded. ... It's normal."
Well, no. It's not. Nobody else got winded after three trips up and down the court. Nobody else looked so completely out of character.
James Young attacked the rim and took more shots than anyone and finished with a team-high 20 points. Andrew Harrison put numbers into every box on the stat sheet: eight points, five rebounds, five assists, four turnovers, three steals. Aaron Harrison played a mirror-image of his Final Four game against Wisconsin, minus the game-winning shot Kentucky wasn't able to make happen. Dakari Johnson hit his season averages of five points, four rebounds. Alex Poythress showed glimpses of NBA brilliance and approached his season numbers with four points and five rebounds.
Julius Randle, the best player on the team, an outside shot at being the No. 1 overall pick in the 2014 NBA Draft, tried seven shots from the floor and made three. He tried seven shots from the line and made four.
He wasn't bad. He just wasn't Julius Randle. It was all game, something missing -- imagine a rocket ship trying to blast off and just sort of ... hovering -- but it was most noticeable midway through the second half when UConn saw what was happening, what was missing, and took its best big men off Randle and started defending him with 6-foot-7, 205-pound guard/forward Niels Giffey.
No offense to Niels Giffey -- who matched Randle point for point and nearly rebound for rebound, finishing with 10 points and five boards -- but Randle is a 6-9, 250-pound locomotive. Giffey is a horse-drawn carriage. That defensive matchup is an insult to Julius Randle, and with Kentucky trailing 48-45 with 8 1/2 minutes left, the Wildcats tried to exploit it. They gave the ball to Randle at the top of the key, guarded by Giffey.
Randle stared down Giffey, dribbled once, then twice.
Then passed the ball.
That's not Julius Randle. The Julius Randle who terrorized college basketball this season, who had double-doubles in the first four NCAA Tournament games -- 19-and-15 vs. Kansas State, 13-and-10 vs. Wichita State, 15-and-12 vs. Louisville, 16-and-11 vs. Michigan -- would have dribbled right at Giffey, spun around him, then dealt with whoever was waiting under the basket. The Julius Randle we've seen all season doesn't take Niels Giffey seriously. The Julius Randle we've seen all season doesn't take any defender seriously.
This Julius Randle passed the ball to Andrew Harrison. Here, he was saying. You take it.
Afterward I asked Randle about that sequence, and about the entirety of the game. He was in the corner of the Kentucky locker room, literally in the corner, his head wedged between two walls. He was trapped, nowhere to go, and he looked like he was falling asleep. His eyes were drooping. His voice was barely a whisper. Disappointed? Crushed? I'm sure he was both of those. I'm also sure he needed a nap.
Anyway, I asked Randle why he didn't explode on Giffey, or on skinny power forward DeAndre Daniels, or on slender and slower UConn center Phillip Nolan, or on anybody:
"They collapsed on me," he said. "I tried to create for other people. Some other guys had it going."
But no, see, they didn't. Other than Randle's 10 points, only Young scored in double figures -- and he was 5-for-13 from the floor. The Harrison twins were a combined 6-for-16. From 3-point range, as a team, Kentucky was 5-for-16.
Nobody had it going, but everybody else was at least doing what they normally do. Everybody but Julius Randle. Andrew Harrison said he had no problem with the way Randle went about the game -- "No, he played great," Andrew said -- and Calipari said whatever happened to Randle was normal, and happens to players all the time.
"Let me ask you," Calipari said. "If you were 18 and you had to be in that kind of environment, and everybody you looked at was 18, how would you do? Oh, you would make every free throw and dunk every ball? Especially with [UConn guards Ryan] Boatright and [Shabazz] Napier up under you, or somebody trying to block it?"
Sounds good, like so many things Calipari says, but it doesn't add up. Because whatever happened to Julius Randle -- what Calipari, by defending Randle, was confirming happened to Randle -- didn't happen to James Young. Didn't happen to Andrew or Aaron Harrison. Didn't happen to Dakari Johnson or Alex Poythress.
It happened only to Julius Randle.
Maybe someday he'll tell us why.
Oklahoma and Arkansas are new additions to Sunday's Top 25 (and one)

Gary Parrish and Matt Norlander discuss a wild Saturday of college basketball

Ball left the program earlier this month and has since signed with a Lithuania professional...
Sooners beat third-ranked Shockers while Florida and FSU lost in upset fashion to unranked...

The Hoosiers grow up before our eyes, and Miller has his first signature victory as Indiana...

Trae Young, a freshman and the nation's top player, has a 21-point first half at Wichita S...