Kentucky's supporting cast, room to grow separates it from pack
Kentucky has the most talented team in the country -- and it's starting to look like the Wildcats are slowly realizing their potential, too.
• 2 min read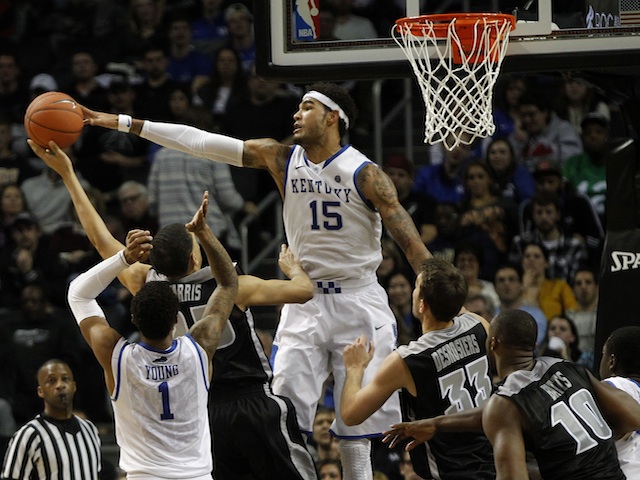 Most teams don't want to rely on their supporting cast. Getting complementary production in addition to stars performing is fine, but most teams wouldn't be able to survive with their point guard and leading scorer not performing at their peak.
Most teams aren't Kentucky, though.
And of course, it helps when their supporting cast is filled primarily with future first-round NBA draft picks.
Heading into the season, two of the main questions surrounding the Wildcats had to do with their lack of depth behind point guard Andrew Harrison, and their early-season reliance on Julius Randle to create offense. On Sunday against Providence, we saw exactly what might happen in those situations.
Harrison picked up his second foul with more than 10 minutes to go in the first half, and Randle was having some trouble finishing inside against the length along the backline of Providence's zone defense.
And that's when the "supporting cast" stepped up. Willie Cauley-Stein showed why he could be a future lottery pick, finishing with 15 points, eight rebounds and nine blocks; James Young hit three 3-pointers en route to 18 points; while Aaron Harrison filled the point guard role admirably, with 15 points and four assists.
That's what really separates Kentucky from everyone in terms of talent. The Wildcats can shake off subpar games from one or two of their key players, and still have enough to cruise to victories against good teams.
Cauley-Stein is simply a difference-maker at both ends of the floor. He's a tremendous shot-blocker, and his length and athleticism was one of the main reasons Providence shot 9-for-42 from 2-point range.
"When Willie picks it up on defense, it gives us that extra defensive boost that we need," Young said on Sunday night.
Aaron Harrison is supposed to be the scorer of the twins. He's the off-guard, the shooter, the complement to Andrew. Lately, though, he's been taking on more of an alpha role. He was named SEC Freshman of the Week for the past seven days, and his ability to run the point lessened the impact of Andrew's foul trouble.
"Aaron Harrison changed the game," head coach John Calipari said. "He went in and guarded [Bryce] Cotton. Andrew couldn't guard him."
It's performances like Sunday that make Kentucky such a dangerous opponent. The Wildcats are dangerous now, and they're going to be even tougher later in the second. And it seems that they are starting to figure out their roles and playing better as a team.
Especially on the defensive end.
"Those kids are really good players," Providence coach Ed Cooley said. "We wanted to play inside-out, but I think we got frustrated with their length. You can see where they're growing every game."
Sunday night was a positive step for Kentucky, which is starting one of the tougher non-conference stretches we'll see anywhere in the country. Beginning against Providence, the Wildcats face Baylor, Boise State, North Carolina, Belmont and Louisville in December.
Kentucky is going to be the more talented team in each game, and against pretty much anyone the Wildcats might have to play this season. And the scary thing is that the Wildcats are starting to figure out their deficiencies.
By the time March rolls around, there might not be any deficiencies remaining.
"We could be special if we get this right," Calipari said. 
There are places NBA prospects can develop if they pass on college and don't want to play...

Duke's Grayson Allen, Notre Dame's Bonzie Colson and UNC's Joel Berry make a pretty good ACC...

Finding the best basketball situation should be the only motivator for budding stars
We asked more than 100 coaches to give their predictions on how the NCAA will judge two massive...

After leaving Western Kentucky, five-star recruit's future in college basketball seems slim...

Hollywood, 19, redshirted last season