Kevin Durant reliably dominates as Thunder force Grizzlies to Game 7
Questioned in the morning, Kevin Durant delivered at night to the tune of 36 points in a Game 6 win at FedExForum that forced a Game 7 in this series between Oklahoma City and Memphis.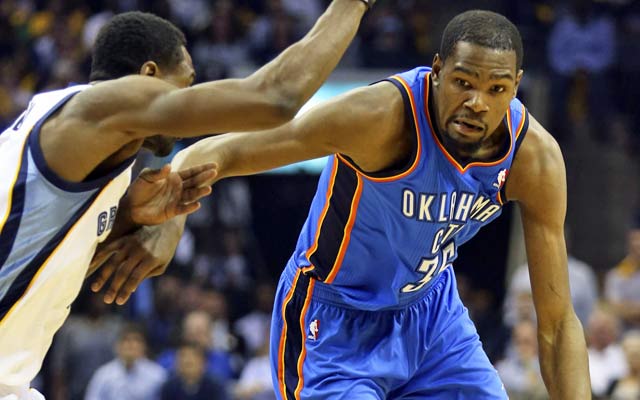 More postseason coverage: Playoff schedule, results | Latest news, notes
MEMPHIS, Tenn. -- The headline was big and bold and, depending on your perspective, possibly dumb, and certainly over the top. Either way, it was THE story all day Thursday.
Mr. Unreliable
That was the headline in The Oklahoman.
It was trending worldwide on Twitter before noon.
"I'm unreliable?" Kevin Durant asked when a television reporter presented him with the details a few hours before Game 6 of this Western Conference Playoffs series between the Thunder and Grizzlies. "Me? 'Mr. Unreliable?' That's what they said?"
If you saw the video you know Durant wasn't questioning the headline as much as he was, I don't know, just asking questions, and he really did seem genuinely surprised by the whole thing. Still, the soon-to-be MVP of the NBA managed to handle the moment, on the fly, with lots of cameras in his face, about as well as any superstar could. But how he would respond on the actual court, in the actual game, remained a mystery ... right up until Durant buried five of his first seven shots, scored 10 points in the opening seven minutes and built a lead for the Thunder that Memphis would never really come close to erasing.
Final score: Thunder 104, Grizzlies 84.
Durant finished with 36 points and 10 rebounds.
Game 7 is now set for Saturday at Chesapeake Energy Arena.
"I'm not going to give [the newspaper] credit for nothing," Durant said when asked, in the media room here inside FedExForum late Thursday, about whether the headline motivated him in some way. "We were down 3-2. We needed to win this game."
****
The headline read 'round the world was positioned over a column authored by Berry Tramel that detailed Durant's struggles through the first five games of this series. But Tramel didn't write it or even know about it until he got a phone call Thursday morning, and, by then the so-called damage was definitely done. Put the same headline on a tabloid in New York, and hardly anybody blinks. But small markets don't normally treat their superstars that way, regardless of the circumstances, and when you combine that fact with the reality that Durant will become a free agent in the summer of 2016, all of the insecurities small-market fans tend to have about losing players to larger markets start to kick into overdrive, and, next thing you know, folks are throwing up billboards in downtown Oklahoma City to publicly profess their love for a 25-year-old scoring champion.
It's all so dumb and sweet and silly.
More than anything, though, it's great theater.
A No. 2 seed on the verge of elimination in the opening round of the playoffs to a No. 7 is always  fascinating, especially when the No. 2 seed has a true star on its roster like Durant. But you can never have too many storylines this time of the year. So, in that regard, the headline was a gift to social media and every analyst who gets paid to speak on television.
Then Durant delivered as you'd expect.
"He's self-motivated," said OKC coach Scott Brooks. "He's a tremendous kid who does everything for his team, for our organization. ... He gives everything he has."
Durant was aggressive from the tip and so intense that, at one point in the second quarter, he told one of the Grizzlies minority owners sitting courtside (who was complaining about Durant complaining about whistles) to "Shut the f-ck up," and I bet you won't see that in a Sprint commercial any time soon. The 6-foot-11 wing led all players in points and rebounds while extending a series that the 18,119 fans who filled this downtown arena hoped would not return to Oklahoma City. But now this series is returning to Oklahoma City for a deciding game in which the Thunder will be favored by a notable margin, especially with Grizz point guard Mike Conley suddenly hobbled by a hamstring injury.
"I'm gonna play [Saturday]," Conley promised, "and give whatever I've got."
Will that be enough?
Who knows?
But that's a question for another day.
Because on this day the only important question revolved around how Durant would respond to being criticized by his hometown paper, and the answer delivered was predictable. The world's best scorer was awesome, and now, barring an upset Saturday, he'll take a small-market franchise to the Western Conference semifinals for the fourth straight year, which, oddly, makes him one of the more reliable things in professional sports.
Here are teams in the midst of big turnarounds who could be big threats in the Big Dance

Our advanced computer model simulated Monday's Minnesota-Wisconsin game 10,000 times

The latest coaches poll has Michigan State at the top followed by Virginia and Villanova
Zack Cimini nailed 67 percent of his college basketball picks and released a play for Okla...

Zack Cimini is on a 34-24 run and just released a pick for Monday's Maryland-Northwestern...

Last week's top 10 went a combined 10-9 which scrambled up the new AP Top 25