Kevin Ware eligible to play at Georgia State next season
The former Cardinals guard had a dramatic 2013-14, and he'll hope to revive his career with the Panthers at GSU.
• 1 min read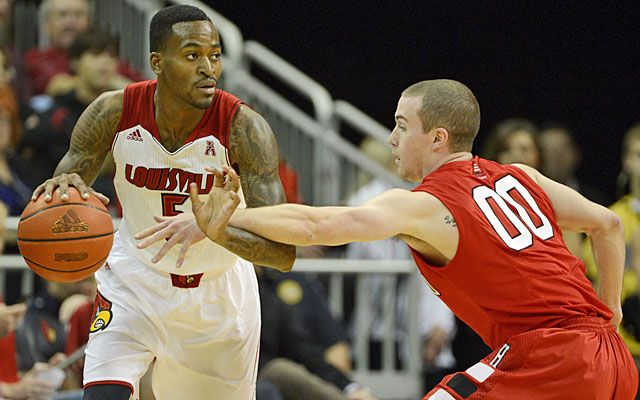 The NCAA has deemed Kevin Ware's transfer case worthy of a redshirt exemption, opting on Thursday to allow Ware to play next season.
His immediate eligibility means he'll likely start for the Georgia State Panthers; Ware transferred to GSU in mid-April after opting to leave Louisville in late March.
On Thursday morning, Ware tweeted the following:
Turrrrrnnnn upppppppp let's go!!!!!!!!

— Kevin Ware (@5Juice) June 19, 2014
Thanking God for another day and blessing me with immediate eligibility to play this year!!

— Kevin Ware (@5Juice) June 19, 2014
Excited for the support of the @NCAA in regards to helping provide @5Juice a chance to prove himself! Best part of my job! #allblueallin

— GSU Compliance (@GSUCompliance) June 19, 2014
Ware chose Atlanta-based GSU for familial reasons, and as we've seen so often in the past, the NCAA has heard the player's side of the story and chosen to approve a waiver for immediate eligibility.
Ware became a househould name nationally after he broke his leg (right tibia) in the 2013 Elite Eight, in Louisville's game against Duke. Despite being a role player, Ware went on to become the face of the Cardinals over the next two weeks as Louisville won the 2013 national title. Ware made appearances on national television, on shows that weren't even sports-slanted, and was invited to the White House Correspondents' Dinner.
But after grueling through rehab last year, Ware was unable to make full progress back with the team and ended up only playing nine games. He eventually sat out most of the season due to an aggravated foot injury.
Ware has two years of available playing time left in D-I. 
Georgia State flirted with an NCAA Tournament birth last year, but fell in the Sun Belt title game. It went on to win 25 games after competing in the NIT. Expectations will be avenging the loss in the Sun Belt and reaching the big dance in 2015.
The game will be finished on Thursday at noon at Providence's on-campus basketball gym

The five-star forward put on a dunking and blocking clinic in high school's state quarterfinal...

Pitino dug in and maintained he ran a 'clean program' after the NCAA stripped UL of its 2013...
Bagley is still recovering from a knee injury he suffered during the Blue Devils' loss to...

Izzo was emotional as he coached the seniors on their final home game in East Lansing

The Shockers look to build on their four game winning streak as they return home to face T...