Kobi Simmons is among the elite PGs in the class of 2016
After averaging 21.0 points at the Adidas Super 64, Kobi Simmons cemented his spot among the five-star guards in 2016.
• 1 min read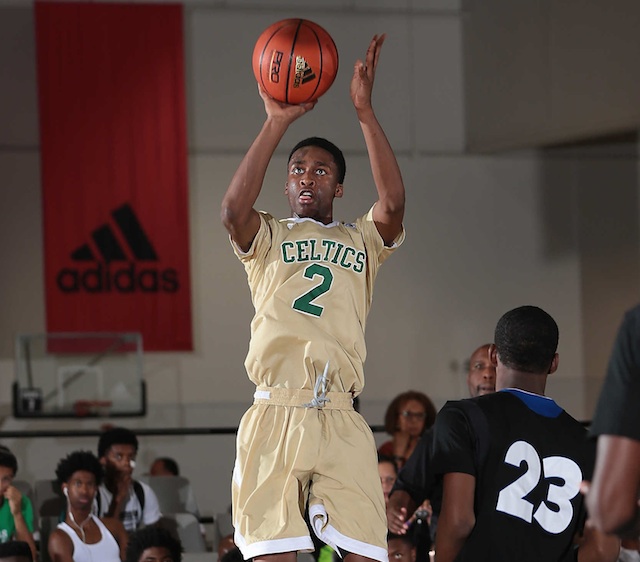 LAS VEGAS -- The class of 2015 isn't loaded with point guards. Most of the best backcourt players are scorers, and it's a down year in general for the position.
One can't say the same for the class of 2016, which has multiple high-level point guards among its group of five-star players.
Dennis Smith Jr., Derryck Thornton, Lonzo Ball and Kobi Simmons are all ranked in the top-20 in the class.
"We stack up pretty well," Simmons said. "We're all great friends. But on the court, it's all competitive, competition. We match up pretty well."
Simmons was already in the conversation with the other point guards, but he really solidified himself in July. He's athletic at the rim, and can get by his defender with ease. Simmons also showed good range on his outside jumper, making him more difficult to defend. He also played off-the-ball at times, but he is going to be the primary ball-handler at whichever school he decides to attend in a couple years. 
He averaged 21.0 points at the Adidas Super 64 after putting up 18.5 during Adidas Gauntlet regular-season play. 
"I'm a scoring guard, but I can facilitate when I need to when I see the help," Simmons said. "Doing everything my team needs me to do."
The 6-foot-5 Simmons has all the big boys in college basketball on him, including Kentucky, Duke, Kansas and Ohio State. Missouri, Memphis, Texas, Georgia and Georgia Tech are also in the mix.
Simmons visited Kentucky for Big Blue Madness last year.
"It was crazy," he said. "Loud. It's a great atmosphere."
Simmons is ranked No. 19 in the 247Sports Composite for the class of 2016.
How the late Andrew Smith inspired change and helped save a child

Matt Norlander is on a 14-10 run in college basketball picks and shares his best bets for...

Calipari threw major shade at Duke and the coaching staff's recruiting pitch
Brown is the No. 2 center in the Class of 2018 and a big get for the Bruins

The Sooners are on a two-game losing streak but still rising on one AP ballot

Vegas legend Kenny White has nailed 3 straight UNC picks and just made a play for Monday's...