Lack of separation between teams should make March Madness wild
An oddsmaker tells CBSSports.com that the difference between college basketball's best team and college basketball's 16th-best team is fewer than four points on a neutral court.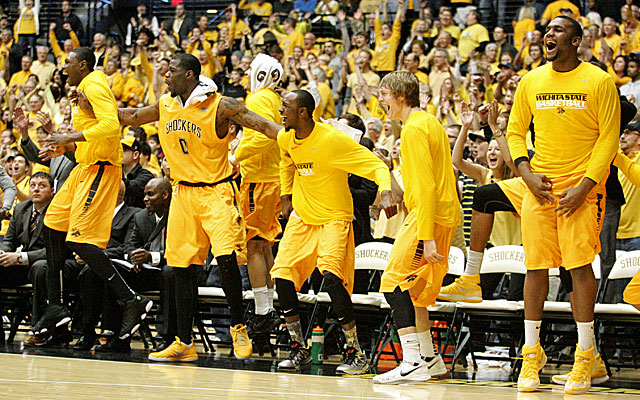 More on Wichita State:

Should Shockers be a No. 1 seed? | Bracketology
One of my arguments for giving Wichita State a No. 1 seed in the NCAA Tournament -- you know, besides the perfect record and stuff -- is that there aren't four teams in this particular year obviously better than Gregg Marshall's Shockers.
Are there better teams?
Perhaps.
There might even be four better teams. I'm not sure and neither are you. But, either way, there aren't four obviously better teams than Wichita State, if only because there aren't four teams obviously better than anybody else in the top 16.
"We've been talking about this at our office for weeks," said Todd Fuhrman, a former oddsmaker with Caesar's who is now an analyst for DonBest.com. "There's such a log-jam of teams that you really can make a case for 16 teams having what it takes to win the title."
March Madness, indeed.
Furhman went on to explain that, on a neutral court, there is a difference of less than four points between what he believes is the nation's best team and what he believes is the nation's 16th-best team, meaning every Sweet 16 matchup could theoretically project as a one-possession game. Furthermore, I asked him to back up a round, take Jerry Palm's latest Bracketology, and provide me with point spreads on projected Round of 32 games.
Here's how that looks:
No. 1

Wichita State Shockers

(-5.5) vs. No. 8 Arizona State
No. 4

Iowa Hawkeyes

State (PK) vs. No. 5

North Carolina Tar Heels

No. 3

Virginia Cavaliers

(PK) vs. No. 6

Louisville Cardinals

No. 2

Wisconsin Badgers

(-7) vs. No. 7 UMass
No. 1

Syracuse Orange

(-7.5) vs. No. 8

George Washington Colonials

" data-canon="Washington Huskies" data-type="SPORTS_OBJECT_TEAM" id="shortcode0">
No. 4

Oklahoma Sooners

(+1.5) vs. No. 5

Connecticut Huskies

No. 3

Michigan Wolverines

(-4) vs. No. 6

Memphis Tigers

No. 2

Villanova Wildcats

(-3.5) vs. No. 7 VCU
No. 1

Florida Gators

(-9.5) vs. No. 8

Stanford Cardinal

No. 4

Michigan State Spartans

(-2.5) vs. No. 5

Saint Louis Billikens

No. 3

Creighton Bluejays

(-1.5) vs. No. 6

Kentucky Wildcats

No. 2

Kansas Jayhawks

(-1) vs. No. 7 Iowa
No. 1

Arizona Wildcats

(-8) vs. No. 8

New Mexico Lobos

No. 4

Cincinnati Bearcats

(-5) vs. No. 5

Texas Longhorns

No. 3

Duke Blue Devils

(-4) vs. No. 6

Ohio State Buckeyes

State" data-canon="Ohio Bobcats" data-type="SPORTS_OBJECT_TEAM" id="shortcode0">
No. 2

San Diego Toreros

State (+3) vs. No. 7

UCLA Bruins
What you see here is that 12 of the 16 projected Round of 32 games in Palm's latest Bracketology would have point spreads of fewer than six points, and there would be zero double-digit spreads. (And this is the Round of 32!) Granted, that doesn't mean we won't eventually get to AT&T Stadium and be joined by four No. 1 seeds; things could very well go that way. But typically, by now, there are only six or seven schools that seem like legitimate threats to win the national title, and that number appears to be much higher this season because there aren't really any teams too much better than the next 20 -- proof being, again, that Fuhrman believes the difference between the nation's best team and the nation's 16th-best team is less than four points.
So get ready.
The NCAA Tournament is regularly referred to as America's best postseason event because of the unpredictable nature of 40-minute games with win-or-go-home stakes, which is why Warren Buffett can start a contest and promise $1 billion to anybody who picks a perfect bracket. He's smart enough to know that nobody can pick a perfect bracket. There are just too many big upsets each and every round, each and every year.
But this year?
We'll be short on big upsets this year -- but only because not much will qualify as a big upset.
That should make things even more unpredictable than usual.
Bottom line, Florida and Arizona are really good, sure. But they're not, from the perspective of a point spread, that much better than Wichita State or Kansas ... or even Pitt, which has lost four of its past six and isn't even a lock to make the Field of 68. So if you want to pick a Final Four, start flipping coins. The four best teams could get there, I guess. But good luck trying to figure out who they are ... or even what conference they're from.
Nov. 10 will be here before you know it so here's what you need to know

The league would be wise to treat that series like the ACC treats Duke-North Carolina

Pacific is penalized after the NCAA found academic rules were broken
Arizona, for no good reason, doesn't have to play at USC or UCLA this season

We look at the 'Major 7' leagues and give you the best of what's to come in conference play...

Louisville's coach predicts a change is coming to the NBA's one-and-done rule by 2019