Las Vegas AAU recap: Eight thoughts from the third evaluation period
With five events going on in the desert, there was plenty of basketball to be watched over the last five days. Here's several thoughts on what transpired.
• 6 min read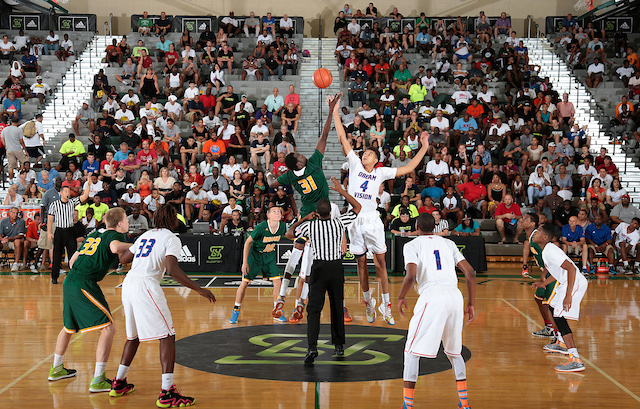 LAS VEGAS -- And the July evaluation period comes to a close. After camps in Las Vegas, Chicago and Philadelphia, and tournaments in Augusta, Atlanta and Milwaukee, nearly every coach in the country descended on Las Vegas for the third evaluation period. There were three AAU tournaments -- Adidas Super 64, Fab 48 and Las Vegas Classic -- an event put on by Chris Paul that coaches were not allowed to attend, and a junior college camp. After four days driving to various gyms and facilities across the desert, here are some thoughts from Las Vegas.
1. This recruiting calendar still stinks: When the July recruiting calendar changed from two 10-day periods to three four-day periods, it was supposed to help the marathon-like feel of July. But it hasn't done that whatsoever -- and I think it's worse. Having three different sessions that go from Wednesday afternoon to Sunday afternoon is brutal. In between sessions, coaches are home for less than 48 hours before they have to leave to go back on the road. AAU teams and programs might be home for even less than that if they play until the very end on Sunday. Moreover, coaches are away from their college players for basically the entire month. The two 10-day periods were tough, but I think that's closer to what the calendar should be. Maybe two seven-day periods with seven days in between.
2. USA basketball really took some of the luster away from Vegas: Friday was a weird day on the circuit. You walk into any gym featuring high-level players, and it wasn't the normal crowd. Instead of several high-major head coaches keeping tabs on the players, there were very few, replaced by assistant coaches -- or in some cases, no one at all. Relatively speaking, it was almost empty. Where was everyone? Colorado Springs to watch USA Basketball U-17 tryouts. They were open to college coaches for one day (Friday), meaning nearly every head coach (and an assistant too) went to watch. Moreover, the talent was watered down somewhat due to USA basketball.
3. Adidas might not have the pop of Nike, but it didn't lack star power: When making my schedule for Vegas, I thought about doing it like I did in the past: hitting up multiple tournaments everyday, bouncing from gym to gym to see whatever good game was going on at that time slot. Instead, I went to Fab 48 to see its showcase games Wednesday night, and the Las Vegas Classic Thursday morning and The 8 Thursday night. I realized I wanted to spend an entire day at Adidas Super 64, mainly because every time slot had a five-star kid playing. It started with De'Ron Davis and Mario Kegler, but included Jaylen Brown, Brandon Ingram, Kobi Simmons, Thon Maker, etc. It even carried over to the next day, with Chase Jeter, Jalen Adams, Justin Simon, Carlton Bragg, and others. There were plenty of big-time guys.
4. This year's crop of junior college players isn't as strong as 2014: I'm not going to pretend to be a junior college basketball expert, but I stopped at Brad Winton's Junior College All-American Showcase West on Saturday morning, and the group just didn't look as loaded as last season. Of course, the showcase didn't have every junior college player in the country, but talking to a few people confirmed my thought: the 2015 group certainly isn't as good last season. Last year, there was Josh Gray, Cinmeon Bowers, Sam Cassell Jr., Torian Graham, Kadeem Allen, Jordan Goodman, etc. -- former highly-recruited guys that were back on the radar. There will obviously be high-major players, but the cream of the crop isn't on the same level.
5. Certain NBA guys just do it differently in AAU: Plenty of NBA players sponsor AAU teams or have their hands in different AAU programs, but not everyone does it to the same level. Penny Hardaway was one that stood out last week, coaching his Team Penny team on the Nike circuit. This week, Chris Paul and Jerry Stackhouse were the two guys that really got it. Paul isn't at every Team CP3 game, but I've seen him several times over the past few years, and he is hands-on, instructing his players, talking in huddles, etc. Stackhouse is another one, starting the Stackhouse Elite AAU program -- and he's at every game in the summer. "A lot of NBA players will make a team, but they're not as hands-on," CP3 guard Alterique Gilbert said. "It's a great experience."
6. The quirky/funny July stories change up the monotony of the recruiting grind: You always hear the stories about the recruiting circuit, how a team began recruiting a player because they watched him on another court while waiting for their main target. Or they were stuck in a gym during a quiet game set, and found a random player light it up. Those sort of stories make the recruiting period and will be the ones retold in feature stories down the road. Without them, it's a nonstop case of coaches watching targets. One such story from this week: a school had become interested in a certain player, but the head coach hadn't seen him yet. The assistant coaches set it up so the head coach can go watch this kid on Wednesday night. For some reason, the head coach can't figure out the GPS and as a result, can't get to the gym to watch the kid. The prospect was OK that night. The next morning, though, the head coach still had to see the kid -- and he lit up the scoreboard. Now, that player is arguably the school's No. 1 target.
7. The next few weeks really determine the direction of the 2015 class: Priorities and targets have already changed over the last three weeks, as coaches were finally able to see guys this month after last seeing them in a competitive setting in April. Players were moved up and down the board, new players were added, old players were removed. The next couple weeks, though, things really ramp up. Players will make commitments before school starts, which will result in some dominoes falling across the landscape. Schools will have to figure out which players to bring in on official visits -- and when to bring them in. Players have to narrow their choices to decide which five official visits they want to take. Things become much more clear before September.
8. Skal Labissiere might be the best long-term prospect in 2015: A couple years ago, the Haitian post player was one of the more intriguing prospects in the class of 2015. His stock dipped a little bit, though, and he was right around the top-20 heading into July according to the 247Sports Composite. That's all changed now. Labissiere was fantastic this month, showing off an advanced offensive game that we haven't seen consistently from him in the past. He was knocking down stepback jumpers, hitting 3-pointers with ease, going off the dribble, scoring in the post, blocking shots, etc. Right now, he's not a top-five player in the class -- but with his skillset and room to grow, there aren't many guys with a higher ceiling. As one high-major assistant put it: "He reminds me of Anthony Davis -- but better offensively." Colleague Gary Parrish took an in-depth look at his recruitment. 
Andrew Jones is Texas' second leading scorer

Oklahoma's star freshman has a father who has been there and done that

Kentucky now is at risk of slipping out of the Top 25 (and one)
Cherry's commitment gives ASU a top-20 recruiting class and its highest rated pledge since...

Matt Norlander is on a 11-7 run in college basketball picks and shares his best bets for W...

Kentucky losing this game probably cost it a shot at earning a high NCAA Tournament seed