Last of the Unbeatens: Does Arizona fall this weekend?
The same three teams still remain without a loss, and it's starting to get serious -- as there is now almost a 1-in-2 chance that one team ends the regular-season undefeated.
• 3 min read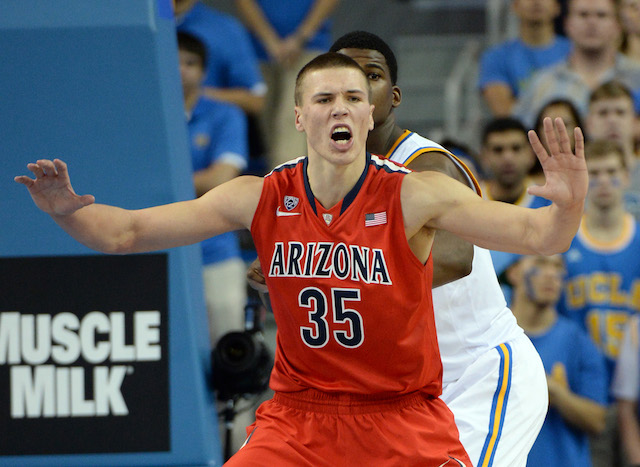 Welcome back to our feature, "Last of the Unbeatens," where we run through each of the undefeated teams remaining in the country – as well as where they might suffer their first loss.
Another week, and the same three teams are still undefeated. Both Arizona and Syracuse dealt with close calls over the weekend, but they both went on runs in the final few minutes to pull away down the stretch. Wichita State continued to cruise in its games.
Now, even KenPom says there is a 47 percent chance of at least one team team ending the regular season with an unbeaten record. Provided Syracuse and Arizona get out of Wednesday without a blemish, we will have three teams with 20-plus wins and no losses. It's starting to feel like there's a legitimate chance of someone continuing to roll without a defeat.
Since there are only three teams remaining, we're going to start looking at upcoming schedules more closely for each team.
What they've done recently: Arizona hadn't been tested in a couple of weeks, rolling over USC, Arizona State and Colorado – but then came Utah. The Utes took an early lead on Arizona and hung in there for 37 minutes, before Arizona's late run put the game out of reach.
Jan. 29 at Stanford: The Cardinal have the size to hang with Arizona, but Stanford has to guard on the perimeter. They're playing well lately, and will keep it close. I think Arizona squeaks out a win, though.
Feb. 1 at California: This is where I think Arizona falls. California has solid big guys down low, a very good perimeter group – and will be at home. If they can score inside and keep Arizona off the glass, I think the Golden Bears get a win.
Feb. 6 vs. Oregon: Back at the start of Pac-12 play, this was the game to circle. Oregon was unbeaten and had one of the most entertaining teams in the country; at 2-5 in the Pac-12, though, the Ducks aren't winning in Tucson.
What they've done recently: The Orange only had one game last week, and they went into Miami and came out with a 12-point victory. The margin is a bit misleading, as the Hurricanes dug themselves out of a 26-8 hole to take the lead in the second half – before Syracuse pulled away.
Jan. 29 at Wake Forest: This is Syracuse's last road game until February 12, and while the Demon Deacons are playing better lately, the Orange should be able to get a win in Winston-Salem.
Feb. 1 vs. Duke: A couple of weeks ago, this looked like a win for Syracuse. With Duke winning five in a row – including Monday's road victory at Pittsburgh – it will be a battle. I think Syracuse wins, but Duke is playing like a Final Four contender again.
Feb. 3 vs. Notre Dame: The Fighting Irish have lost six of their last seven and currently sit at 2-6 in the ACC. They haven't won a road game all season, even with Jerian Grant. They're not beating the Orange at the Carrier Dome.
What they've done recently: Ever since the Shockers were on the brink of losing at Missouri State, they have been absolutely rolling. They have won the last five games by an average of 17.2 points, and that included a 20-point thrashing of Indiana State. They took care of Loyola Chicago by 12 on Tuesday.
Feb. 1 vs. Evansville: Evansville is improving as the season progresses, winning three of its last five – but Wichita State won't have much trouble dispatching of the Purple Aces.
Feb. 5 at Indiana State: This is the game many people have had circled since Wichita State got off to its hot streak to start the season. Indiana State is the second-best team in the league, and while the Sycamores lost by 20 in the first meeting, Jake Odum was coming off a concussion. I think this could be where it ends for Wichita State.
Feb. 8 at Northern Iowa: If Wichita State can get past Indiana State on the road, a battle with Ben Jacobson's Panthers awaits. Northern Iowa hasn't lost at home this season, and have won 10 straight MVC games at home. Northern Iowa lost by 14 in the first meeting. If Wichita State comes out of this game undefeated, the Shockers could finish the regular without a blemish.
Oklahoma's star freshman has a father who has been there and done that

Kentucky now is at risk of slipping out of the Top 25 (and one)

Cherry's commitment gives ASU a top-20 recruiting class and its highest rated pledge since...
Matt Norlander is on a 11-7 run in college basketball picks and shares his best bets for W...

Kentucky losing this game probably cost it a shot at earning a high NCAA Tournament seed

Freshman had 12 turnovers and 20 points; the Wildcats rattled him and kept OU on its heels