Last of the Unbeatens: Wichita State and 'Cuse face road tests
The three unbeatens still remain, with Arizona, Wichita State and Syracuse hoping to head into February without a loss.
• 2 min read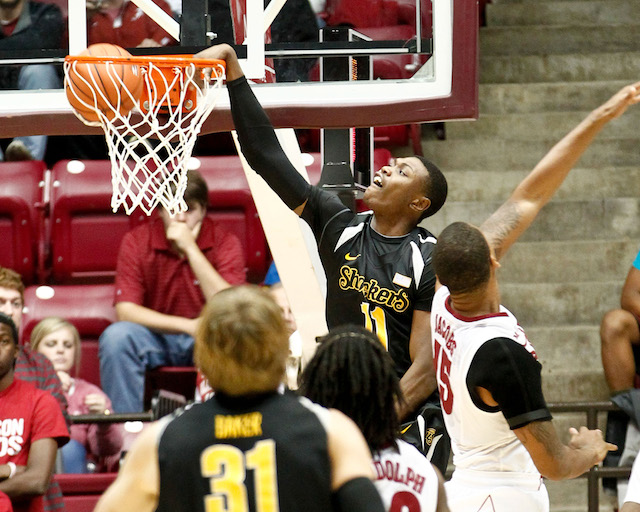 Welcome back to our feature, "Last of the Unbeatens," where we run through each of the undefeated teams remaining in the country – as well as where they might suffer their first loss.
For the first time since we began this feature, the list remains exactly the same as a week ago. Syracuse survived a threat from Pittsburgh on Saturday, while Wichita State blew out its biggest competition in the Missouri Valley. Arizona didn't have a weekend game, but handled Arizona State with ease.
Syracuse is off during the week, but the Orange did suffer a season-ending injury as DaJuan Coleman will undergo surgery.
We're also going to keep giving my projection for when each team loses its first game, although that didn't change from last week.
What they've done recently: It was tough to imagine Arizona State hanging with the Wildcats, and the Sun Devils lost by 23. Arizona has been off since last Thursday, but now face two home games against Colorado and Utah. With Spencer Dinwiddie, the Buffaloes might have been Arizona's biggest competition in the Pac-12. Without him, Askia Booker and Josh Scott have to carry them. That's probably not enough for Arizona to suffer its first loss.
Next game: Jan. 23 vs. Colorado
Next possible loss: Jan. 29 at Stanford
First projected loss: Feb. 1 at California
What they've done recently: While DaJuan Coleman's injury hurts the Orange's inside depth, they've done fine without him and the combination of Baye Keita and Rakeem Christmas should be sufficient. The next two games for Syracuse come on the road, as the Orange head to Miami this weekend and Wake Forest next week. The Hurricanes nearly took down Syracuse at the Carrier Dome in the ACC opener; can they finish the job in south Florida?
Next game: Jan. 25 at Miami
Next possible loss: Jan. 25 at Miami
First projected loss: Feb. 12 at Pittsburgh
What they've done recently: So much for being threatened by Indiana State. The Shockers absolutely rolled to a 20-point over the Sycamores, surviving the first of very few true threats in Missouri Valley play. Without that said, road games in the league are never easy, and that's exactly what Wichita State has next: trips to Illinois State and Drake. The Redbirds are up first, and considering they have won 10 of their last 13, it won't be a cakewalk.
Next game: Jan. 22 at Illinois State
Next possible loss: Jan. 22 at Illinois State
First projected loss: Feb. 5 at Indiana State
Van Gundy spoke out against the governing body and called the one-and-done rule 'racist'

The Spartans finished the regular season with 12 consecutive wins

The Wildcats could look like a completely different team come Selection Sunday
Southern California also helped its NCAA Tournament selection hopes

The Cornhuskers, UCLA and NC State all look to improve their NCAA Tournament resumes

Our advanced computer model simulated Sunday's Wisconsin vs. Michigan State game 10,000 ti...