Let's look ahead to the Sweet 16 and appreciate the Miller brothers
Arizona's Sean Miller and Dayton's Archie Miller are the first brothers to ever coach in the same Sweet 16. Theoretically, they could meet in the national title game.
Regional previews: East | South | Midwest | West | More NCAA tourney
Have you caught your breath yet?
Are you OK?
Is your bracket wrecked like my bracket is wrecked?
The past four days have been equal parts exhausting and exhilarating, and I can't imagine a scenario where this Thursday, Friday, Saturday and Sunday will outdo the Thursday, Friday, Saturday and Sunday we just experienced. But, that said, what do I know? (I mean, seriously, what do I know? Have you seen my bracket?) The great thing about this annual event called the NCAA Tournament is that what I can imagine and what you can imagine rarely matters.
Stuff just happens.
Stuff happens without rhyme or reason.
Stuff happens and, often times, it makes no sense.
That's how a league that ranked sixth in the RPI (SEC) ends up with three schools in the Sweet 16, how a team that started 2-8 in the Big 12 (Baylor) advances to a regional semifinal, and how a team that finished tied for fifth in the Atlantic 10 (Dayton) finds itself playing a team that finished tied for third in the Pac-12 (Stanford) with an Elite Eight berth on the line.
It's all so crazy.
Let's do a Sweet 16 Look Ahead ...
My bracket is the worst bracket
I had 10 of the 16 regional semifinalists pegged correctly, and I don't guess that's too bad. But my national champion is gone. And three of my Final Four teams are gone. In a related note, I picked the Miami Heat to win the NBA title, and I'm half-surprised they weren't eliminated from contention on Sunday like every other team I believed in.
Four Sweet 16 Games I Can't Wait To Watch
Louisville vs. Kentucky: Some scalpers in Indianapolis are about to get paid, and for two reasons. 1) They're holding tickets to a Sweet 16 game between bitter rivals. 2) Those bitter rivals both have campuses less than 200 miles from Indy. This would be a great Final Four game, and we're gonna get it in the Sweet 16. Excellent.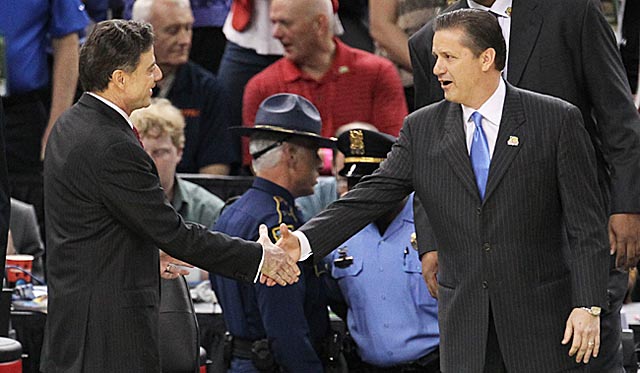 Florida vs. UCLA: Anybody up for a rematch of the 2006 NCAA Tournament title game? A lot has changed since then -- like all of the players and one of the coaches. But Billy Donovan is the constant, and his path to a Final Four has never seemed more manageable.
Iowa State vs. Connecticut: DeAndre Kane and Shabazz Napier on the hardwood together should be a blast. Would anybody argue if both were First Team All-Americans?
Virginia vs. Michigan State: This is the rare No. 1 seed vs. No. 4 seed matchup where the No. 4 seed actually opened as a favorite. Where the line will be at tipoff, who knows? But the ACC Tournament champs vs. the Big Ten Tournament champs is must-see TV.
And ...
Speaking of conference-tournament champs: Did you realize 12 of the Sweet 16 teams finished either first or second in their conference tournaments? Virginia, Michigan State, Louisville, Iowa State, Florida and UCLA all won single-elimination events last week. That doesn't mean you have to be playing well before the NCAA Tournament to advance in the NCAA Tournament. But it doesn't hurt, undeniably.
Shoutout to Johnny Dawkins and Cuonzo Martin: Right or wrong, fair or not, careers are often advanced or ended in the NCAA Tournament, and that's why it's nice to see Stanford and Tennessee doing what they're doing. Dawkins, the Stanford coach, entered this season on the so-called hot seat while Martin, the Tennessee coach, spent February on it, to some degree, because of the lingering shadow of Bruce Pearl. But now look! Both are in the Sweet 16 and neither will be fired. Contract extensions and raises might be in order, though.
Shoutout to KenPom: Tennessee's body of work never matched its KenPom rating, mostly because KenPom doesn't care much (or at all) about actual wins and losses. But the only person on the planet not even a little surprised by the Vols' march to the Sweet 16 has to be Ken Pomeroy. His algorithm has had UT ranked in the top 15 since early this month even though UT was on the bubble on Selection Sunday, according to the NCAA Tournament selection committee. That's why the Vols were favored in the Round of 64 and the Round of 32 despite being the No. 11 seed in the Midwest Regional.
While we're on the subject of KenPom: Only four of the schools still playing are working with an offense and defense both ranked in the top 20 in terms of efficiency. Those four schools are Louisville, Tennessee, Florida and Virginia. Of those four, Louisville has the best offense and the best defense. Of the teams still alive, Michigan has the the best offense while Arizona has the best defense.
Check those Miller brothers: I've long described Arizona's Sean Miller as an established star and his younger brother, Dayton's Archie Miller, as a future star. But now they're both just stars, period. They'll forever be the first brothers to coach in the same Sweet 16. Thank god John Miller didn't have more sons or else there would be no Division I jobs available.
Best College Player Left In Each Regional
South: Scottie Wilbekin (Florida)
East Shabazz Napier (Connecticut)
West: Nick Johnson (Arizona)
Midwest: Russ Smith (Louisville)
New Predictions (that will surely be wrong)
My new projected Final Four: Florida vs. Michigan State; Arizona vs. Kentucky
My new projected championship game: Michigan State vs. Arizona
My new projected champion: Michigan State 
CBS Sports HQ Daily Newsletter
Get the best highlights and stories - yeah, just the good stuff handpicked by our team to start your day.
Please check the opt-in box to acknowledge that you would like to subscribe.
Thanks for signing up!
Keep an eye on your inbox for the latest sports news.
Sorry!
There was an error processing your subscription.
When Bill Self steps away from the Jayhawks, who might replace him in Lawrence?

Who's Next: Will UNC stay 'in the family' again when it eventually has to replace Williams...

Pitino wanted to bring a 'spirit of optimism' to Twitter, but the Twitterverse had other plans...
Weathers is accused of stealing a wallet containing credit and debit cards at a bar in Sti...

James is the highest-rated prospect to commit to the Vols since Rick Barnes was hired in March...

Who's Next: What will happen when the Wildcats have to replace John Calipari?