LeVert's emergence could mean a Big Ten title for Michigan
Michigan now has the inside track for a Big Ten title, thanks to the two-headed wing duo of Nik Stauskas and Caris LeVert.
• 3 min read
Back in late December, Michigan winning the Big Ten title would've seemed ridiculous. The Wolverines were 6-4 on the season and preseason All-American Mitch McGary had gone down with a season-ending injury.
We were all reassessing our expectations for John Beilein's club. After all, despite the fact Michigan went to the national championship game last season, the Wolverines finished tied for fourth in the Big Ten a year ago. And then lost Player of the Year Trey Burke and first-round pick Tim Hardaway Jr.
Well, after Michigan's 79-70 win over Michigan State on Sunday afternoon, the Wolverines now have the inside track to the Big Ten title.
They are 11-3 in the league, while Michigan State drops to 11-4. More importantly, Michigan has swept the Spartans.
Nik Stauskas had 25 points for the Wolverines, while Caris LeVert finished with 23 points. Glenn Robinson III had 15 points and five boards. Gary Harris led Michigan State with 21 points, although the Spartans had just two fast-break points and zero points off turnovers. The Wolverines only turned it over three times, not letting Michigan State get its transition game going.
Roles have changed for Michigan since the beginning of the season.
It was supposed to be Robinson III and McGary as the leaders and potential All-Americans, Stauskas as a terrific third option, and then a slew of role players. LeVert was one of those role players.
As the season progressed, there was clearly a shuffle. Stauskas emerged as the go-to-guy, an All-American on the wing and the team's leading scorer. McGary got injured, and Robinson III was inconsistent. In big games, Stauskas needed help.
And LeVert is that guy.
The former three-star recruit and Ohio commit has become the team's second option offensively, picking up the slack when defenses focus too much on Stauskas. He was excellent against Michigan State on Sunday, knocking down three 3-pointers and making plays at both ends of the floor. LeVert is athletic and long, can get his own shots off the dribble, and is a knockdown shooter from behind the arc.
Moreover, LeVert knows how to get points in big games. He hit five 3-pointers and scored 25 points against Wisconsin, while going for 22 points against Iowa a couple of weeks ago. Earlier this season, LeVert went for 24 points on Duke in something of a coming-out party. All three of those games were losses, but LeVert demonstrated he could be a consistent offensive weapon.
Robinson III had really struggled in big games this season before Sunday, not getting his own shots on a consistent basis. And with McGary's injury, the team isn't getting a ton of scoring production inside. At times, too much has been on Stauskas' shoulders – but LeVert is changing that.
Is he a better player than Hardaway Jr., the player he replaced in the starting lineup? Doubtful, but he's been a more efficient offensive player than Hardaway this season – and he's really grown into his role as a secondary option to Stauskas. Furthermore, Robinson III not having so much on his plate can help as well. He's a player who can finish at the rim, in transition or off of cuts, and should get more room with the emergence of LeVert.
When Stauskas is on, it's hard to beat Michigan. When Stauskas and LeVert are on, it's going to be extremely difficult to beat the Wolverines. And unfortunately for opponents, that's happening more often than not lately.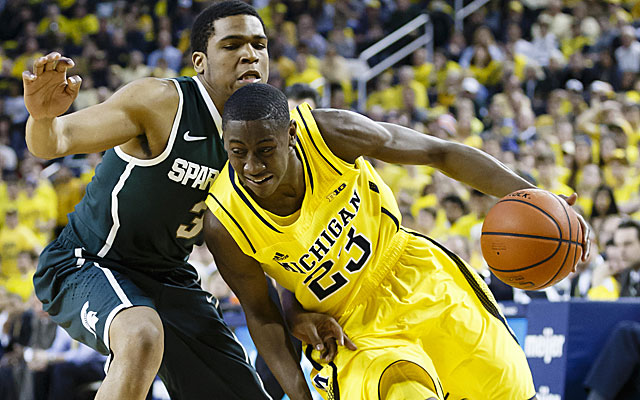 After a close game against Michigan, Air Force is playing San Diego State with some moment...

Quickley played for John Calipari this summer with USA Basketball

A revamped Erwin Center is part of a $4.25 million upgrade to the Longhorns' hoops facilit...
Nov. 10 will be here before you know it so here's what you need to know

The league would be wise to treat that series like the ACC treats Duke-North Carolina

Pacific is penalized after the NCAA found academic rules were broken