Lindsey's commitment shows Cooley is keeping promise at Providence
Providence picked up a commitment on Monday from top-50 senior Jalen Lindsey, who spurned plenty of schools for the Friars. Ed Cooley is working his magic.
• 2 min read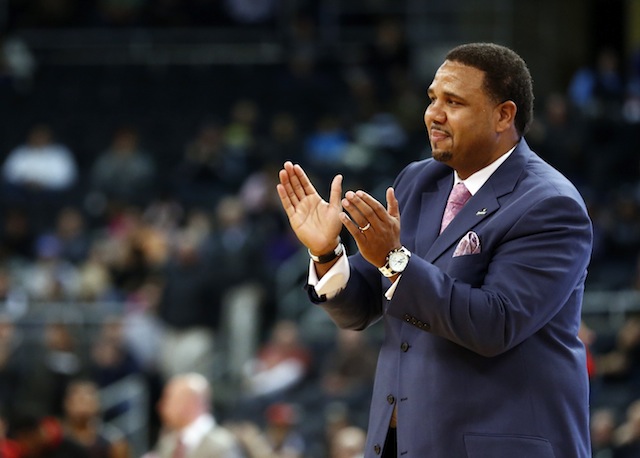 At this point, Ed Cooley's quote when he took over at Providence in March 2011 is pretty well known.
"I'm gonna get players," he said at the time. "I promise you that."
When Cooley said that, it would have been understandable if one was skeptical about the declaration. After all, he wasn't pulling in studs on a consistent basis at Fairfield, and Providence wasn't exactly known in recent years for being attractive to high-level recruits. Before Cooley arrived on the Friars' campus, Providence had pulled in three four-star recruits in the previous six years, according to Scout.com.  
New England was producing a number of elite prospects, but Providence hadn't really been getting a piece of the pie. All those top-notch prep school players were going outside the region or staying within driving distance and choosing Connecticut or Syracuse.
Cooley made that his first priority when he became the coach of Providence. In the recruiting class of 2012 -- his first full recruiting class with the Friars -- Cooley picked up commitments from five-star guards Kris Dunn and Ricardo Ledo, giving him perhaps the best backcourt duo from that high school class.
In 2013, Cooley expanded his aim a bit, dipping into Philadelphia to get a commitment from one-time Penn State-commit Brandon Austin, a four-star perimeter player. Virginia native Rodney Bullock also joined the group.
On Monday night, though, Cooley took a monster step in his quest to get quality prospects to Providence. Top-50 small forward Jalen Lindsey pledged to the Friars, becoming Cooley's first commit in the class of 2014. His ranking isn't as important as his location: Lindsey is a Tennessee native. Vanderbilt, Tennessee and Memphis had all extended offers. Florida, Ohio State and Louisville were all pursuing him. Even Kentucky and UCLA were reportedly showing varying levels of interest.
This wasn't Cooley getting a five-star prospect from a Connecticut school (Ledo and Dunn) or going a couple of states over and getting a solid player from Pennsylvania (Austin). Yes, Cooley has had players from Virginia, Florida and Michigan during his time with Providence -- but this was different.
Lindsey was a sought-after prospect with all the high-major schools from inside his own state in pursuit. And if Lindsey wanted to leave home, he wasn't without big-time options from other parts of the country.
That didn't dissuade Cooley whatsoever.
Lindsey's father is a Rhode Island native, and he still has family in the state. That was the initial tie -- but Cooley still had his work cut out for him. He made Lindsey a target from the early stages of his recruitment and made it known that Lindsey was a priority recruit for Providence in 2014. Lindsey visited the campus and was thoroughly impressed.
"Coach Cooley is a great coach," Lindsey told me in June. "He's a great person off the floor, and I really respect him as a person."
Providence has officially expanded its range under Cooley, but he's not done yet. There are plenty of New England prospects considering the Friars for 2014, and Cooley's momentum is bound to get him a signature or two.
His recruiting prowess hasn't translated into an NCAA tournament appearance yet, but it's only a matter of time. 
After a close game against Michigan, Air Force is playing San Diego State with some moment...

Quickley played for John Calipari this summer with USA Basketball

A revamped Erwin Center is part of a $4.25 million upgrade to the Longhorns' hoops facilit...
Nov. 10 will be here before you know it so here's what you need to know

The league would be wise to treat that series like the ACC treats Duke-North Carolina

Pacific is penalized after the NCAA found academic rules were broken