Longtime UNC tutor quits, calls out coach for Hairston treatment
Roy Williams' handling of P.J. Hairston's offseason arrest/subsequent indefinite suspension led one man to leave his post at the university.
• 1 min read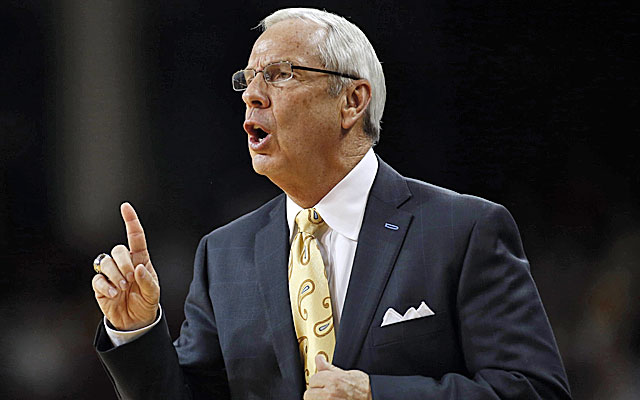 A man who tutored athletes at North Carolina-Chapel Hill for more than two decades publicly announced his decision to leave in a terse letter to Roy Williams. The letter was published in the Daily Tar Heel, UNC's student paper, and addressed to Williams in regard to the coach's course of action toward star forward P.J. Hairston.
Hairston was the subject of three run-ins with law enforcement during the offseason, and after the third, in late July, Williams indefinitely suspended his junior forward. In spite of the to-be-determined suspension for regular-season games, Hairston has been practicing with the team since official practices began in late September.
This prompted Jack Halperin to fire off a quick letter and end his academic employment affiliation with the university.
The letter reads, in full: "Roy, after 23 years as an academic tutor, and after going through the devastating football scandal, I am resigning in protest of your disgraceful decision to allow P.J. Hairston to remain on the team. If I were arrested driving with no license, illegal drugs and a gun in a felon's car, my employment at this University would end immediately. Hairston's DTH headline quote was, 'I will play this season.' Since when does the criminal decide his fate?
Jack Halperin
Athletic academic tutor."
Williams has commented this offseason on his decision not to comment on Hairston's status. Halperin's reference to a missing license, illegal drugs and a gun refers to a June 5 traffic stop, wherein Hairston and two other men were pulled over in a car that was rented to an ex-convict. Hairston had the drug-possession charges dropped six weeks later. The gun in question was actually outside the car, according to the police report. No one claimed ownership of it and no charges related to its possession were brought forth.
North Carolina begins its season at home Nov. 8 against Oakland. The team will host its "Late Night with Roy" festivities on Oct. 25. That could be Hairston's first major public appearance since this summer's transgressions.
The NCAA formally notified MSU of its investigation into Nassar on Tuesday

The Sooners' freshman, pilloried for his recent performances, showed a different side Tues...

Young is leading the NCAA in both scoring and assists per game
Our advanced computer model simulated Tuesday's UNLV vs. Fresno State game 10,000 times

Our advanced computer model simulated Tuesday's Kansas-Oklahoma game 10,000 times

Our advanced computer model simulated Tuesday's Virginia vs. Clemson game 10,000 times