LOOK: Muhammad Ali still supports Louisville even after postseason ban
Muhammad Ali sent a message of support to Louisville's basketball team after the announcement of a self-imposed postseason ban that will keep the Cardinals out of the 2016 ACC and NCAA tournaments.
• 1 min read
Rick Pitino said news of Louisville's self-imposed postseason ban had the players hugging and crying, particularly for its two fifth-year seniors, Damion Lee and Trey Lewis, as their college careers will now be over after the regular season finale against Virginia on March 5.
With morale understandably being tested as the Cardinals head into the weekend, the team got a message from one of the program's most notable supporters, the legendary Muhammad Ali.
Once a Louisville Cardinal,always a Louisville Cardinal. Keep Fighting- I've got your back! #IveGotYourBack @gocards pic.twitter.com/MBe6Kyf4ZF

— RealALI_me (@RealALI_me) February 5, 2016
The decision to self-impose a postseason ban came after a meeting with the NCAA regarding the ongoing investigation that was triggered by allegations of a self-described madam who wrote a book last fall detailing numerous alleged incidents with paid dancers and escorts who involved themselves with Louisville basketball players and recruits from 2010-2014.
This Cardinals team, currently 18-4 and coming off a huge home win against No. 2 North Carolina, will not get to play in the ACC or NCAA tournament. Lee, Lewis and many of the Cardinals impacted by this punishment were not even connected to the program during these alleged violations, and as Gary Parrish pointed out in his column on the ban, that stinks.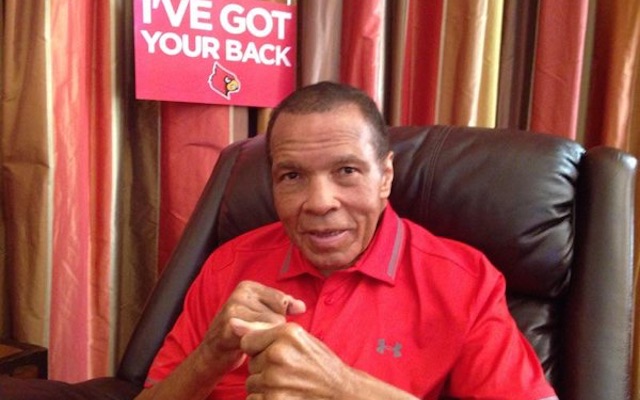 The Wildcats are 3-2 with two losses to two unranked teams

Trump again says he should have left LiAngelo Ball in China

Cincinnati and Iowa highlight an impressive inaugural field for the Cayman lslands Classic
The president didn't take kindly to not getting a thank-you from LaVar

Southern California, ranked No. 8 in Sunday's Top 25 (and one), travels to face Vanderbilt...

Simons, 18, is a former Louisville pledge who is suddenly eligible for the upcoming draft