The 2016 NCAA Tournament will have a more diverse look as CBS Sports and the Turner Broadcasting team (TBS, TNT, TruTV) take you from city-to-city during the non-stop action that awaits us in the next few weeks. 
Some images of new court designs began to leak out on Monday and then on Tuesday the NCAA issued a full release describing the new look as "modern, but classic and clean." In 2013, Matt Norlander pleaded with the NCAA to ditch the monotonous design in favor of courts with more charm and local flare. This doesn't take NCAA tournament courts all the way back to the dream of the 90s but it's a step away from the blue-and-black takeover we've seen recently.   
According to the NCAA release, the first and second-round courts will feature different accent colors with changing details to indicate the stage of the tournament (rounds) and have the new March Madness logo at center court. The First Four, regional rounds and Final Four will also have unique accent colors at each location and updated center court logos, featuring a design for the round instead of the "March Madness" logo found in the first and second rounds.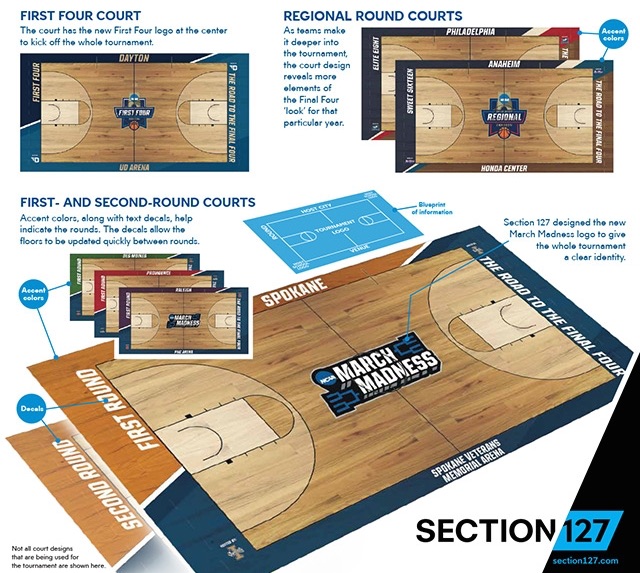 One shot of the court in Raleigh, North Carolina shows the look for the early pod that will host the games for North Carolina, the No. 1 seed in the East, and Virginia, the No. 1 seed in the Midwest.
The NCAA court has been installed at @PNCArena and we are closing in on #MarchMadness in Raleigh. Games begin Thurs. pic.twitter.com/zzcE3k6RbJ

— Scott Dupree (@dsdupree) March 14, 2016