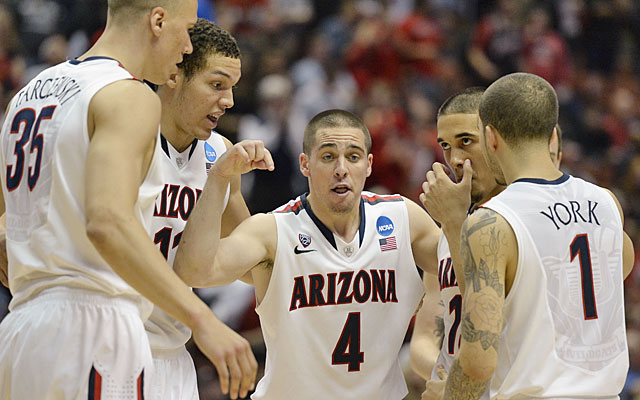 Still trying to get ready for Saturday? And Sunday? You've landed in the proper place. Let's look ahead. Here's everything you need to know about the next 30 hours ...
On tap for Saturday
Thoughts on the first game: Dayton is playing with house money as the No. 11 seed in the South Regional that has upset, in order, No. 6 Ohio State, No. 3 Syracuse and No. 10 Stanford. I would be pretty surprised, honestly, if they figured out a way to score more points than Florida inside FedExForum. But I've been surprised before. So we'll see. Prediction: Florida
Thoughts on the second game: Arizona is flashy, in some regard, thanks to Aaron Gordon and all of those dunks. But the Wildcats are great because of their defense, which ranks first nationally at KenPom. They have elite defensive rebounders and are terrific at defending inside the arc. Meantime, the Badgers are terrible offensive rebounders, which suggests they won't get many second-chance opportunities, which means they'll need to be good first-shot takers and makers to win. Prediction: Arizona
On tap for Sunday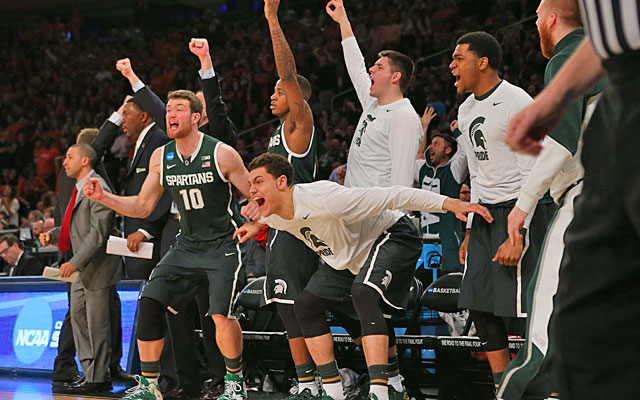 Thoughts on the first game: Shabazz Napier got a very good (but very ordinary for him) 19 points, five rebounds and five assists in Friday's 81-76 win over Iowa State, and it will probably take another big effort, likely an even bigger effort, against Michigan State to lift the Huskies to the Final Four. Either way, how about Michigan State? The Spartans battled injuries all season and lost eight games, half of them at home. But they're now right where they were always supposed to be -- 40 minutes away from Tom Izzo's seventh Final Four in the past 16 years. Prediction: Michigan State
Thoughts on the second game: UK's all-over-the-place season took the Wildcats from No. 1 in November to unranked in March, but now look. John Calipari's team is, like Izzo's Spartans, right where it was always supposed to be -- 40 minutes away from the Final Four -- thanks to Friday's 74-69 win over Louisville that was a ratings bonanza in the state of Kentucky. The Wildcats topped the Cardinals despite A) losing Willie Cauley-Stein to an ankle injury after just four minutes of action, and B) allowing Louisville to shoot 49.1 percent from the field. Cauley-Stein is doubtful for Sunday, by the way. That means the Wildcats and Wolverines will likely both be operating without their centers, each of whom was a projected lottery pick in November. Prediction: Kentucky
Final thought: I'm a big believer in rankings as solid indicators of who is and isn't good in college basketball, and preseason rankings are especially solid because those projections are typically rooted in little more than potential.
Ken Pomeroy wrote about this in 2010:
I'm a big fan of the pre-season AP poll. There is no doubt poll participants have their biases in the preseason. They may tend to over-estimate the importance of the previous postseason, especially when a team needed more than its fair share of luck to advance. But otherwise, whatever biases are present are uniquely individual, and in the collection of 70 or so ballots, those biases are cancelled out, leaving a useful signal. The end result is that it provides a better picture of the state of college hoops before the season begins than any single person or algorithm could produce. It's informed groupthink at its finest.
I bring this up because it's relevant given that the four schools now favored to make the Final Four were ranked No. 1 (Kentucky), No. 2 (Michigan State), No. 6 (Arizona) and No. 10 (Florida) in the preseason AP poll; No. 1 (Kentucky), No. 2 (Michigan State), No. 5 (Arizona) and No. 8 (Florida) in the preseason coaches poll; No. 1 (Kentucky), No. 3 (Michigan State), No. 6 (Arizona) and No. 7 (Florida) in the preseason Top 25 (and one).
That means we're likely to have a great Final Four.
Which is wild, right?
We spent November, December, January, February and part of March watching teams beat up on each other, and one popular narrative was that almost any team from almost any league would be capable of making the Final Four this season. That was always a reasonable opinion, I suppose. But now we're just four games and about 30 hours from a likely Final Four that almost anybody could've predicted before a single game was played.