Louisville adds five-star guard Antonio Blakeney
Louisville landed an elite guard on Thursday night.
• 3 min read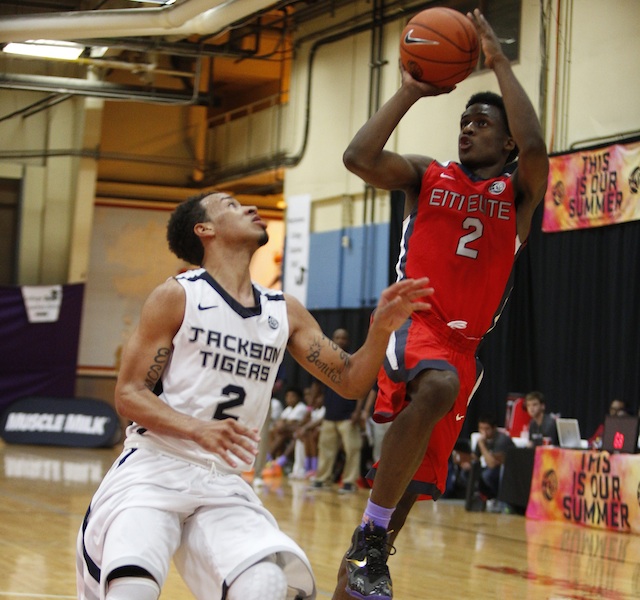 Labor Day weekend is barely in our rearview mirror, and Rick Pitino has already essentially wrapped up his 2015 recruiting class. 
Five-star shooting guard Antonio Blakeney announced his commitment to the Cardinals on Thursday night.
Man it feels so good , all the hard work has paid off ,I will be attending the university of Louisville for college  Coach p I'm coming 

— First 48 (@blakeney96) September 5, 2014
Blakeney is the fourth commitment for Louisville in the 2015 class, joining shooting guard Donovan Mitchell, small forward Deng Adel, and power forward Raymond Spalding. 
The 6-foot-4 Oak Ridge (Fla.) product is one of the best scoring guards in the senior class, capable of getting his own shot against any defender and getting points in a variety of ways. Blakeney can go off the bounce or knock down shots from the perimeter, and his mid-range and baseline jumpers are also effective. He is also a terrific athlete and produces highlight-reel dunks in transition. Blakeney averaged 19.5 points on the Nike EYBL circuit playing for Each 1 Teach 1, shooting 44 percent from the field.
Louisville was the favorite for Blakeney back in the spring, but Kentucky made a push for the scoring guard as the spring turned into summer. LSU also became heavily involved. However, the Cardinals were able to regain the momentum and got Blakeney to end his recruitment early. 
With Blakeney's commitment, Pitino and Louisville are likely done for this recruiting cycle. The Cardinals are coming off a six-man recruiting class in 2014, and are at 15 scholarships on the roster. If Montrezl Harrell and Terry Rozier go to the NBA after the upcoming season, they will still be at the 13-scholarship limit. Moreover, the Cardinals are filled every hole they might have heading into the 2015-16 campaign.
Louisville needed more scoring on the wing, and Blakeney certainly provides a potential go-to weapon. He and Mitchell are both big-time athletes who can handle the ball or play on the wing and be pure scorers. Adel is a high-ceiling wing forward with good size who is only getting better. Meanwhile, Spalding is still growing (could be 6-foot-10 by the time he gets to campus) and brings another player who is suitable for an up-tempo system.
The way Louisville landed all four is interesting, too. They were in the lead for Blakeney, then needed to regain their footing. They made a late push for Mitchell to beat out Providence and others. Spalding was a local kid. And the Cardinals were quickly the favorite for Adel after he broke out in the spring.
When combined with the 2014 class, there's ample young talent in the program. Quentin Snider will be a solid four-year point guard, Shaqquan Aaron is a versatile wing player, and then there are four inside prospects to provide post production and rebounding. Pitino won't have many holes to fill in the 2016 class, either.
The bigger question now might be: where does Louisville's class stand in 2015? It will likely be neck-and-neck with Arizona for the No. 1 spot as of now. The Wildcats probably have the edge because of three five-star prospects, but Louisville isn't too far behind. Blakeney (No. 16 in the 247Sports Composite) is a top-20 prospect, while Adel (No. 43) and Mitchell (No. 34) were two of the biggest risers of the spring and summer. Spalding (No. 74) can be in that conversation too. 
Blakeney puts the icing on the cake for what might be Pitino's best class during his tenure at Louisville. He's landed five-star prospects before, but there are multiple guys in this class that could be five-star players by the time they get out of high school. More importantly, all four are still getting better.
While the other power schools will be fighting over recruits for the next few months, Pitino can put his feet up for awhile. He's got one of the best classes in 2015, and has positioned his roster well for the next couple seasons.
The NCAA formally notified MSU of its investigation into Nassar on Tuesday

The Sooners' freshman, pilloried for his recent performances, showed a different side Tues...

Young is leading the NCAA in both scoring and assists per game
Our advanced computer model simulated Tuesday's UNLV vs. Fresno State game 10,000 times

Our advanced computer model simulated Tuesday's Kansas-Oklahoma game 10,000 times

Our advanced computer model simulated Tuesday's Virginia vs. Clemson game 10,000 times