Louisville could be a Final Four favorite regardless of its seed
The Cardinals' are on the outside looking in at a No. 1 seed. But how many teams would you pick against them in a bracket given the way they're playing now?
Latest in hoops: Bracketology | Bubble Watch | News & notes
"We'll probably be a No. 1 seed," Louisville coach Rick Pitino said on national television minutes after his Cardinals beat Connecticut to win their first (and last) American Athletic Conference tournament, and that comment was quickly retweeted hundreds of times.
It was an interesting remark because it was definitive.
Pitino seemed so sure of himself.
But was he right?
Honestly, probably not -- especially if Michigan wins the Big Ten tournament. As I wrote earlier, Florida, Wichita State and Arizona will be No. 1 seeds barring a massive surprise, and the fourth should go to Michigan provided the Wolverines beat Michigan State on Sunday in Indianapolis. Some might argue. But I really do think it's that simple.
But what if Michigan State beats Michigan?
And what if Duke beats Virginia?
Then, perhaps, the Cards could get to the top line and, if it happened, you'd hear no argument here considering they'll enter Selection Sunday with five top-50 RPI wins and zero losses outside of the top 40. Beyond that, Louisville has been straight killing folks. And though "straight killng folks" isn't something the selection committee considers (at least not in those terms), who could blame them if they seeded Louisville in part because of that?
The Cardinals are 12-1 in their past 13 games.
They won their AAC tournament games by an average of 33 points.
Their past six wins have come by double-digits -- including this 71-61 win over UConn.
Will that be enough to get a No. 1 seed?
Again, I'd bet against it -- and even Pitino, later Saturday, changed acknowledged that he doesn't really think the Cards will get a No. 1 seed even if he sincerely believes they deserve a No. 1 seed. Either way, they're a serious threat to become the first team to repeat as national champions since Florida in 2006 and 2007. Oddly, the Cardinals might have to go through Florida to get that done. But they seem capable of going through anybody, at this point, regardless of what number gets placed beside their name on Sunday.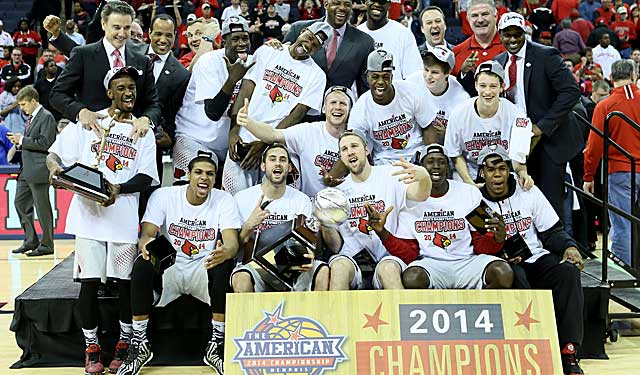 Oklahoma's star freshman has a father who has been there and done that

Kentucky now is at risk of slipping out of the Top 25 (and one)

Cherry's commitment gives ASU a top-20 recruiting class and its highest rated pledge since...
Matt Norlander is on a 11-7 run in college basketball picks and shares his best bets for W...

Kentucky losing this game probably cost it a shot at earning a high NCAA Tournament seed

Freshman had 12 turnovers and 20 points; the Wildcats rattled him and kept OU on its heels