Louisville's Russ Smith -- why Pitino's horse is named Russdiculous
ATLANTA -- Russ Smith was having one of those games that gave a horse a name. The horse belongs to Louisville coach Rick Pitino. He named it after one of his most frustrating and most favorite players. He named it Russdiculous.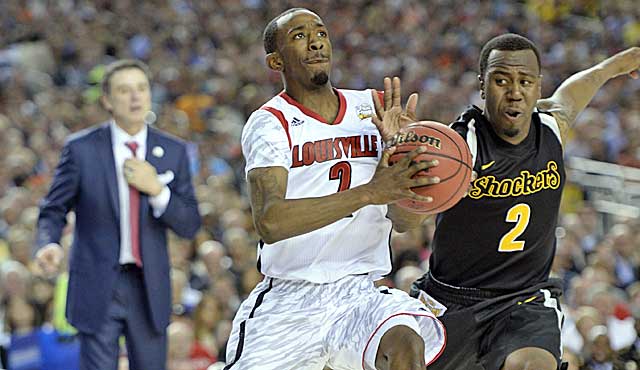 ATLANTA -- Russ Smith was having one of those games that gave a horse a name. The horse belongs to Louisville coach Rick Pitino. He named it after one of his most frustrating and most favorite players. He named it Russdiculous.
That's a horse. And that was Russ Smith on Saturday in the Final Four against Wichita State. He was Russdiculous. Air balls, turnovers. Missed free throws. More missed free throws. More turnovers, careening into the lane and spinning and getting where he wanted to go but not getting there with the ball, which was rolling out of bounds.
He was terrible.
And then he wasn't.
More on Syracuse-Louisville
Related links
The final box score will show Smith with 21 points, three assists and two steals. It will show Louisville winning 72-68.
It won't show the way Russ Smith went from awful to awesome, the way he played and kept playing and never changed what he was doing. He kept attacking, even after losing the ball out of bounds or to a Wichita State player. He kept shooting, even after that 3-pointer in the first half that missed the rim by damn near a foot. And when the game was coming to a close and it was going to be won or lost by Louisville at the foul line, Russ Smith kept making sure the inbound pass came to him, because he wanted to be fouled. He wanted to shoot those free throws, even after missing his first four of the game, and 6 of his first 8.
Russ Smith wanted those things because he is Russdiculous. No conscience, no memory, no guilt.
No problem at the foul line, either. Three times Smith went to the line in the final 45 seconds, all three times with Louisville leading by two or three. All three times it was a one-possession game when he stepped to the line, and all three times it was a two-possession game -- a four-point lead, all four times -- when he was done.
Smith didn't hit every free throw he shot in those final 45 seconds, but he hit enough. He hit one with 45 seconds left to give Louisville a 68-64 lead. He hit two with 30 seconds left to make the score 70-66. And he hit one more with 4.9 seconds left to make the score 72-68, sealing a victory that was so much tougher than most expected.
Smith didn't do it alone -- and was not the only hero for Louisville on Saturday. It took a village for Louisville to beat the pesky Shockers, starting with a pair of 3-pointers from walk-on Tim Henderson, playing because of Kevin Ware's broken leg. Wichita State led 47-35 when Henderson hit his first 3-pointer with 13 minutes left. He hit another 42 seconds later, and the 12-point lead was six. For the first time pretty much all day in a game that started with an 8-0 Wichita State run, the Cardinals were feeling good. Henderson did that.
Down the stretch Chane Behanan and Luke Hancock carried the Cardinals, Hancock scoring 13 points in the final 11:33, Behanan adding eight. That trio -- Henderson, Hancock and Behanan -- made up for the zeroes posted in the scoring column by starters Wayne Blackshear and Gorgui Dieng, and for Peyton Siva's 1-of-9 shooting.
So it was Behanan, Henderson and Hancock instead of Siva, Blackshear and Dieng.
But to make this equation work, to get Louisville past a relentless Wichita State team that got 24 points and 10 rebounds from Cleanthony Early, Russ needed to be Russ. He did and he was, chucking up shots and attacking the lane even as Wichita State was stuffing it with four and five players to stop him. Wichita State was relentless on one end, and Russ Smith was relentless on the other.
This is the Russ Smith that Louisville fans have fallen in love with. Earlier in the game he was playing badly and making mistakes and being screamed at by Pitino, who loves the kid but is just so frustrated with him when he plays like he played early Saturday. Smith would come to the sideline, listen to Pitino, never change expression and never talk back. Then he'd go back on the court and hit a 3-pointer or attack the rim and find Henderson for one of those two killer 3-pointers.
Russ Smith is the guy who broke America's heart by sobbing uncontrollably for Kevin Ware in the Midwest Region title game. When Ware suffered that broken leg, we recoiled. We were sick -- sick at what we'd seen, sick for Ware, sick at the whole thing. But then Russ Smith started sobbing, and teammates were hugging him, and it was heartbreaking. Smith's reaction gave a human touch to an inhuman injury.
On Saturday, he was human in a different way. He was bad. Error-prone. He had four turnovers in the first half, five in the game. He was 6 of 17 from the floor. He was 5 of 12 from the foul line -- bad for anyone, but borderline shocking for a player who came into the game shooting 82.4 percent from the line.
But by game's end he was the Russ Smith who was named a third-team All-American and who is loved by a fan base and who has a horse named in his honor. And he will have one more game to play.
CBS' college basketball experts polled more than 100 coaches to get their pick to win it a...

Marvin Bagley, if eligible at Duke this season, projects as the country's top power forwar...

The Big Ten Tournament is a week earlier than usual, so the regular-season schedule may look...
Arizona, Grand Canyon and Tulane are also in Barcelona and have reported to be accounted for...

The Kansas forward is no longer accused of walking out on an $88 tab

Cavaliers basketball coach tapes statement on behalf of his university and his city