Louisville's victory may be season-changing
Rick Pitino and many of his players attempted to downplay Louisville's victory over rival Kentucky, but not Cardinals senior leader Peyton Siva -- who admitted it could have been a "season-changer."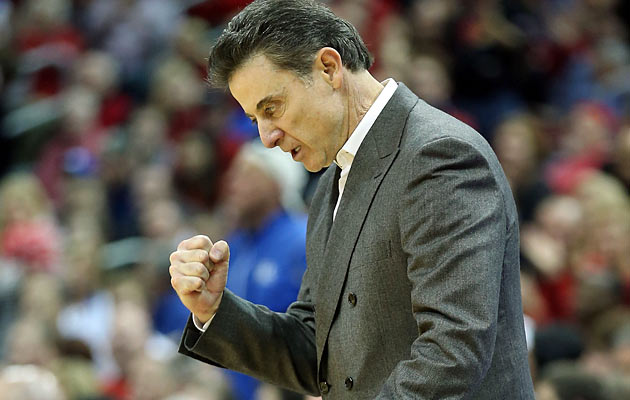 Rick Pitino, who finally ends a winless drought against John Calipari, understands the importance of this win. (Getty)
LOUISVILLE, Ky. -- Louisville coach Rick Pitino downplayed the victory, even after John Calipari has taken Bluegrass Country by storm over the past three years and owned the Cards in just about every facet, whether it be national titles, head-to-head victories, NBA draft picks or recruiting prowess. 
However, Cardinals senior Peyton Siva -- who came into Saturday afternoon's contest without a win over rival Kentucky -- summed it up best. 
"It could have been a season-changer," he admitted.
It's not often that we deem college basketball contests in December as "must-win games," but that's exactly what this one had become for the boys from the 'Ville. It had been utter domination since Calipari's arrival in 2009. Four games, and the goose-egg for Pitino & Co. There was even a time when some believed Pitino might eventually throw in the towel, call it a career or go elsewhere rather than having to watch Calipari continue to dominate this series. The Cardinals, however, overachieved a year ago and earned a spot in the Final Four. Even though they played a loaded Wildcats team closer than anyone anticipated, they were completely overmatched. 
More on Kentucky-Louisville
Related links
But this year was different. Louisville came into the season ranked number one in the country and entered the annual contest as the clear-cut favorite over a Kentucky team that had already dropped three games -- including its first home setback in the Calipari Era -- and plummeted from the national rankings. 
"I thought this was the first year that we had as much talent as them," Pitino said. "And I quite frankly thought we had more talent than them because our talent is more experienced." 
Russ Smith said he felt no pressure, but this group was now the hunted instead of the hunter. A loss would have been devastating for a Louisville fan base that desperately needed to be able to stick their chests out and secure bragging rights. At least for a year. 
"It feels great to finally beat Kentucky and get the monkey off our backs," Siva said. 
Louisville will now enter Big East play with swagger instead of questioning itself -- which would have been the case after a loss to UK. The Cardinals lone loss came against top-ranked Duke without their veteran big man, Gorgui Dieng, who returned Saturday after a month on the sidelines showed why he's considered one of the most intimidating interior defensive presences in the entire country. This is a team that boasts one of the nation's most productive backcourts in Siva and the electrifying Russ Smith and has a host of other quality pieces in guys like Chane Behanan, Wayne Blackshear, Luke Hancock and Montrezl Harrell that make the Cardinals one of the deepest teams in the nation. 
Louisville fans can finally say that they have the best team in the state. 
Despite a group of heads hung low walking off the court, this young bunch of Kentucky Wildcats has nothing to be ashamed of, not after battling back from a 17-point deficit to make it a one-possession game in the final 33 seconds. Calipari took the blame, saying he should have called a timeout with the basketball and his team down four points, but the reality is that this Kentucky team just isn't ready to beat Louisville. Not in December -- and probably not if they met again in March or April. 
Ryan Harrow has certainly elevated his play, and played with far more poise than many expected in the most hostile environment he'll face this entire season. But he's still not an upper-echelon point guard or a leader, and those are two aspects clearly lacking from this group. There's no one down low that can deliver the 'Cats a bucket -- and talented freshmen Alex Poythress and Archie Goodwin have both been erratic. 
Louisville is a national title contender. Kentucky is not. At least not this season. 
The Cardinals are no longer exclusively reliant on their defense to deliver victories. Smith, while capable of making no shortage of bonehead plays, is also fully capable of taking over a game with his explosiveness on the offensive end. The 6-foot guard out of New York who wasn't recruited by any of the New York or New Jersey Big East schools finished with 21 points and, as usual, created havoc on the defensive end with his athleticism, quick hands and ability to play with reckless abandon. Siva's shot continues to improve and he's gone from a guy who opponents dared to shoot from the perimeter to one who is now shooting close to 40 percent from beyond the arc. 
Just a handful of minutes into the second half, Smith's layup pushed an 8-point halftime lead up to 17. The rout appeared to be on, but the Wildcats clawed their way back due to a combination of them playing well and also Pitino's top three players -- Smith, Siva and Dieng -- all being saddled with four fouls. 
"I like their fight," Calipari said after the loss. "I'm proud of how they fought." 
Calipari stood up at the podium following the setback and reiterated that this loss was on him, and not his young players. He knew this time would be different, just about everyone did. This Kentucky team can't be compared to last year's special group, for several reasons. There's no Anthony Davis or Michael Kidd-Gilchrist, no experienced veterans. Louisville got him this time around, but Calipari has still dominated this series -- and it'll likely swing back in UK's direction next season if the Wildcats finish off arguably the most impressive recruiting class in college basketball history with top-ranked Andrew Wiggins and/or forward Julius Randle. 
Pitino embraced Smith as he walked out of the Yum! Center and into the chilly Louisville air with a wide smile, exhaling after finally getting one against his nemesis. 
Calipari also walked out of the building with a similar grin, knowing it could be the last time for a while. 
Northern Colorado will be on probation through 2020 due to academic and recruiting violati...

You might not see a projected NCAA Tournament bracket quite like this one anytime soon

The Wildcats, once written off after a three game skid, appear poised to enter Pac-12 play...
The Ducks are riding a three game winning streak yet are slight underdogs against the Bulldogs...

The Hurricanes are one of only a handful of unbeaten teams left in college hoops

The Bearcats are fresh off a convincing win over previous unbeaten Mississippi State