Luke Martinez pleads guilty to misdemeanor battery charge
The bar fight that derailed Wyoming's season last year has closure. Martinez gets 45 days in jail and a very hefty fine.
• 1 min read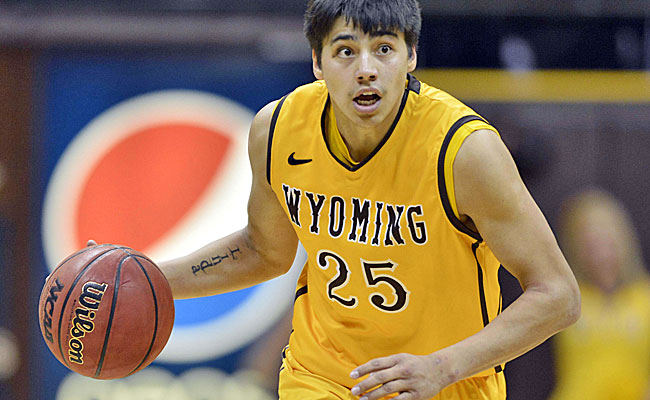 Former Wyoming star Luke Martinez will spend 45 days in jail and pay a $58,000 fine after pleading guilty to a misdemeanor battery charge, the Associated Press reported Tuesday night.
Martinez was involved in a bar fight on Dec. 30, 2012, and was accused of kicking a man, who was lying unconscious on the ground, in the face. Shortly after the incident, Martinez -- one of the Cowboys' best players -- was suspended from the team, which was undefeated at the time. Martinez, a senior, never played another game and Wyoming finished the season 20-14, missing the NCAA tournament.
The guilty plea came Monday in a Laramie, Wyo., and Martinez's sentence began then. Martinez initially faced felony charges of assault and battery; in a worst-case scenario, he was looking at as many as 10 years behind bars. But because the victim in the case was unable to attend trial due to job obligations, Martinez's charges were downgraded to misdemeanor. 
This turn of events in the case also led the judge to up Martinez's fine. Originally the felony charge was paired with a possible $10,000 fine as opposed to the $58,000 Martinez walked away with this week.
The victim in the case, Parfait Nayigihugu, expressed consent and closure with Martinez's sentence.
From the AP's report: "Nayigihugu said he was OK with the lesser offense against Martinez.
"'I do not choose for the defendant to have a felony on his record,' he wrote. 'This is my personal decision. I want to put this situation behind me and move on with my life, as I'm sure Lucas would like to as well.'"
Martinez averaged 14.5 points last season. He is currently due to be released from jail on Sept. 26.
The Gaels are back in the Top 25 (and 1) after taking down the Zags

The selection committee will again reveal what it is thinking ahead of Selection Sunday

Teams not in major conferences with a shot at an at-large NCAA Tournament bids
The nation's No. 3 player will commit Saturday and here's his impact on each of his finali...

Gary Parrish and Matt Norlander also preview the weekend and Zion Williamson's announcemen...

The Sun Devils started 12-0, but since then are 2-4 after Wednesday's loss to Stanford