Manhattan, Towson among five mid-majors on the rise for 2013-14
As part of CBSSports.com's 2013-14 season preview, Jon Rothstein identifies five teams from the mid-major ranks that could do some damage when the calendar flips to March.
• 4 min read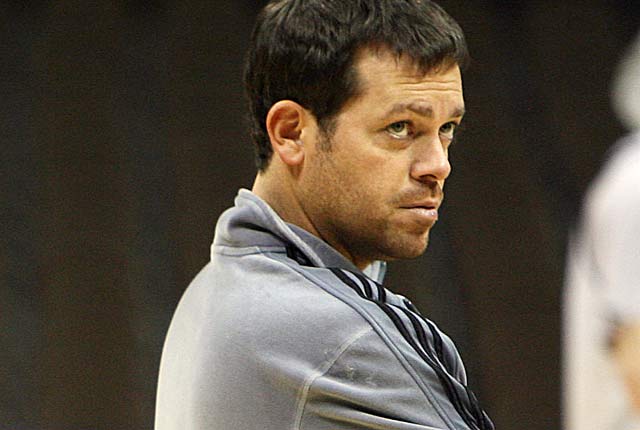 It's never too early to identify potential teams that could ruin your bracket next March. Check out five mid-major teams below that will rise during the 2013-14 season. In no particular order, with 2012-13 records in parentheses....
Towson (18-13, 13-5 Colonial): The Tigers are the consensus favorite in the CAA and have one of the best players in college basketball in Jerelle Benimon. The 6-8 forward averaged 17.2 points and 11.2 rebounds per game last year and probably has the best chance out of anyone in college basketball to average 20 and 10. Towson coach Pat Skerry also plans to use Benimon in a Royce White-type role as a point forward, which could potentially open spot-up opportunities on the wings for shooters such as Mike Burwell and Vermont transfer Four McGlynn. Tigers starting point guard Jerome Hairston played 29 minutes a game last year as a freshman and should be ready to take another step as a sophomore. The unsung thing about this team? The intangibles they get at small forward from Marcus Damas and Rafriel Guthrie. If a 50-50 ball is anywhere close to either of these guys, they pounce on it like a flock of seagulls going after a ham sandwich. Also keep eye an eye on 6-5 freshman Johnny Davis and 6-8 sophomore Timajh Parker-Rivera, who should be Towson's starting center. The door is open for the Tigers to make national statements early. Skerry's team hosts Temple on 11/14 and travels to Villanova on 11/17. After last year's turnaround season that saw them win 18 games, the Tigers should accept nothing less than a trip to the field of 68.
Manhattan (14-18, 9-9 MAAC): The Jaspers return the entire core of a team that reached the MAAC finals a year ago and lost to Iona. Steve Masiello's squad will also add Maryland transfer Ashton Pankey and fifth-year senior George Beamon -- last season's MAAC Preseason Player of the Year -- who had to redshirt after playing only four games due to an ankle injury. The big area where Manhattan will separate itself from other mid-major teams? The frontcourt. Pankey, Rhamel Brown, and skilled forward Emmy Andujar are three players who could play and have an impact at the BCS level -- they're that good. The Jaspers also have a senior point guard who's been through the gauntlet in Mike Alvarado and two capable defensive wings in C.J. Jones and Donovan Kates. Sharpshooter Shane Richards returns as a sophomore after making 65 three-point shots as a freshman, and Masiello also added several quality pieces in his freshman class that should be able to augment Manhattan's depth. This team will use 11 players on a regular basis. The Jaspers open the season on November 9th at La Salle.
Indiana State (18-15, 9-9 Missouri Valley): The Sycamores immediately become the biggest challenger to Wichita State in the Missouri Valley, after Creighton's jump to the Big East. Greg Lansing's team returns three strong pieces in point guard Jake Odum, wing Manny Arop, and big man Justin Gant. Indiana State must find a way to replace the loss of R.J. Mahurin, who transferred, but this is still a veteran group that boasts four seniors. Look for 6-6 sophomore Khristian Smith to make a step forward and senior guard Lucas Eitel to be more of a factor thanks to his outside shooting. The 6-4 Eitel made 40 three-point field goals last season and shot better than 40 percent from deep. If 6-10 junior Jake Kitchell can provide a presence on the interior next to Gant and sophomore guard Devonte Brown emerges as the type of defender Lansing envisions, the Sycamores should have a legitimate chance at reaching the field of 68. Indiana State is at Notre Dame and Saint Louis in November and December.

Georgia State (15-16, 10-8 Colonial): The Panthers have the requisites to immediately challenge in the Sun Belt after spending years in the CAA. Kentucky transfer Ryan Harrow gives Ron Hunter's team a high-level point guard that should blend seamlessly with guards R.J. Hunter (son of Ron) and Devonta White, who combined to average just under 32.0 points per game last season. 6-6 forward Manny Atkins is a high-level producer who started his career at Virginia Tech, and senior guard Rashaad Richardson is a long-range gunner who has made 40 three-point shots in each of the last two years. Georgia State doesn't have much size, but guards dominate at the mid-major level and that's the biggest strength on the Panthers' roster.
UC Irvine (21-16, 11-7 Big West): The Anteaters lost last year's leading scorer Daman Starring but return two critical pieces in point guard Alex Young and center Will Davis. Senior guard Chris McNealy has been a rotation player for three years and New Mexico transfer Dominique Dunning should be an immediate contributor. A big thing that that stands out on UC Irvine's roster? The Anteaters have three 7-footers in sophomore Conor Clifford along with freshmen Mamadou Ndiaye (7-5) and Ioannis Dimakopoulos. Russell Turner's squad is the team to beat in the Big West.
LaVar argued with the CNN host over why he came off as ungrateful and why he didn't thank Mr....

The voter has Northwestern seven spots ahead of undefeated Texas Tech, which just blasted the...

The 7-foot-1 center is the No. 3 prospect in the Class of 2018, according to 247Sports
Alabama enters the top 25 while Northwestern drops out after a rough week

Four years ago, Bryant told Jimmy Kimmel that he'd have picked UNC

Dates, start times and streams of LaVar Ball's interview with CNN