March Madness buzzer-beaters aren't shining moments for some
Players who were defending on some of the most famous shots in the NCAA tournament also have their place in history.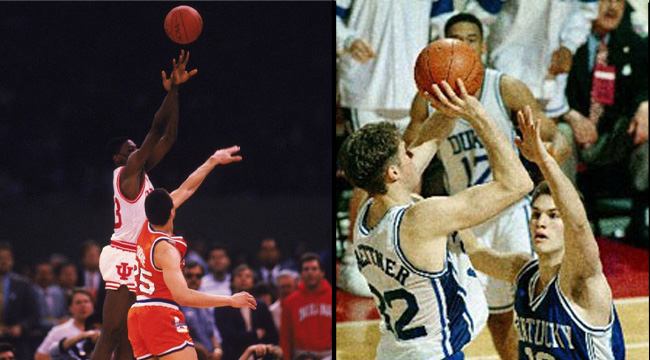 Indiana's Keith Smart and Duke's Christian Laettner hit big shots. (Photo illustration by CBSSports.com)
Everyone remembers Christian Laettner, Keith Smart and Mario Chalmers.
Laettner buried the most memorable shot in the history of the NCAA tournament back on March 28, 1992, when his fallaway made its way over the outstretched arms of Kentucky's Deron Feldhaus and through the net as the buzzer sounded. Smart's game-winner came with one tick left on the clock, as the Indiana guard buried a 16-footer over the fingers of Syracuse's Howard Triche to help give the Hoosiers a national title in 1987. Chalmers canned his unforgettable 3-pointer over Memphis' Derrick Rose with 2.1 seconds remaining in the 2008 national championship contest, sending the game to overtime and an eventual victory for the Kansas Jayhawks.
Laettner, Smart and Chalmers. Heroes. Glorified for the remainder of their lives for stepping up in the most critical moment.
What about guys like Feldhaus, Triche and even Rose?
"It's tough," Triche said. "Really tough. He made a fantastic shot, and some things are just meant to be."
"It was heart-wrenching," he added.
Triche's recollection of the sequence: He doubled down after the ball went inside and then jumped back out on Smart in an effort to defend the final shot. Photos and videos make it appear that Triche had a realistic chance of getting a piece of the ball. However, Triche said he wasn't all that close.
More on March Madness at 75
Related links
More college hoops coverage
"If I had arms as long as Hakeem Olajuwon, I might have blocked it," Triche said. "It was more of a wave for me. I couldn't get out there fast enough. … He wasn't that good of a shooter but had a fantastic second half. He made a terrific shot, and you have to give him credit."
Laettner hears about The Shot nearly everywhere that he goes. It'll never be forgotten by Duke and Kentucky fans alike. Ditto for Smart and Chalmers, the Miami Heat guard who said he is reminded of his heroics constantly no matter where he goes. Triche and Feldhaus aren't immune to it, either. However, they aren't quite as fond of the memory.
"Every year, someone brings it up," Triche said. "You never completely get over it."
It's the flip side of that special NCAA tournament moment, the one in which heroes are made. There's Laettner, Smart, Chalmers and guys like Ali Faroukhmanesh. They celebrate after making history while Triche and Feldhaus are left with their heads hanging, trying to pick up the pieces, wondering what if they had just gotten off the ground an instant earlier or reached a couple of inches farther.
"It was tough after it happened," Triche said. "We called a timeout and were all in a fog. I remember looking at everyone's face, and everyone couldn't believe what had just happened. It took us a moment to gather ourselves and finish the game. It ate at us. It ate at me."
More than 25 years later, Triche still sounds as though he hasn't completely gotten over it.
Jackson isn't showing the Sun Devils much respect after beating KU

One AP voter must not know ASU is undefeated with wins over the Jayhawks and Musketeers

Duke and Kansas take a hit in the coaches poll
The top 10 gets a major shakeup after a wild week of upsets

The Sun Devils make a big jump and the Jayhawks slide after ASU pulls the big upset

Gary Parrish and Matt Norlander spend some time on the SEC, too