Marcus Smart and Jahii Carson -- sophomore stars, career-savers
Marcus Smart and Jahii Carson aren't just sophomore sensations. They're also career-savers making millions for Travis Ford and Herb Sendek.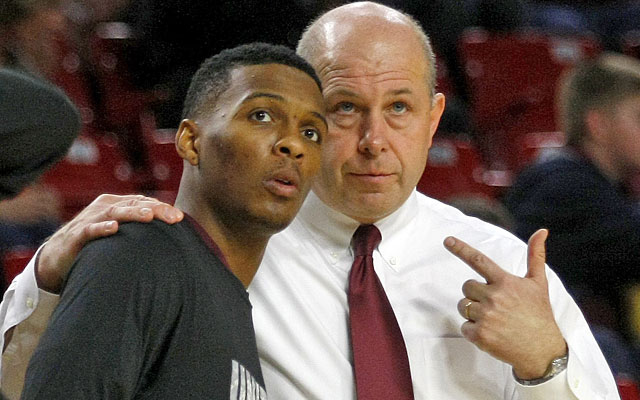 So I was talking with CBS Sports' Doug Gottlieb the other day about Marcus Smart, and he was listing all of the things the Oklahoma State guard does well -- like drive, defend and compete. Then, at some point, Gottlieb said this: "He basically saved Travis Ford's job."
That was interesting to me.
And it was especially interesting coming from Gottlieb, who knows college basketball as well as anybody and Oklahoma State better than most given that he graduated from the school after a succesful playing career under Eddie Sutton. If Gottlieb says Smart basically saved Ford's job, Smart basically saved Ford's job. And to that point, it should be noted, Ford was 31-35 in Big 12 games in the four seasons before Smart stepped on campus. So a fifth subpar year absolutely could've led to a change in Stillwater considering Ford's predecessor, Sean Sutton, was dismissed after just two subpar seasons relative to OSU's expectations.
Bottom line, I think Gottlieb is right.
I think Smart did basically save Ford's job.
And I was reminded of this very reasonable theory earlier in the week when Smart dropped a career-high 39 points in a win over Memphis that secured Oklahoma State's place in the top 10 of the AP poll. Soon as that game was over, I changed channels and watched Jahii Carson score 40 in Arizona State's win at UNLV, and I couldn't help but connect some dots.
Carson, like Smart, is a transcendent sophomore star.
Carson, like Smart, has also basically saved his coach's job.
To that point, it should be noted, ASU's Herb Sendek missed the NCAA tournament in 2010, '11 and '12 and had gone 10-26 in Pac-12 games in the two years before Carson became eligible. One more rough season and, it's fair to assume, Sendek would likely have been replaced. But then Carson got a uniform, led Arizona State to 21 wins last season, and now he has the Sun Devils off to a 4-0 start this season. Suddenly, Sendek's seat is way cooler than it was this time two years ago, and isn't this all kind of wild?
Wild how one player can save a coach's job?
Wild how an extra year of that player could be worth millions?
When the books are written on the Travis Ford era at Oklahoma State and Herb Sendek era at Arizona State, I think they'll show that their careers turned and were extended by their abilities to first sign Smart and Carson, then by Smart and Carson's decisions to stay an extra year. What those two things have apparently guaranteed is that Ford and Sendek will have at least two solid -- and possibly a couple of great -- seasons after an undeniable downward turn, and it's fascinating to me how often coaches' careers are dictated by things like this.
Where would Ford be without Smart right now?
Where might Sendek be at this moment without Carson?
Answer: Possibly just three or four months away from termination.
But Smart and Carson's decisions to return to school (despite the fact that professional opportunities existed for both) have essentially eliminated that talk, and those decisions will end up equating to million-dollar paydays for Ford and Sendek. Those two coaches are, quite simply, very, very fortunate. Again, it's incredibly fascinating to me. And what's equally fascinating is how often this also works the other way.
Take Georgia's Mark Fox, for instance.
What if he would've gotten an extra season of Trey Thompkins and Travis Leslie?
What if he wouldv'e gotten All-American Kentavious Caldwell-Pope for one more year?
Where Smart and Carson zigged, Thompkins, Leslie and Caldwell-Pope zagged. The byproduct of those early departures has been (and still is) Fox operating with a Bulldogs roster devoid of the talent necessary to compete at the top of the SEC, and it might end up costing him a contract extension that might've already been offered if, you know, Thompkins and Leslie would've returned for their senior seasons rather than leave Georgia to go undrafted.
In fairness, who knows?
But it is interesting, isn't it?
A college student's decision to remain in school or leave campus is often the difference between a coach getting a contract extension and a pink slip. So remember that next March, when players start announcing their intentions. Somebody is going to lose a prospect early and consequently lose millions while somebody else keeps a prospect a year longer than most expect and benefits from it handsomely. It must be weird, on some level, to have your future dictated by a coin-flip decision by a college student. But it's often the reality for college basketball coaches, and Travis Ford and Herb Sendek are prospering from it now.
Stephen Oh has his finger on the pulse of South Carolina basketball and released a play for...

Our advance computer model simulated Wednesday's Georgia Tech vs. Virginia game 10,000 tim...

Junior point guard was the subject of a Title IX investigation launched by the school last...
Creighton AD Bruce Rasmussen answers questions about some of the committee's grouping metr...

Guy, the leading scorer for the No. 1 Cavaliers, had a big weekend even though UVA didn't...

The stigma of being the first men's Division I team to vacate a title will be difficult to...