Marcus Smart overshadows the freshmen ... at least for a night
Oklahoma State's Marcus Smart reintroduced himself to the nation on Tuesday night with a career-high 39 points in a win over Memphis.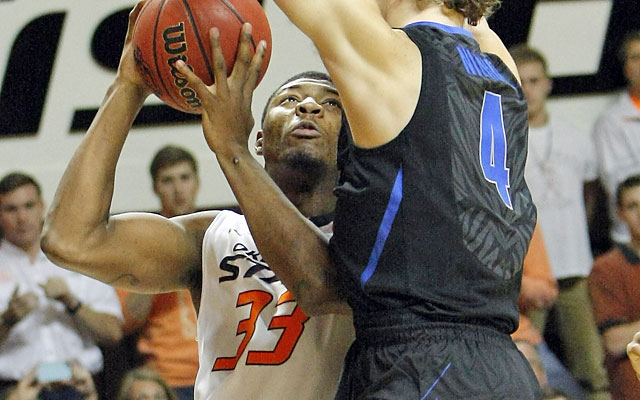 Is tonight the night Marcus Smart rejoins the national conversation?
That's the question I posed early Tuesday. Within minutes of tipoff Tuesday night, the nation had its answer. And is this going to be a fun National Player of the Year race or what?
"We showed everybody we don't back down," Smart said.
Or back off.
That's the lesson from Oklahoma State's 101-80 humiliation of Memphis that was somehow not even close to as close as that final score probably indicates. The Cowboys (4-0) led by 18 points at the half, by 30 late, and they dropped Josh Pastner's all-time record against teams ranked in the Top 25 of the AP poll to 0-13. Consequently, Memphis (1-1) will drop completely out of the CBSSports.com Top 25 (and one) when the rankings update Wednesday morning because, at some point, you are what you are, and, at this point, there's no tangible evidence to suggest Memphis is anything other than an outfit that stacks wins against inferior competition and loses to quality opponents.
It's hard to argue otherwise now.
It's been this way for four years and two games.
But enough about Memphis because Tuesday night was not about Memphis.
Tuesday night was about Smart -- the sophomore star who spent the first 11 days of this season completely overshadowed by the trio of freshmen (Kansas' Andrew Wiggins, Kentucky's Julius Randle and Duke's Jabari Parker) that played in last Tuesday's Champions Classic. As I wrote in Tuesday morning's column, I've been consistently asked in radio interviews over the past week about Wiggins, Randle and Parker, but not once was Smart's name mentioned. Everybody wanted to talk about the new guys, and I understand. But I'm guessing that'll change now thanks to what Smart did to Memphis on national television.
He had 26 points at the half.
He finished with a career-high 39.
He was spin-moving, shot-making and generally abusing anybody Memphis put on him, and, again, is this going to be a fun National Player of the Year race or what? The freshmen are all legitimate candidates. So is Creighton's Doug McDermott. Others will also emerge, I'm sure.
But don't forget about Marcus Smart.
Granted, he's not the new guy in college basketball anymore.
But he made a good case on Tuesday that he might still be the best.
Oklahoma's basketball phenom has won the national Freshman of the Week award again

Happ is a force for the Badgers because of drills at home -- and a big growth spurt

Josh Nagel has his finger on the pulse of Big Blue and just locked in a strong pick for Tu...
The 10th-ranked Jayhawks end a four-game Morgantown losing streak with a big second half

Gary Parrish, after being questioned, explains why he writes the Poll Attacks each Monday

The Blue Devils looked like a team in need of a reboot against Miami, then they morphed into...