Marcus Smart speaks out on the Andrew Wiggins hype
They're two of the very best in the game -- and they play in the same conference. Smart isn't known for his quotes, but what he said here will make some noise.
• 2 min read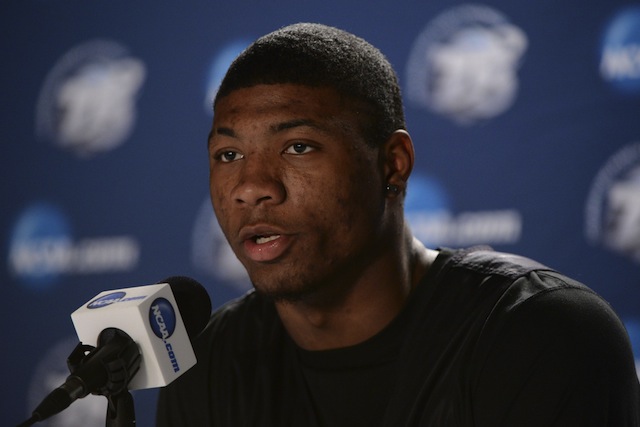 Arguably the best returning player in college basketball just said a few (let's not make them controversial) words about arguably the best incoming one.
USA Today's Eric Prisbell got Oklahoma State point guard Marcus Smart to speak on the Andrew Wiggins hype. Smart is the No. 2 player, Wiggins the No. 1 on our list of the 100 best in college hoops. Both are in the Big 12. Their teams are scheduled to play each other Jan. 18 and March 1. I can't wait to watch both of them play, let alone play each other.
Here's Smart's take on the state of Wigginsmania.
"They are saying he is the best college player there is and he has not even played a game yet," Smart told USA TODAY Sports. "Of course that hypes me up. It is all talk. He still has to put his shorts on one leg at a time like I do. It is all potential. I am not saying he can't do it. But he has not done it yet."
...
At 6-foot-4, Smart wants nothing more than an opportunity to guard the sinewy 6-8 Wiggins.
"Definitely," Smart says. "I am not going to back down from any challenge. Like I said, you are going to have to prove to me. I am a fighter; I will keep fighting and will never give up."
The Wiggins pub, admittedly, is at levels I can't ever remember for any college player entering the game. Harrison Barnes and John Wall had a lot of expectations coming in, but nothing like this. Kevin Durant's lauding came after he started dropping 30/game like it was nothing. Wiggins is facing a Game of Thrones-sized wall of expectations.
Does that make his status overrated before ever playing a game? Expecting him to be the best player and the No. 1 pick already, is it too much? Not according to Smart.
"I wouldn't say he is overrated," Smart told USA Today. "I would just say there is a lot of pressure on him right now. He is under a microscope from the world that is bigger than anybody would think, bigger than he knows. Whatever he does will be magnified times a million, just because of the hype. Whatever he says, does, however he acts."
Totally agree with Smart here. I know we at the blog are going to be writing on Wiggins multiple times per week, most likely, and we're going to do it with the most realistic tone possible. The pressure is already ridiculous, and I admit I -- like so many -- just can't wait to see how Wiggins plays at the college level.
But he's not going to score 24 points per game, grab 13 rebounds, swat six shots and be Superman. He's probably just going to be really good, fairly unselfish, pretty quiet ... and frequently wowing. That should be enough. The irony of this can be found in: Smart initially took a dose of blowback for passing up being a top-five pick in the 2013 draft. Now, thanks to Wiggins playing in-league with him, so much of what would've been placed on Smart is now with Wiggins by osmosis.
It's OK to be really giddy about this, by the way. College basketball needs stars, and how often do we hear the groaning over "the public" getting to know the faces in this sport, only to have them leave for the NBA. In this case, Smart is a known commodity, and Wiggins, despite 99 percent of the college basketball populus never having seen him play, is already the biggest household name in college hoops. That's terrific for the game.
It appears he's more than happy to pay up, given the circumstances

Lithuania seems ready for the Ball era to begin

The Sun Devils make a big jump and the Jayhawks slide after ASU pulls the big upset
Arizona's big man from the Bahamas balled out against two talented teams

Coach Shaka Smart doesn't expect him to be out for an extended period of time

Jackson isn't showing the Sun Devils much respect after beating KU