Marcus Smart to enter NBA Draft after upcoming season
This will be Oklahoma State guard Marcus Smart's final season in college, he announced on Tuesday.
• 1 min read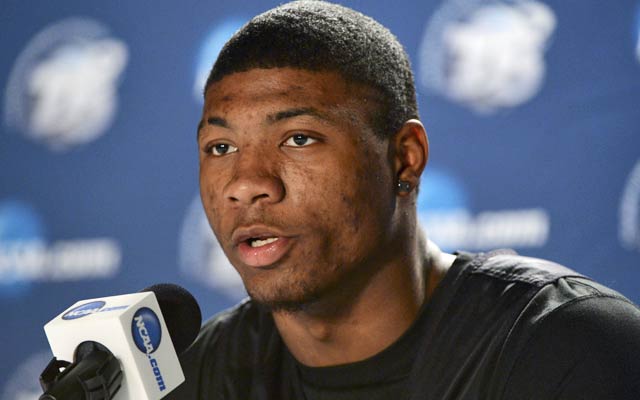 Marcus Smart announced on Tuesday night that he plans on entering the NBA Draft -- after the coming season.
Smart's declaration comes about three months later than expected, as nearly everyone thought the Oklahoma State star would leave college after his freshman season in Stillwater.
"It's safe to say that if, by the grace of God I'm healthy and everything, this will be my last year at Oklahoma State," Smart said, according to Yahoo! Sports. "Nothing will change my mind on that. [Oklahoma State] understands. They didn't figure I was coming back this year. They were just as surprised as everyone else."
Smart, a 6-foot-4 guard, would have been projected as a top-five pick in this past June's draft had he decided to go pro. He was an All-American as a freshman, averaging 15.4 points, 5.8 rebounds and 4.2 assists.
As a result, everyone anticipated Smart forgoing his final three years of college basketball to be a lottery pick. Instead, the Texas native wanted to stick around for one more season of college.
"You can only go to college and be a college athlete once," Smart said. "College is a great experience. This is where you have fun. This is where you find yourself as a young man and grow up into an adult before you enter the real world."
Oklahoma State could be top-10 team heading into the preseason.
Gary Parrish and Matt Norlander discuss a wild Saturday of college basketball

Ball left the program earlier this month and has since signed with a Lithuania professional...

The Hoosiers grow up before our eyes, and Miller has his first signature victory as Indiana...
Trae Young, a freshman and the nation's top player, has a 21-point first half at Wichita S...

Michigan State is probably going to have company atop the Big Ten standings

Sooners beat third-ranked Shockers while Florida and FSU lost in upset fashion to unranked...