Marcus Smart's decision is fair to question but not criticize
Oklahoma State's Marcus Smart was a projected lottery pick. But he's reportedly returning to school, which is shocking but not worth questioning.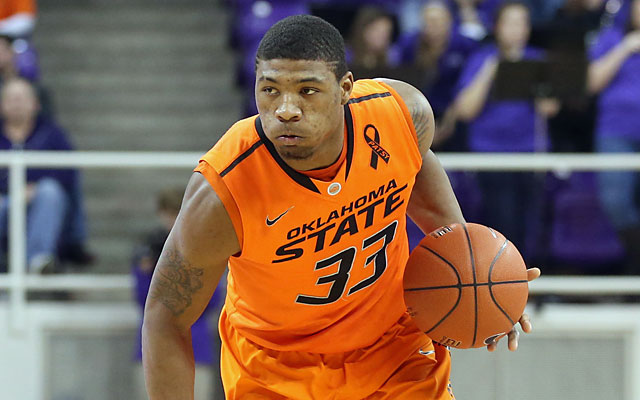 There was a time when I would've sat at this computer on a night like tonight and used a few hundred words to explain why Marcus Smart is being stupid and making a mistake to pass up (or at least delay) millions of guaranteed dollars in the NBA to reportedly return to school and play for room and board and whatever else the NCAA pushes these days.
But I don't do that anymore.
Because at some point -- and I don't really remember the exact point, but at some point -- I decided it's impossible for me to put a value on what other people want in life. I know what I want. I know what I would do if I were Smart. I know what I would advise my son to do if he were Smart. But it's foolish, I decided at some point, to project my desires and values onto other people and scream about what they should and should not do with their lives. So if you were expecting me to write that Smart, a Texas native from a humble background, is wrong to return to Oklahoma State for his sophomore year, well, I'm sorry to disappoint. I'm not going to write that he's wrong.
More on college basketball
Related links
But I will say this: I don't understand at all.
DraftExpress.com projected Smart as the third overall pick in June's NBA Draft, which means he would've been guaranteed more than $7.29 million over the next two years even if he turned into the worst basketball player in the world, even worse than Hasheem Thabeet. That's more than Seven.Point.Two.Nine.Million! Do you realize how much money that is? Think about it this way: If you graduate college at 22 and make $100,000 a year, you would have to live to be at least 94 and work till at least 94 to make what Smart would've been guaranteed to make before he turned 22 years old.
That's the context.
That's the type of money we're talking about.
And don't tell me the money "will always be there," because I just watched Adonis Thomas, in a span of five months, go from a projected lottery pick to a kid who will be lucky to get drafted. In this world, nothing is guaranteed until it's actually guaranteed. So, make no mistake, Marcus Smart is taking an enormous risk and making a high-stakes gamble. Anybody suggesting otherwise is either stupid or lying (or stupid and lying).
But it's his gamble.
And I'm sure the risks have been explained to him.
So I'm OK with it, if only because I no longer think I'm in a position to not be OK with it. Something I've realized over the years is that every pro basketball player I know -- and most professional anythings I know -- speak romantically about their college days, and I decided I can't really put a value on those days, especially when those days include being the so-called Big Man On Campus. Perhaps that's worth millions of dollars to somebody who might turn the gamble into a trip to the Final Four and subsequently make millions of dollars anyway. It's also possible some people just don't care about the money at all because they trust life will turn out OK, regardless. People are different. I stopped trying to figure everybody out years ago. I now understand I can only speak for myself. So ...
Me?
I like big houses and nice cars and pools.
I like the idea of never having to stress over bills.
If my son were a projected top-three pick, I'd want him in the draft.
But I'm not Marcus Smart and my son is not Marcus Smart, which means I'm OK with what Marcus Smart is doing. Would I do it? No. Would I advise anybody to do it? No. But as long as the combo guard with a big smile understands the risks involved with returning to Oklahoma State, who am I to criticize? So consider this me simply tipping my hat, wishing him luck and placing him on my list of preseason First Team All-Americans. For Smart's sake, I hope everything works out. That's the only reasonable way to be, I think.
Calipari threw major shade at Duke and the coaching staff's recruiting pitch

Brown is the No. 2 center in the Class of 2018 and a big get for the Bruins

The Sooners are on a two-game losing streak but still rising on one AP ballot
Vegas legend Kenny White has nailed 3 straight UNC picks and just made a play for Monday's...

Josh Nagel has almost two decades of handicapping experience and locked in a play for Monday's...

The Wildcats stumbled to an 0-2 record this week and fell out of the top 25