Repetition, regiment and militant confidence has transformed Xavier forward Trevon Bluiett into one of the nation's best all-around sophomores and launched the Musketeers to the first top-five ranking in program history.
The shooting touch came from dad. The defensive instincts and penchant for running to the rim came from mom.
The discipline was imprinted by both.
"It was very strict and there was a lot of discipline in my childhood," Bluiett said. "With all that strictness and discipline, it set me up for success."
Bluiett has a background unlike any other player's in college basketball. Not because of hardship, death or poverty, but because of his parents' proud and uncommon story. They're Marine veterans. Reynardo Bluiett and Mariam Bluiett met in the late 1980s at Camp Lejeune, in Jacksonville, North Carolina. Reynardo just wanted to get out of Gary, Indiana, and have a chance at something different.
"I just had to leave my city," he told CBS Sports this week. "I signed with the Marines a year before I was to leave for boot camp. I knew I wanted to get away from my environment. I left a month and a half after my high school graduation."
Mariam wound up at Camp Lejeune after, she said, a recruiter "lied to me."
At the time, Mariam was a good high school player out of Detroit. A knee injury led to Eastern Michigan pulling back on a scholarship offer, but she still wanted to chase basketball beyond high school. She took the Marines on, primarily, for a chance to play hoops and to earn money while doing it. (This is just what Duke coach Mike Krzyzewski and Temple's Fran Dunphy once did while representing the United States Army.)
She didn't fully understand the situation she was getting into. Mariam eventually did play on the Marines' traveling basketball team and earned some scratch, but not before overseas deployment. The Bluietts served in Operation Desert Storm; Reynardo working on a war vessel in the Persian Gulf, Mariam constantly roaming the dehydrated ground in Saudi Arabia, delivering myriad goods and supplies to American troops. While she got in one season on the court with the United States military, Reynardo got his licks in playing football with the Marines' intramural club.
How they came together is unexpected. A young Reynardo Bluiett did not have many chances to meet women while serving.
"If there was a club, it would be a bad night," he said of the male-to-female ratio.
Reynardo proposed to Mariam over dinner at home in 1992.
"It wasn't sexy at all," he said.
They got out of the Marines in 1993. A year later they relocated to Indianapolis. Housing discrimination and job layoffs plagued the family early. Mariam found solid ground with the United States Postal Service. She's been a mail carrier for two decades now.
"She's a strong-minded mother, determined," Trevon said. "I don't think I've met anyone that's mentally tougher than her."
Reynardo, who learned to cut hair at 16, has been a barber for a decade and a half. He was also Trevon's AAU coach from the time he was 9 years old until his son was done with the grassroots basketball circuit in his senior year of high school.
Reynardo told me, despite his coaching, his son's persona still reflects much more of mother.
"She's a loving woman," Reynardo Bluiett said. "Trevon got a kick out of when we found her basketball jacket from the Marines and her nickname on it was 'Mad Dog.' That tells you a little bit about her and her game."
***
Local basketball ties run deep with the family. Reynardo cuts hair at Headquarters Barber Shop in Indianapolis. Pacers rookie Myles Turner -- check the 'do -- is one of his clients, as are plenty of current Butler players, like Big East breakout stud Kelan Martin. Reynardo's also worked on Pacers star Paul George's hair many times.
This connection came about because Trevon was coached by his father. Bluiett was an early riser, a guy who had significant interest from Indiana University as an eighth-grader. He's is one of four children (he has an older sister and two younger brothers). His parents are both 5-feet-11, but they created a natural shooter/scorer who was 6 feet tall by the time he entered middle school. When eighth grade came, Bluiett measured 6-4. He's now 6-6 and about 207 pounds.
"In the house we're doing push-ups and competing in some type of way," his father said. "Working out around the house is something we do."
The basement houses the "boom-boom room," a workout sanctuary with benches, dumbbells, battle ropes, jump ropes, ladders, a treadmill, an elliptical machine and space to do core exercises with medicine balls. This is what helped Bluiett remain physically ahead of most players in Indiana and on the AAU circuit. He was always among the strongest players and certainly had the endurance to keep pace. His father made sure he was working -- even two extra workouts per week at home -- when others weren't.
It was also to keep Trevon on the straight and narrow.
"I was very hands on," Reynardo Bluiett said. "I wouldn't consider myself strict, but we definitely didn't want him to experience some of the things we experienced growing up in the inner city. Like always wanting to know where he was. We tried to keep him in good environments."
Trevon didn't mind his structured environment at all. The payoffs came in his basketball performances. While starring at Park Tudor High, he won three state titles, including a spectacular senior season that saw him average 35.7 points and 11.4 rebounds. His No. 6 all time in Indiana high school history in points (2,568). His 38 points in the 2014 2A title game is a state record for that division.
***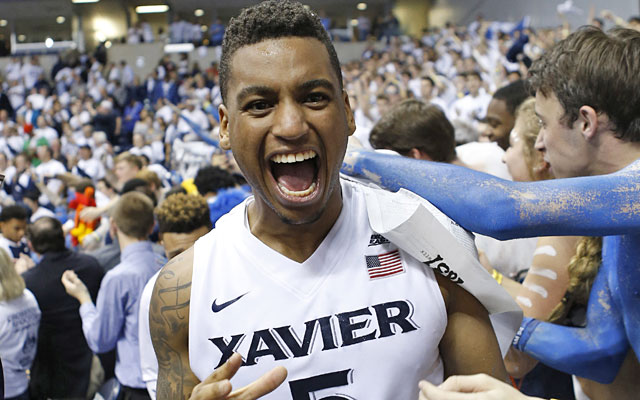 Bluiett broke onto the national college hoops scene last season, getting hot early and becoming one of the surprises in the sport. Then he hit a wall, unexpectedly gained weight and, by the end of the season, lost his track. He knew he had to reconfigure his body if he was to stay competitive and earning minutes on his team, let alone being a recognized talent in the conference.
"I was lackadaisical and didn't have energy," Bluiett said. "I knew how my body was transforming in a negative aspect toward the end of last season, especially in the Big East tournament."
He forced himself to stop eating after 9 p.m. He switched off carbs altogether after dinner. He now eats six portioned meals per day. Greek yogurt and almonds are a morning go-to. Bluiett says he doesn't even use his phone after 10 p.m. It's just habit, just self-regulation. He doesn't want to be addicted to technology. It's got to be about regiment.
"He came home after the season and hit it hard," Reynardo Bluiett said. "He said he was coming to change his body. He left it get away from him toward the last year. We've got a good support system here. He got with his trainer, Greg, and sat down with a plan to get his body fat down. It's almost like going to school again. It was a consistent and constant thing to work on. I don't know if people understand the work it takes for these athletes in order to get the work in so they can get to the places they want to go."
The transformation has largely worked. He's upped his scoring average from 11.0 to 15.2. He also grabs 6.7 rebounds and serves 2.4 assists per game. Xavier is 21-3 and fighting for a No. 2 seed thanks in large part to Bluiett's contributions. He could become the team's best overall player and an NBA prospect if the pattern keeps rising.
"Confidence has been the biggest jump [for him]," Musketeers coach Chris Mack said. "Confidence is everything in basketball. You could see he was losing it a year ago. College basketball is a long season. We had gone on a foreign trip during that summer, he had gained weight throughout the year and wasn't shooting the ball well. This year he's played with extreme confidence from the beginning."
Mack, by the way, is also the son of a Marine vet. It's a really good match. Yet Bluiett initially had no intention of attending Xavier, though. As a four-star prospect he committed to a blue blood on the West Coast: UCLA.
"Tre was very, very difficult to read in the recruiting process," Mack said. "He was quiet. ... Tre didn't offer up much."
But Mack did get a great impression of him, of his parents. It was all yes-sir, no-sir on his visit to see Xavier's campus. 
"He deferred to his dad a lot," Mack said. "Very well-raised. His entire family's the same way. He was going to be a guy you didn't have to worry about in the classroom and how he acted at the mall, how he carried himself."
Xavier probably wouldn't be a top-15 team this season if Bluiett was wearing Bruins colors. But that was the plan, originally. He committed to the Bruins after hastily falling in love after taking his first official visit during the summer before his senior season. The more he thought about it, the more he wanted to play within driving distance of home. His youngest brother was 3 at the time and he was a factor.
"I didn't think that was healthy," he said of the distance. "Growing up, I was big on being a family guy. I wanted to be more involved in his life."
Bluiett speaks openly of these aspects now, but Mack and all the other coaches recruiting him were completely unaware of how things were going to go with him.
"He didn't want to spend any time talking about it," Reynardo Bluiett said of his son's recruiting process.
There was one other vital aspect to Bluiett landing at Xavier: The Big East. Had Xavier remained in the Atlantic 10, Reynardo said his son would have gone elsewhere. The conference realignment that put this program into the Big East was a clinching part.
"That conference [the A-10] was not the right conference for Trey," Reynardo Bluiett said. "When Xavier got to the Big East, that changed things."
Those machinations across college athletics two, three, four years ago changed the landscape in so many ways. This development at Xaver is a micro look at how schools, programs and coaches are affected.
***
Bluiett is essentially a tweener. He's strong enough to play as a power forward and has an IQ to defend it, even if he is drawn more naturally to the small forward position. He had 23 points, eight assists, five rebounds and no turnovers in 28 minutes against Marquette last weekend.
"When he's playing at his best, he can be a complete mismatch for opponents to try and guard him with their power forward," Mack said. "We play a couple of different ways. Sometimes we'll play with two bigs and sometimes with four guards, and when we do that, it's tough for opponents' 4 men to match up with Tre. He has an ability to make other guys better as well as be able to get his own shot. He can hold his own on defense. He allows us to [change lineups] without convoluting our own matchups."
In this wild, unpredictable season of college hoops, everyone's a victim on an every-other-week basis. Xavier took a tough loss on the road this week to Creighton. It was only the third L of the season for Mack, a season that's shaping up to be the most impressive of his career. The Musketeers are not all about Bluiett, not by a long shot. This team is very deep, very balanced and very dangerous to anyone that underestimates it.
"It's been a great experience, a lot better than last year," Bluiett said. "Playing with this group of guys, usually when you have this much talent on the team, you usually have more egos and there are more problems going on. We come from backgrounds where everyone was the guy on their high school teams, averaging 20 points. You'd think with sacrificing points and minutes, people would have a problem with that. But we don't have big egos. We have good chemistry, and we know that on any given day, any given night it could be someone else stepping up."
Mack is a big believer in KenPom.com's system. He keeps the team's offensive and defensive efficiency ratings posted in Xavier's locker room. They're updated daily. Mack, and his team, know that no team has won a national championship without finishing in the top 25 on both ends. Xavier is currently 26th in offense and 31st on D.
"We can't be complacent with where we are," Bluiett said. "Every day we come in and look at that."
It's a reminder, another act of discipline, another small detail that leads to bigger things. The team's level of conviction is approaching its highest point yet since Mack took over the program. Knowledge begets belief, belief begets trust, trust begets confidence. For Bluiett, for his teammates, confidence is everything.