Maymon's redshirt hurts entire SEC -- not just Tennessee
Tennessee isn't the only school hurt by Jeronne Maymon's medical redshirt. The SEC could be relegated to three NCAA tournament bids as a result.
• 2 min read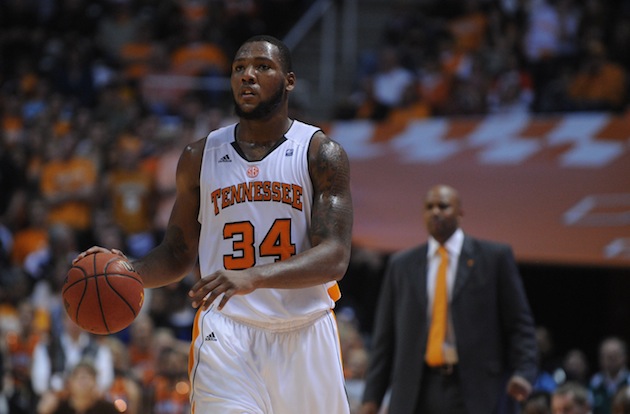 Tennessee announced on Sunday that forward Jeronne Maymon wouldn't play this season. (US Presswire)
When Tennessee announced that forward Jeronne Maymon would redshirt the 2012-13 season because of a left knee injury, we all knew the Volunteers were the primary ones hurt by the news.
But the Vols weren't the only ones. This one will hurt the entire SEC on Selection Sunday.
There has been a growing sentiment in recent weeks that the SEC could be headed for three bids to the NCAA tournament: Florida, Missouri and Kentucky. They seem pretty destined for the Big Dance. After that trio, though, who can step up and earn a fourth tournament bid?
Tennessee could have been that team. The Volunteers have a great non-conference win over Wichita State and zero truly bad losses on the resume (aside from looking horrendous against Georgetown and Virginia). They are 8-4 heading into SEC play, and Maymon returning at some point in the next couple of weeks would have taken Cuonzo Martin's group to another level. In fact, I think that a Maymon-led Tennessee team would have clearly been the fourth-best team in the league.
Maymon hasn't played yet this season because of the injury, but he was one of the more productive big men in the league last season, averaging 12.7 points and 8.1 rebounds.
Trae Golden is one of the best point guards in the SEC, and Jarnell Stokes is a solid interior player. Jordan McRae can score from the wing. Throw Maymon into that crew, and the Volunteers would have the horses to hang with nearly everyone in the league. Furthermore, which potential bubble team in the league could have matched Maymon and Stokes in the post? At full strength last season, Tennessee was 10-6 with a couple of Top-25 victories. That sort of performance this season could have gotten the job done.
"It's really tough to know that I can't be on the court with my teammates this season," Maymon said in Sunday's release. "But I have confidence in them, just like I have confidence in these coaches and our medical staff."
Unfortunately, a Maymon-less Tennessee team doesn't seem potent enough offensively to get a bid during the next nine or 10 weeks.
If not Tennessee, who? There is simply a massive drop-off from the top three of the league to the rest of the teams. The primary contenders for an at-large bid would be Ole Miss and Arkansas. However, the Razorbacks went just 1-4 in their five toughest non-league games (the lone win coming against Oklahoma), and Ole Miss has a gaudy 11-2 record that has nothing much of substance. The best win is over Rutgers. Can either team do enough in league play to garner a bid?
Alabama is 8-5 with a win over Villanova; LSU's best win is over Seton Hall; Texas A&M can barely beat Army and Houston Baptist; and South Carolina's best win is home against Rider. No one else in the league is even .500.
It always seemed likely that a fourth team from the SEC would make a move in league play -- but to me, that team seemed likely to be Tennessee.
Now that Maymon won't play this season, not getting a fourth bid seems slightly more likely.
For more college basketball news, rumors and analysis, follow @EyeOnCBB on Twitter, subscribe to our RSS Feed and subscribe to our College Basketball Newsletter. You can follow Jeff Borzello on Twitter here: @jeffborzello
Nov. 10 will be here before you know it so here's what you need to know

The league would be wise to treat that series like the ACC treats Duke-North Carolina

Pacific is penalized after the NCAA found academic rules were broken
Arizona, for no good reason, doesn't have to play at USC or UCLA this season

We look at the 'Major 7' leagues and give you the best of what's to come in conference play...

Louisville's coach predicts a change is coming to the NBA's one-and-done rule by 2019