McCaffery, NIT finalist Hawkeyes thinking big
After a handful of narrow losses helped land them in the NIT last season, the Iowa Hawkeyes and head coach Fran McCaffery have their sights set on the NCAA in 2013-14.
• 4 min read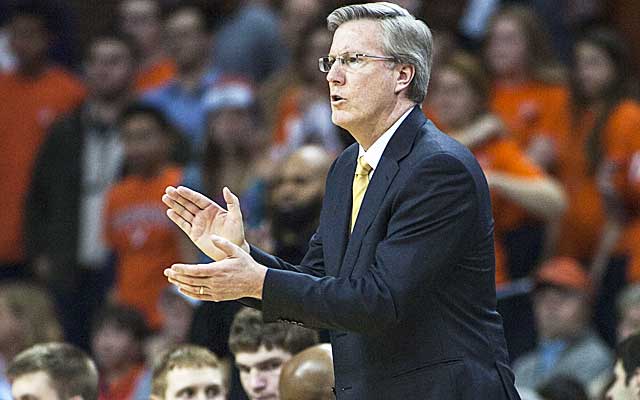 The losses were excruciating.
There were four of them against teams that were ranked at the time by four points or less. And that doesn't include defeats at Purdue and Wisconsin in double-overtime.
Just one victory in those six games may have gotten Iowa into the NCAA Tournament last March.
Instead the Hawkeyes went to the finals of the postseason NIT and lost to Baylor. It was a 25-win season and one that reiterated that Iowa's program is on an upward trajectory.
But it didn't include a berth in the field of 68, and that should change this year.
Why?
Because this is the deepest team that Hawkeyes coach Fran McCaffery has had in his coaching career.
"I think it really makes us unique," McCaffery said recently in regards to his team's depth. "We're going to play 11 guys. We return nine guys from last year and add two good players in Peter Jok and Jarrod Uthoff. Not only do we have 11 guys but all of them can play different positions. There's various combinations to use. We have multiple guys who could step up and make baskets. We could go big or small."
McCaffery said the three guys who have separated themselves from the rest are veterans Devyn Marble, Aaron White, and Melsahn Basabe. Marble, a 6-6 senior and the son of Iowa legend Roy Marble, is probably the best candidate on Iowa's roster to be an All-Big Ten first-team selection.
"A lot is going to fall on him and he welcomes that," McCaffery said of Marble, who averaged 15.0 points, 4.0 rebounds, and 3.0 assists per game last season. "He's our general. He's our guy. He's going to be our starting point guard at the beginning of games but he'll play both back court spots."
Sophomore guard Mike Gesell will fill the other starting guard spot and be backed up by Anthony Clemmons.
A big question heading into the season for Iowa will be identifying a knockdown shooter. The Hawkeyes had all the requisites to be an NCAA Tournament team last year but could never get timely shooting when they needed it.
Nevertheless, McCaffery feels junior Josh Oglesby and Jok, a 6-6 freshman will remedy that concern.
"Jok is clearly ready to help us," McCaffery said. "And Oglesby has been shooting the ball very well. Those two guys give us two terrific three-point shooters at 6-6."
Oglesby dropped from 37% as a freshman to 27% last year as a sophomore from behind the arc. He'll need to shoot the ball better or he could lose minutes to Jok.
Meanwhile, the Hawkeyes' front line is experienced and full of options. Basabe, White, and 6-7 senior Zach McCabe seem cemented for major roles while Adam Woodbury should be better as a sophomore after starting 38 games last season as a freshman.
McCaffery is also excited about Wisconsin transfer Jarrod Uthoff, who "is a three-point shooter but also a shot blocker," according to the coach.
The most improved player though in Iowa's program?
6-10 junior Gabriel Olaseni.
"He's been tremendous," McCaffery said of Olaseni. "He's by far our most improved player and now he and Adam Woodbury give us two legitimate five-men. We're going to play them together. Now we have two shot blockers. They're going to protect the front of the rim."
Having 11 capable players sounds good in the preseason but the dynamic could vastly change once games begin and they're competitive.
Will McCaffery stick with his starters down the stretch if his reserves are just as good on that particular night?
These are the types of thoughts that are going through the coach's head on a daily basis.
"That's a legitimate question," McCaffery said when he was asked who would potentially finish games for Iowa. "We've won games with unique lineups before and the group that's in a good flow and having success will remain on the floor. Guys may not get as many minutes as they did the day before because we have so many options on this team. Every game it could be a new guy that steps forward."
And Iowa will need every one of those options to have the type of season it hopes to.
The Big Ten will be deeper than it was last season but there is possible movement in store at the top of the conference.
Michigan State is the consensus favorite but the Hawkeyes could have easily beaten the Spartans twice last year and lost both games by a combined six points.
Ohio State is trying to reconfigure things after losing Deshaun Thomas and Michigan will be going through a transition period after the departures of both Trey Burke and Tim Hardaway Jr. to the NBA. Indiana is also another team trying to replenish itself and while Wisconsin is still Wisconsin, they've lost three of their last four meetings against Iowa.
Are the Hawkeyes a legitimate threat to win the Big Ten?
Possibly.
"We talk about winning a league championship," McCaffery said. "If we have a good day of practice or a bad day of practice, it all comes back to that. We talk about winning the league. We've been close. Now we're just trying to put it all together."
Oklahoma's star freshman has a father who has been there and done that

Kentucky now is at risk of slipping out of the Top 25 (and one)

Cherry's commitment gives ASU a top-20 recruiting class and its highest rated pledge since...
Matt Norlander is on a 11-7 run in college basketball picks and shares his best bets for W...

Kentucky losing this game probably cost it a shot at earning a high NCAA Tournament seed

Freshman had 12 turnovers and 20 points; the Wildcats rattled him and kept OU on its heels