McCaffery ready to move on, focused on Ohio State
After serving a one-game suspension against Northwestern, Iowa coach Fran McCaffery tells Jon Rothstein he's ready to move on.
• 2 min read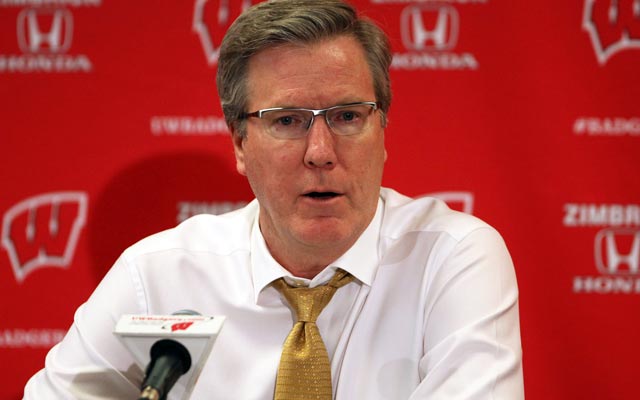 Fran McCaffery watched Iowa's 93-67 victory over Northwestern Thursday night from his office.
The veteran coach made observations, took notes, and hoped to finally end all the chatter surrounding his one-game suspension that came as a result of his ejection, prompted by contact with an official, in the Hawkeyes' loss at Wisconsin on Sunday night.
"You just don't want there to be other distractions moving forward," McCaffery said on Friday morning. "For everyone to be obsessed and compelled to weigh in on what happened is unique. It's the world we live in. You could argue about the sensibility of it but that's just the way things are. I moved on the minute that game was over. I was focused on planning to beat Northwestern. I was moving forward and was ready to shift gears. Just like right now I'm ready to shift gears and focus on Ohio State."
And that's just what McCaffery and his team will do now as they prepare to visit the Buckeyes on Sunday (1:30 PM ET, CBS).
Ohio State (15-1) took Michigan State to overtime on Tuesday night in East Lansing before losing by four.
Iowa is 13-3 this season and has lost three games by a combined 12 points to teams (Villanova, Iowa State, Wisconsin) that have a combined record of 44-1.
Are the Hawkeyes due for a breakthrough win?
Maybe.
But the most important thing on Sunday according to McCaffery is shot selection and being able to handle the ferocious perimeter defensive pressure of Ohio State's trio of guards --Aaron Craft, Shannon Scott, and Lenzelle Smith Jr.
"Taking care of the ball is the number one priority," McCaffery said looking ahead to Sunday's game. "Another thing is not taking bad shots. In a lot of ways when you're playing Ohio State, taking bad shots is the equivalent of turning the ball over because it can start their transition game."
The high-level matchup with the Buckeyes will also provide another opportunity for the nation to get a look at Iowa junior forward Aaron White.
The 6-9 White has been incredibly efficient this season and is one of the best players in the country that no one is really talking about.
"He impacts the game in so many ways," McCaffery said of White, who is averaging 13.4 points and 6.6 rebounds per game while shooting 65.2 percent from the field. "He's a cerebral player and he's also become an upper level defender."
Ohio State has as good a culture as any program in the country but Iowa appears to be a surging team in the Big Ten.
The Hawkeyes have had countless opportunities to make statements against elite opponents this season but have come up just short every time.
Will that be the case against the Buckeyes?
We'll find out on Sunday.
Northern Colorado will be on probation through 2020 due to academic and recruiting violati...

You might not see a projected NCAA Tournament bracket quite like this one anytime soon

The Wildcats, once written off after a three game skid, appear poised to enter Pac-12 play...
The Ducks are riding a three game winning streak yet are slight underdogs against the Bulldogs...

The Hurricanes are one of only a handful of unbeaten teams left in college hoops

The Bearcats are fresh off a convincing win over previous unbeaten Mississippi State