Memphis closes strong, beats Louisville in confounding AAC
The Tigers closed on a 15-1 run to win 72-66 and complete a regular-season sweep of the reigning national champions.
More hoops: Memphis 72, Louisville 66 | Latest Bracketology | More news
MEMPHIS, Tenn. -- Montrezl Harrell spent much of Saturday either dunking, rebounding, sinking jumpers or yelling at the Memphis bench while backpedaling on defense.
"Guard me!" Harrell screamed. "You better guard me!"
So, yeah, things were going well for Louisville and not-so-well for Memphis, which is how the Tigers found themselves down eight points in the final five minutes and on the verge of suffering their first two-game losing streak this season. Joe Jackson and Shaq Goodwin, the Tigers' top two scorers, were a combined 2 of 18 from the field; basically everybody was in foul trouble. So there wasn't much of a reason to think Memphis would rally against the nation's seventh-ranked team -- especially after Memphis' last attempt at a rally fell flat and far short in Thursday's loss to a Houston team that's rated 155th in the RPI.
And yet Josh Pastner was still in the huddle Josh-Pastnering.
"I just told the guys that we're winning this game," Pastner explained. "I said, 'Guys, we were down nine against Gonzaga late, and we found a way to win. We were down six with under five minutes to go at Louisville, and we found a way to win. We were down eight late to LSU, and we found a way to win. We were down late against Oklahoma State the second time [we played them], and we found a way to win. Now we've got to do the same thing here."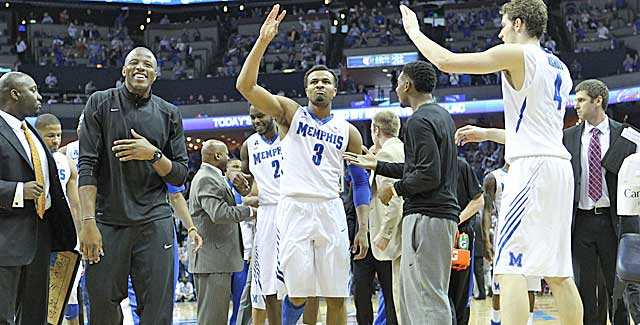 Somehow, Memphis did the same thing here.
Michael Dixon scored six straight to cut that deficit to 65-63. Then Geron Johnson played some of the best on-ball defense you'll ever see, stripped Russ Smith and got a transition layup. Just like that, the score was tied at 65 with with less than two minutes left.
Chris Crawford's 3-pointer came next.
That made it 68-65.
When the final horn sounded, Memphis had closed on an out-of-nowhere 15-1 run to record a 72-66 victory over their historical rival that seemed to -- at least in the minds of the 18,375 inside FedExForum -- erase the ridiculous loss they took in front of like 17 fans at Hofheinz Pavilion two nights earlier, and is this American Athletic Conference wild or is this American Athletic Conference wild? I detailed in a column a few weeks back the great (and unique) divide between the top half and the bottom half of the league. But what's also interesting is that games between schools in the top half are mostly unpredictable.
SMU has swept UConn.
UConn has swept Memphis.
Memphis has swept Louisville.
Louisville could complete sweeps of SMU and UConn in the next week.
And Cincinnati has split with every top-half team its played twice this season.
So good luck predicting a winner in the American Tournament ... although it should be noted that the three-day event will be played at FedExForum, where the Tigers will have a massive homecourt advantage similar to the one they had on this first day of March.
"I've played in a lot of places," Dixon said. "But I've never heard a place that loud."
Dixon finished with 18 points in 22 minutes.
Johnson got 15 points, four rebounds, three assists and two steals.
Those two, you probably know, enrolled at Memphis under circumstances that led folks both locally and nationally to question whether Pastner was taking too many recruiting risks, and, yes, I was one of the folks doing the questioning. But it's only fair to point out that Dixon and Johnson have been huge on the court, awesome away from the court, and they're among the leaders on this team that should still be ranked in the national polls Monday.
Bottom line, Dixon and Johnson have made Pastner look smart.
They've made the most of the opportunities he gave them.
What they've given him, in return, is a pair of hard-nosed guards that compliment Jackson and Crawford well. How will it all end up? Who knows? But, at the very least, they're the reasons why Memphis now has a regular-season sweep of the reigning national champions instead of a two-game losing streak heading into Thursday's game at Cincinnati.
It's early, but the Vols appear to finally be heading in the right direction

Shittu is the highest rated Vandy commitment since .. Darius Garland, who committed last w...

Gary Parrish and Matt Norlander also preview the PK80-Phil Knight Invitational
Either the Shockers or the Irish will lose for the first time in Wednesday's Maui Invitational...

Five-star recruit Brian Bowen won't play for the Cardinals, but is free to transfer

No. 12 Cincinnati will face Wyoming in the championship game