Memphis recruit: Tigers' freshman class better than Kentucky's
Kentucky has the best recruiting class in the country -- although an incoming Memphis freshman disagrees with all the hype.
• 2 min read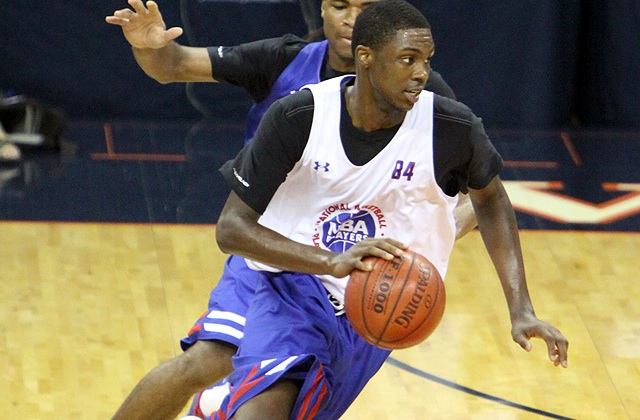 We've all heard about Kentucky's incoming freshman class. It's arguably the greatest recruiting class in the history of college basketball, despite the Wildcats missing out on Andrew Wiggins. John Calipari is welcoming the nation's best point guard, best shooting guard, best forward, best center, No. 3 small forward -- and another five-star center prospect for good measure.
It's the best recruiting class in the country, according to nearly everyone.
Everyone, that is, except Kuran Iverson.
Iverson is a top-40 prospect from the class of 2013 and will be attending Memphis in the fall. The Tigers are No. 3 in most recruiting class rankings, yet Iverson puts his classmates ahead of the ones in Lexington.
From SNY.tv:
"Everybody talking about Kentucky hype, but there ain't really gonna be no Kentucky hype. There's gonna be some Memphis hype."

Do you think you guys are better than them?

"Yeah, way better," he said. "Way better. They talented, we work hard."
Iverson, a 6-foot-9 small forward and the cousin of Allen Iverson, has the potential to be one of the best players in the class of 2013. He had an inconsistent high school career, but he's extremely talented.
With that said -- and one has to respect his confidence, since saying Kentucky is clearly better wouldn't come off too great -- it's hard to consider Josh Pastner's incoming group better than Kentucky's class.
That's not a knock on the Tigers, though.
All six players in Memphis' class could be considered top 100 players, with Austin Nichols, Nick King, Dominic Woodson, Pookie Powell and Markel Crawford joining Iverson.
While Kentucky's class is more talented, the Wildcats also need their freshmen to contribute on a more immediate basis. Memphis is stacked on the perimeter, and even more so with the addition of Mike Dixon. Up front, rising sophomore Shaq Goodwin is likely to hold down one of the starting spots. Memphis won't need to throw three or four freshmen into the lineup from Day 1. Plus, Iverson and Powell haven't yet been cleared academically. 
Memphis' incoming class is outstanding, one of the best in the country. But Kentucky has one of the best of all time. 
Iverson's comments are just putting the pressure on the Wildcats -- and the Tigers -- to prove themselves.  
Andrew Jones is Texas' second leading scorer

Oklahoma's star freshman has a father who has been there and done that

Kentucky now is at risk of slipping out of the Top 25 (and one)
Cherry's commitment gives ASU a top-20 recruiting class and its highest rated pledge since...

Matt Norlander is on a 11-7 run in college basketball picks and shares his best bets for W...

Kentucky losing this game probably cost it a shot at earning a high NCAA Tournament seed