Miami has 'too much fun' in win over North Carolina, stays perfect in ACC
Miami made enough 3-pointers early (and late) to create a score so lopsided that the outcome of this ACC showdown was never really in doubt. But the play of the afternoon actually originated from inside the arc.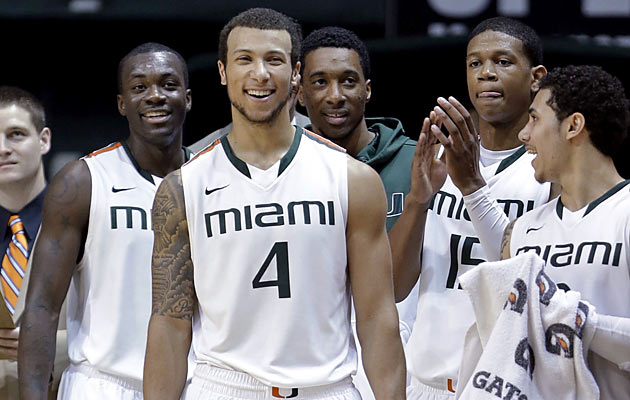 The Canes are playing some amazing basketball and look like legit contenders. (AP)
CORAL GABLES, Fla. -- Miami made enough 3-pointers early (and late) to create a score so lopsided that the outcome of this ACC showdown was never really in doubt. But the play of the afternoon actually originated from inside the arc.
"It was just one of those moments when you're having fun out there," is how Shane Larkin would later describe it. "Everything was working."
Yes, it was.
So when Trey McKinney Jones got a steal and tossed the ball ahead to Larkin, sure, the emerging star could've just cruised in for an uncontested transition layup. And, for what it's worth, that's what he was prepared to do. But then Kenny Kadji spoke up.
"Kenny yelled 'Backboard! Backboard!'" Larkin said. "So I looked back, and I didn't see anybody behind him ... so I just tossed it off the backboard. And he killed it."
And then LeBron James stood up and clapped.
And then Dwyane Wade stood up and clapped.
More on North Carolina-Miami
Related links
More college hoops coverage
"I wouldn't say [I'm] surprised," said Miami coach Jim Larranaga. "I'd say proud."
Miami moved to 19-3 overall and 10-0 in the ACC on Saturday with an 87-61 win over North Carolina before a sellout crowd here at the BankUnited Center. It was an awesome performance from start to finish. The Hurricanes made 10 3-pointers in the first half, five more in the second and finished 15 of 26 from beyond the arc. So their 10-game winning streak became an 11-game winning streak, and those 11 wins have come by an average of 14.2 points. They beat Duke by 27 and UNC by 26. That's among the reasons why Miami should on Monday move into the top five of the AP poll for the first time in history.
"It's crazy," said senior guard Durand Scott. "I see how great of a team we can be and how much confidence we have now. We're just rolling."
Which brings me back to Larkin.
He's the one responsible for most of the rolling.
He finished with 18 points and nine assists against North Carolina.
"Larkin just dominated the game," said UNC's Roy Williams. "He's really, really good."
The sophomore point guard has forever been best known as the son of Hall of Fame Cincinnati Reds shortstop Barry Larkin, and I guess that's still the case in most circles. But in college basketball circles, this 5-foot-11 Orlando native who initially signed with DePaul out of high school before transferring closer to home is quickly becoming recognized as something more -- one of the nation's best point guards.
Do his statistics suggest that?
No.
Larkin is averaging just 13.0 points and 4.3 assists, and those numbers don't jump off the page like the numbers of some other heralded point guards -- namely Trey Burke (Michigan), Michael Carter-Williams (Syracuse) and Marcus Smart (Oklahoma State). But those numbers  genuinely do not measure what Larkin means to these Hurricanes nor do they reflect the role he's played in their rise to the top of the ACC.
That's according to me.
And according to Larranaga.
"I'm a big believer in numbers, and I think they reflect an awful lot," Larranaga said. "But when you combine all of his skills, he's having an incredible sophomore year. What he does for us defensively, I mean, he made a play today that I'm certain none of you saw."
Larranaga went on to describe the play.
"They picked up [North Carolina] fullcourt, he and Durand, and they ended up guarding the same guy -- Marcus Paige," Larranaga said. "That left Durand's man open, and, instinctively, the ball went to Dexter Strickland. But by the time Dexter crossed midcourt, Shane had already changed assignments, told Durand 'stay with Paige; I've got yours,' and he was there by the time the ball crossed midcourt. That kind of speed is incredible because it means you're not going to give up a fastbreak layup or dunk that, when you're playing Carolina, is the norm. But Shane's not going to get any credit for that."
In other words, that play didn't show up this box score.
But it shows up on film.
And it saved two or three points.
And it's a perfect example of why every coach I've asked about Miami over the past two weeks has talked about Larkin extensively and stressed how he's the key to everything that's happening here in South Florida. Suddenly, this school that used to have a hard time getting anybody to come to games now has future Hall of Famers coming to sold-out games, and this school that's only advanced in the NCAA tournament once since 2001-02 seems like a solid pick to make the Final Four. Yes, it's all just as crazy as Scott pointed out. Nobody predicted it. But it might just be college basketball's best story.
"We're having too much fun," Kadji said. "I just want to keep winning."
The voter has Northwestern seven spots ahead of undefeated Texas Tech, which just blasted the...

The 7-foot-1 center is the No. 3 prospect in the Class of 2018, according to 247Sports

Alabama enters the top 25 while Northwestern drops out after a rough week
Four years ago, Bryant told Jimmy Kimmel that he'd have picked UNC

Dates, start times and streams of LaVar Ball's interview with CNN

Wichita State and Notre Dame could meet in the final of the Maui Jim Maui Invitational